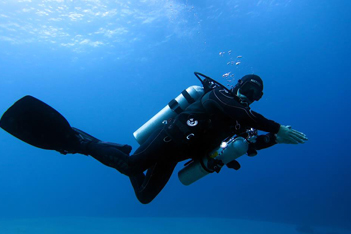 Deep Diver
After your first few scuba dives, you soon want to explore a bit deeper. There's something exciting and mysterious about the depths that attract divers.
In Bali there are so many sites where you can explore deeper – maybe you want to see the Mola Mola (Sunfish) that can usually only be seen at deeper depths. At 40 meters on the Tulamben drop off you will see some beautiful giant gorgonian fans.
To enroll in the PADI Deep Diver course, you must
Be 15 years old or older
Have a PADI Adventure Diver certification (or have a qualifying certification from another organization)
Your Deep Adventure Dive in the PADI Advanced Open Water Diver / Adventure Diver course credits (at your Instructor's discretion) as the first dive in the PADI Deep Diver course. As with all PADI courses we will get you to complete the Independent study prior to the course; we will get the PADI Deep Diver Specialty manual to you so you can read it and complete the knowledge reviews.
Day one we will complete the paperwork, check the equipment and knowledge reviews before heading off for two stunning dives. Dive 1 and Dive 2 involve going no deeper than 30m but you will get a chance to learn about the techniques used to dive deep safely.
Day two we will do another two dives but this time we will be heading down to 40 meters, the maximum depth for Deep Diver training. Here you may well experience nitrogen narcosis and the effects it has upon you.
After the dives the Instructor will log your dives and issue your PADI certification. You are now a PADI Deep Diver!
Techniques for diving in the Deeper range of 18-40 meters
Deep scuba diving equipment considerations
Experience in planning, organizing and making at least four Deep dives under the supervision of our PADI Instructor
During the PADI Deep Diver specialty course you will be diving in Nusa Penida or in Tulamben which are Bali's best diving locations. We have to judge carefully for currents and conditions when planning the deep dives so our favorite is generally Tulamben. You might want to consider an overnight stay in Tulamben as a great way to complete this course.