IDC Staff Instructor Internship
The IDC Staff Internship will get you qualified to teach Assistant Instructors, PADI Instructors and will also give you your first IDC Staffing credit with PADI.  As an IDC Staff Instructor you can join a busy Career Development Center like ours and broaden your horizons!
This all inclusive fee for the PADI IDC Staff Internship covers everything you need for the one month in Bali, as well as your teaching materials.
If you do not meet these requirements then we can help you get to that level by taking part in one of our PADI Divemaster or Scuba Instructor Internships.
A PADI Master Scuba Diver Trainer
Be fit for diving and submit a Medical Statement (PDF) signed by a physician within the last 12 months.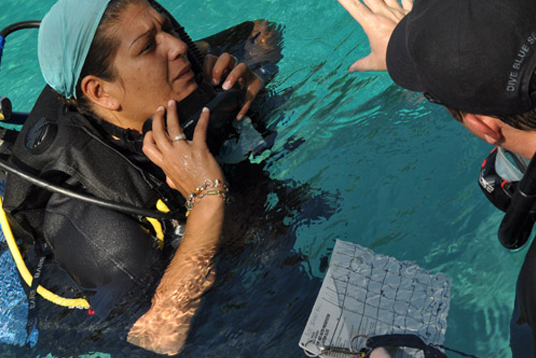 With the IDC Staff Instructor internship we will start with the two days IDC Staff Instructor course. This consists of some presentations provided by our PADI Course Directors, some confined water sessions and then evaluation training. We will also ask you to present knowledge development curriculum from the PADI Assistant Instructor course. Once we have finished this we will then certify you as a PADI IDC Staff Instructor. Now that you are certified as a PADI IDC Staff Instructor we will get you to audit an entire IDC. This is one of the real benefits of completing this scuba internship; you will receive credit for staffing this IDC which is very useful as you head to the next level of PADI Master Instructor. During the PADI IDC you will assist one of our PADI CDs to teach Blue Season Bali instructor candidates. You will give presentations, evaluate candidates and help organisation. It is an active role within the PADI IDC.
The PADI IDC Staff Internship 1 month includes :
PADI IDC Staff Instructor Course
PADI Course Director manual
PADI Confined Evaluation slates
PADI Open Water Evaluation slates
PADI Skill Evaluation slates
PADI IDC Staff Instructor Application Fee
Besides courses and books, your PADI IDC Staff Instructor internship also includes the following :
1 month accommodation – All accommodation is located close to our dive centre and central sanur. Check our more details here about our accommodation.
Visa Assistance – We can help you arrange the right visa for your internship in Bali.
Return Transportation from the Airport in Denpasar, Bali.
Diver Insurance – for your entire stay in Bali.
Lunch and drinking water – on all diving days.
Price-wise, it's all in there! You don't need to expect any hidden costs during your IDC staff instructor internship with Blue Season Bali. Come and train with the most active PADI instructor development team in Indonesia by taking your one-month PADI IDC Staff Instructor internship.