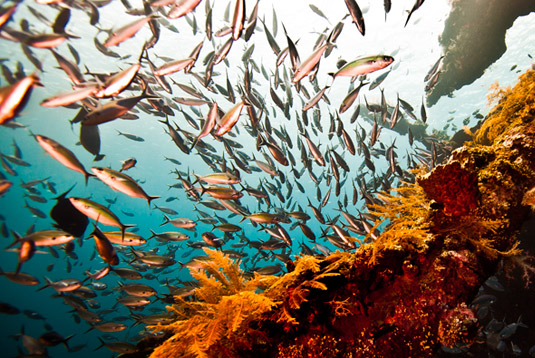 Tulamben Snorkeling
Walking in to the ocean from the beach at Tulamben you have two great choices, left or right. Take the route to the left and in a very short time our snorkel guide will be pointing out the world famous USAT Liberty shipwreck. This really is a unique site where you can look 3 meters down and see substantial remains of the wreck that has been in the water for over 50 years. No snorkeler can fail to be impressed by the schooling jackfish that make the wreck home. Watching the fish swim in a huge circle that moves backwards and forward over the wreck is pretty awesome and a great photo opportunity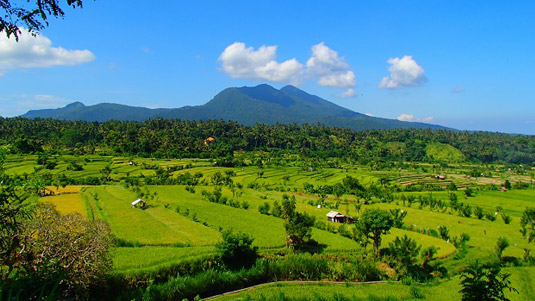 You will also see the great barrel sponges, sea fans and hard and soft corals that have attached themselves to the wreck and provide shelter for an incredible variety of vibrantly coloured tropical fish. Lunch is taken in a local restaurant with views of Mount Agung, and also over Tulamben Bay. After lunch, take a short walk back to the beach and this time take a turn to the right into Coral Garden where the shallow waters are home to large numbers of 'Nemo' (Anemone Fish) as well as Ribbon Eels, Parrot Fish, Angel Fish, Blue Spotted Rays and the occasional White Tip Reef Shark!
Ready to try out some of the fantastic snorkeling sites in Bali? Get in touch with us today.
Hotel pickup/drop off
Full snorkeling equipment
Lunch on all full day trips
Bottled Water
Towels
Guide
Insurance
All of our snorkeling trips are led and guided by our experienced team of PADI Divemasters and Instructors. We can't wait to show you what Bali Snorkeling has to offer! All of our groups are small and put together with your safety and enjoyment in mind.
Equipment rental is available at no extra charge for those who do not have their own snorkeling gear. When snorkeling with Blue Season Bali you only need to bring your personal items such as sunglasses, sunscreen, swimsuit and a camera. Blue Season Bali has digital underwater cameras available for rent at IDR 600 000/day – you will get your photos or videos effortlessly from Google Drive.
Morning pickup around 06:45 – 07:15 AM, returning to our Sanur dive school at 5:00 PM. The bus ride is approximately 2 hours each way, but the Wreck is well worth it; you'll also get to see some of the local villages and the breathtaking rice terraces along the way.