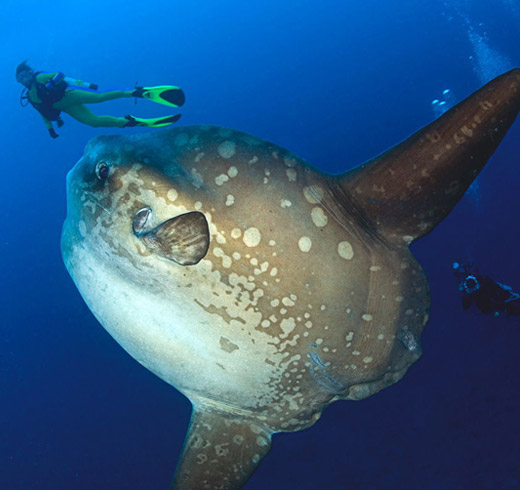 Nusa Penida
Nusa Penida has such great variety of dive sites for experienced scuba divers, we think that you will want to return again and again. Don't forget the Mola Mola Season runs from July to October but Manta Rays are seen all year around in Bali.
Just a short forty five minute boat ride from Sanur harbour will get you to some of the best dive sites in Bali, actually in the world. Enjoy the beautifully clear waters and amazing corals at Crystal Bay. Dive with the magnificent Manta Rays or relax and enjoy an exhilarating drift dive on the north of the islands at sites such as Sakenan and SD.
Scuba Diving at Nusa Penida can be challenging so be sure to check out the diver requirements below.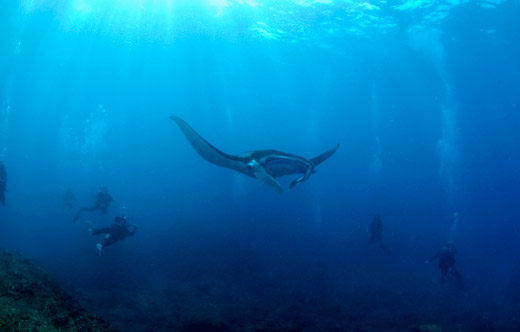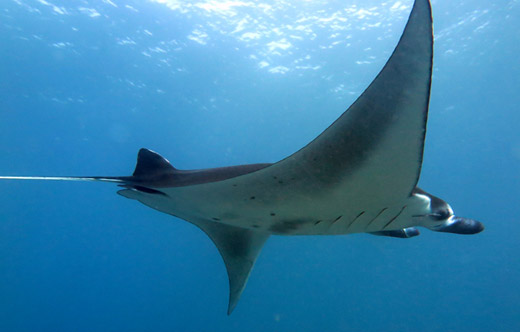 MANTA POINT
Watch in wonder as the magnificent manta rays glide over the cleaning stations at Manta Point. Keep your distance and these curious creatures will continue to circle, amazing you with their grace and beauty in the water.
Manta Point is located on the south west corner of Nusa Penida and is the furthest dive site on Nusa Penida from Sanur harbor, taking approximately sixty minutes in total to reach. It's a journey that is well worth it as the coastline around Nusa Penida is rugged, unspoilt and absolutely beautiful.
Manta rays really are amazing creatures that are resident in Bali year round so whenever you dive there is an extremely high chance of seeing them in the water.. Some of the mantas here have wingspans of more than three meters and all have an individually unique black, white or grey pattern on their undersides which makes identification easy.
Look out also for loads of blue spotted rays on the sandy bottom and unusually at this dive site they can be found lying on top of each other! Divers also find octopus on the huge limestone rocks that are a feature of this dive site as well as bamboo sharks or a chance sighting of Mola Mola.
CRYSTAL BAY
Superb corals and stunningly clear waters make this a favourite dive site all year around and especially so during Mola Mola season.
Drop down to the sandy bottom and then head over pristine soft corals towards the corner where larger fish and Mola Mola are found in season.
Look out for the frog fish that sometimes make their home here as well as mantis shrimps scurrying amongst the corals, looking for food. You will also find many unusual shapes and colours of nudibranchs so keep your eyes open and your camera ready.
Finish the dive with a safety stop around the huge coral pillar that is teeming with marine life. Swarms of glass fish hide under the lower edge and the elusive and well camouflaged leaf scorpion fish is usually found here by our keen eyed dive guides.
TOYAPAKEH
Come and dive with us at Toyapakeh, a favourite of many of our dive guides for the abundance of corals and marine life as well as for the great visibility.
The dive site enjoys some shelter from the strong currents that run through the deep channel between Nusa Penida and Nusa Ceningan, usually with a gentle drift to the north. However the currents can change quickly so stay close to our experienced local dive guides for a fun and safe dive.
The main feature of the site is the coral pillars, some of which are huge. We also find large gorgonian sea fans thriving amongst the healthy hard and soft corals and large schools of fish.
At the deeper end of the dive site we see sharks, turtles, and in season the famous Mola Mola (Sunfish).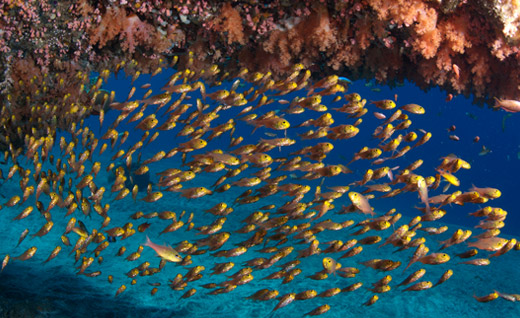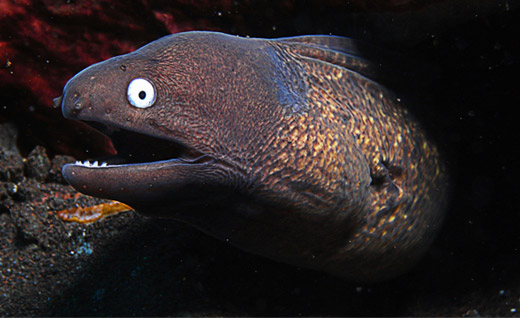 GAMAT BAY
Diving at Gamat Bay is exciting and rewarding with an impressive reef wall that drops away at the edge of the bay. Scuba divers love the variety of marine life found amongst the cracks and crevices on this reef, including the occasional turtle.
Do look out into the blue as we often see larger pelagics including sharks, rays and also Mola Mola (in Sunfish season).
As you come back up the slope you will see impressive table corals and coral bommies where many fish will be sheltering, a great place for you to capture stunning photos.
The main part of the bay is quite shallow so an excellent place to complete a safety stop at the end of the dive amongst some of the clearest waters and most profuse hard and soft corals around Nusa Penida.
This sheltered bay is teeming with beautiful, highly coloured reef fish ideal also for snorkeling if you still have some energy between dives!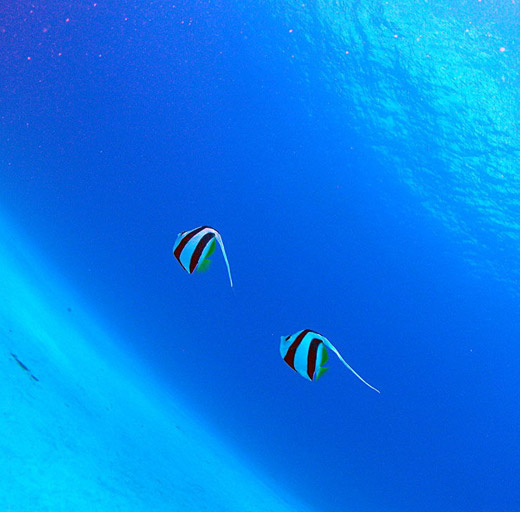 BLUE CORNER
A hugely exhilarating drift over multiple terraces full of marine life including eagle rays, marble rays and (in season) the famous sunfish. Blue Corner has to be one of my favourite dives when conditions allow, although please be aware it is not always diveable due to strong currents. We can advise you on the day.
This site is situated off the northern tip of Nusa Lembongan and is made up of a sloping reef starting at twelve meters and dropping to well over thirty meters.
The site is characterised by the strong currents that make this a very exciting dive and the water colour here has to be the deepest blue that I have seen, so this site is aptly named 'Blue Corner'
A site for very experienced Divers only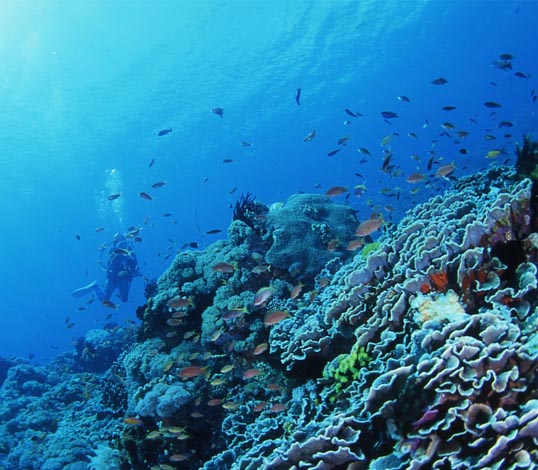 SENTAL
Stunning, healthy corals, huge sponges, a great abundance of reef fish, on a drift dive sum up this wonderful stretch of reef
The healthy reef stretches over most of the northern coast of Nusa Penida and extends over a number of sites with Sental being near the middle.
On a day when the current runs fast you will cover more than one site! Drift diving at Sental is great fun.
The reef starts in the shallows, where you will see seaweed farms, and drops away to where some of the best corals and marine life are to be found at 15-20 meters. Huge puffer fish, turtles and reef sharks are found here. Look a little deeper and you may see larger pelagics, eagle rays, marble rays and, in season Mola Mola (Sunfish).
Watch as the reef fish effortlessly face into the current or hide behind the coral stacks as you drift past. See the huge table corals and sponges that cover the reef and provide shelter from the currents, beautiful!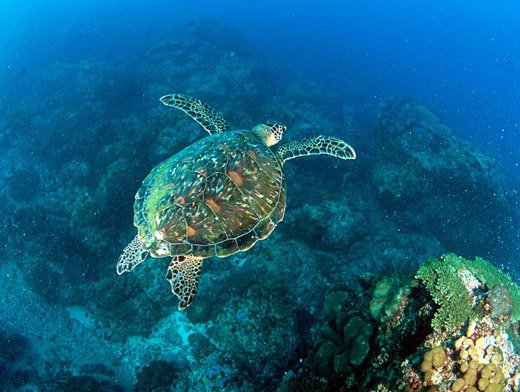 SD
SD is another great drift dive on the beautiful reef that runs along northern coast of Nusa Penida.
Named after the village school on the coast (Sekolar Dasar or SD means Elementary School in Indonesian), this beautiful dive site is one of the most popular drift dives at Nusa Penida.
The currents here can take scuba divers along at exhilarating pace or at a very gentle speed. Whichever conditions you find there will be loads to see from turtles and giant map puffers to tiny shrimps and nudibranchs.
Take a breather from the drift by ducking behind the coral bommies and search out some of the smaller marine life that is here in profusion.