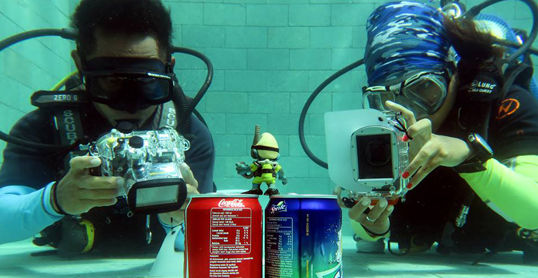 DIGITAL UNDERWATER PHOTOGRAPHER
Underwater photography is one of the most popular diving specialties, and the rise of digital underwater photography has made it easier and more fun than ever. The PADI Digital Underwater Photographer (DUP) course gets you going quickly with today's modern digital equipment, whether you use a point-and-shoot snap camera or a sophisticated D-SLR like the pros.
To enrol, you must have a PADI Open Water Diver certification (or have a qualifying certification from another organisation)
We will pick you up from your hotel in the morning at around 6:30am – 7:15am, and then bring you to our dive centre. Once here it's time to complete some paperwork, check your equipment and go through your theory session. We will then head to the swimming pool for a full review of your camera settings (things like manual mode, exposure control and white balance) as well as a short buoyancy workshop to prepare you for the ocean the next day.
The next day it's off for two stunning dives at Tulamben. Dive 1 and Dive 2 involve understanding how to use your camera system and how to really improve the photos you take. When we get back we will also teach you how to get those photos from your camera to your computer and how to do some basic editing in order to make the photos look much nicer.
As with all PADI courses we will get you to complete the Independent study prior to the course; we will get the PADI Digital Underwater Photography Specialty manual to you so that you can read it and complete the knowledge reviews. Topics covered include:
Basic photography tips
Tips for eliminating backscatter
An explanation of the various digital file formats
How to bring back the colour in your images
How to choose the right underwater camera system for you
The PADI SEA method for getting great shots quickly
The three primary principles for good underwater photos
After the knowledge review and dives have been completed we will issue your PADI certification. You are now a PADI Digital Underwater Photography Diver!
During the PADI Digital Underwater Photography specialty course you will be diving in Tulamben which is one of Bali's best diving locations for photography. Tulamben has masses of marine life to photograph, much of which is macro life or beautiful scenery from the wreck. It is the perfect environment for the PADI DUP course.
This price does not include the PADI eLearning fee, paid directly to PADI on sign up $180
Read More