DIVEMASTER INTERNSHIP BALI: Dive into Your Dream Career
If you are considering a professional Divemaster internship with us you need to ask yourself three questions :
1. Do I have an undying passion for scuba diving?
2. Do I have an undying passion for scuba diving?
3. Do I have an undying passion for scuba diving?
If your answers are a resounding "yes" to these questions, then our Blue Season Bali divemaster internships are tailored precisely for you. Our PADI Divemaster internship programs rank among the most coveted in the scuba diving realm. While many aspire to become PADI Divemasters, becoming an effective PADI professional remains an exclusive accomplishment.
At Blue Season Bali, we have meticulously crafted an internship that not only meets the PADI Divemaster course performance requirements but goes above and beyond. We provide you with real-world experience and workshops that transform you into a confident PADI Divemaster, ready to embrace your dream diving job. The flexibility of our PADI Divemaster internship in Bali allows you to start at your convenience, ensuring a smooth transition into your dive career.
Your Path to Becoming a PADI Divemaster
The Divemaster internship experience typically follows a set pattern, while certain activities, such as assisting on other PADI courses, depend on our daily dive center schedule. Throughout the course, you'll engage in various tasks expected of a PADI Divemaster, including assisting with courses, setting up and managing dive sites, organizing deep dives, and conducting skill circuits.
REQUIREMENTS, FOR A PADI DIVEMASTER COURSE :
PADI Predive safety check (BWRAF)
Buoyancy check at the surface
Mask removal, replacement and clearing
Proper five-point descent
Regulator recovery and clearing
Fin pivot (both low-pressure and oral inflation)
Air depletion exercise and alternate air source
Free-flow regulator breathing
Controlled emergency swimming ascent
Underwater swim without a mask
Buddy breathing stationary and swimming
Hovering in midwater for 30 seconds
Remove and replace scuba unit on the surface
Remove and replace scuba unit underwater
Remove and replace weight system on the surface
Regulator to snorkel & snorkel to regulator exchange
Remove and replace weight system underwater
We offer three primary Divemaster internship options, each catering to your time, budget, and post-training job commitment:
Sign up
for our flagship 1-month PADI Divemaster Internship in Bali, an all-inclusive package perfect for kickstarting your professional diving career.
Enroll in
our 2-month PADI Divemaster Internship and receive 5 PADI Specialty Diver Courses absolutely free!
Dive into
our 4-month PADI Divemaster Internship, packed with workshops, 10 PADI Specialty Diver Courses, and all the materials and fees you need to succeed.
At Blue Season Bali, our Divemaster traineeship program is designed to achieve two primary objectives. Firstly, we provide comprehensive information, workshops, and seminars that exceed the basic requirements of PADI Divemaster training, ensuring you become the most knowledgeable Divemaster possible.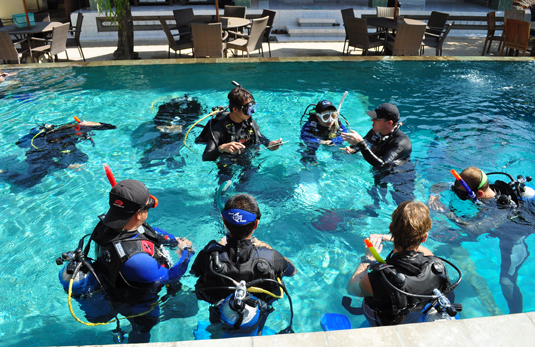 Here at Blue Season Bali, our Divemaster internship program is aimed at completing two primary goals. First, we include information, workshops and seminars which are far beyond the requirements of the basic PADI Divemaster training. We do this with the goal of making you the most well-rounded and knowledgeable Divemaster possible.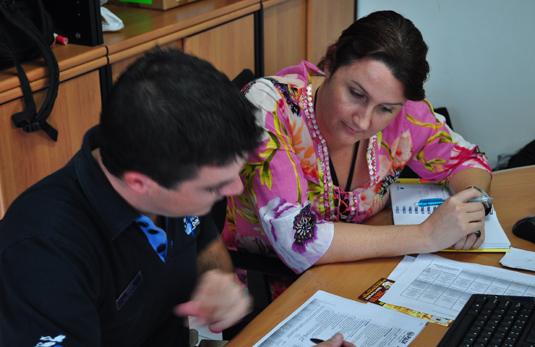 Second, we place a high emphasis in developing your Divemaster skills and theory up to instructor level. So, when you move on to take your Instructor Development Course, it's an absolute walk in the park.
You will learn how to construct a proper dive site map during your Divemaster training here at Blue Season Bali. Of course we will give you tools and tips in order to end up with a great map of one of the dive sites around here.
Toward the end of your training, you will go into the pool with another candidate and an instructor to do the equipment exchange. We won't tell you too much about this now because it is intended to gauge your response to task loading and moderate levels of stress!
Also toward the end of your divemaster course, you will be completely in charge of running an assigned program. This program will be one of the items which may be conducted by a certified PADI Divemaster.
Once we have worked together and you're ready for it, you will be assigned to guide certified divers on day trips. At first, these certified divers will likely be your fellow trainees as you work and develop together. Guiding certified divers is a huge part of the real-life job of any divemaster!
You will assist on at least one complete PADI Open Water course during your training. You will also assist on at least one component of PADI continuing education- like Advanced Open Water or Rescue Diver. While these are the minimum requirements, we'll try to have you assist multiple courses and at least one of each of OW, AOW, EFR, and Rescue. This experience is absolutely valuable if you plan to work your way up to becoming a PADI Instructor.
DIVEMASTER TRAINING WITH A DIFFERENCE
Sure, as a PADI Career Development Center we conduct all courses in compliance with PADI Standards, but there's nothing that says we have to stop there. We have built loads of professional development seminars, workshops and clinics into our revolving internship schedule which are aimed at making you the most complete and competent dive professional possible.
ADVANCED SKILLS
Yes, we're all about professional development here at Blue Season Bali, but we know from experience that some people don't do their Divemaster training to become a professional diver straight away – they want to spend a few months becoming a ridiculously good diver. So, how exactly can we help make you a better diver? Well, we will also teach you a lot of other skills! Ever tried to fin backwards or use the "helicopter turn"? These are some of the skills our experienced instructors will be happy to show you!
REAL LIFE EXPERIENCE
The key to our scuba diving internship program is that you learn what it really means to be a professional diver. You will work alongside our Divemasters, Instructors and Course Directors learning the ropes as you develop your professional-level dive skills and knowledge. Your peer candidates are also a great source of help, meaning, you can work as a group to discuss and better understand things, and of course when you are done studying go out with them for a beer or two!
Airport pick up and drop off.
Accommodation, located near our Dive Centre in Sanur.
Unlimited diving.
PADI Application Fees.
PADI Materials.
Free wireless broadband Internet access is available in our Dive Center.
Equipment Rental – During your internship, we will supply you with a BCD, regulator, wetsuit, tank and weights.
Diver Insurance – gives you security during your entire stay in Bali.
Lunch, water and snacks – on all training days. *See each internship for specific inclusions.
Depending on the dive internship you choose, you will receive special seminars and workshops such as:
Customer service
Equipment Sales & Servicing
Organizing AWARE clean-ups
CV builder
These are just a few of the extras that you may receive. You might start to notice why Blue Season Bali stands head and shoulders above the rest for Scuba Diving Internships.
Our professional team is headed by our onsite PADI Course Director, assisted by our team of PADI Staff Instructors. We have a full team of experienced, multilingual PADI Instructors ready to help you to reach your Professional Diving Goals.
Prerequisites include:

PADI Advanced Open Water Diver (or equivalent).

Minimum 40 logged dives to start, 60 for certification.

Valid CPR and First Aid certification (past 24 months).

Physician-signed medical clearance (past 12 months).
Yes, you can pick a convenient start date.
Options vary in duration and benefits:
1-month: Comprehensive start to your dive career.
2-month: Includes five free PADI Specialty Diver Courses.
4-month: Offers workshops, 10 PADI Specialty Diver Courses, and all materials/fees.
We focus on extensive training beyond basic PADI requirements and emphasize reaching instructor-level skills and theory, ensuring you're exceptionally prepared for your diving career.