Instructor Development Courses
Choosing to do my PADI IDC is one of the biggest life-changing decisions I have ever made. I now get to do something I love on a daily basis. As a new instructor I got a lot of joy out of sharing my passion for diving with my students and divers. Now, I feel even more rewarded because I am involved with transferring that passion on to new professional divers.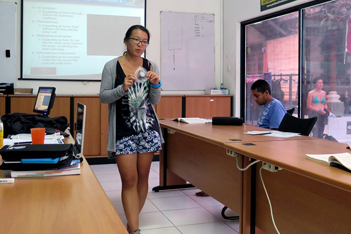 This short internship is perfect for those with limited time, candidates crossing over from another agency or experienced Divemasters ready to move up to Instructor.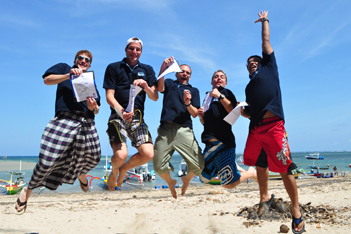 Our all inclusive 28 day program is perfectly designed to get you ready to start teaching. We include workshops, preparation and even a mock examination before the Instructor Exams. We have a 100% pass rate with this program.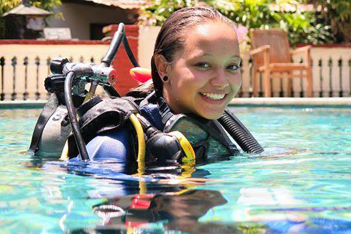 Get an additional 2 months of training, FIVE extra PADI Specialty Instructor Courses, workshops and team teaching with this incredible all inclusive 3 month package.
So, let's have a look at what your transformation process into a PADI Instructor will be like. I'll also give you examples of the in-depth instructor training we offer and why our course is so uniquely successful. But first, let's look at the basic structure of Blue Season Bali's Instructor Development Courses.
PHILOSOPHY
Our IDC packages all start with our company's philosophy toward professional development. We strive to conduct the world's most complete and thorough diver training. We do our best to make this training as affordable as possible for new PADI Instructors so they can go out and apply that same dedication when they are conducting their own PADI courses. Our experienced instructor development team has a wealth of knowledge and we have designed esclusive industry seminars and workshops to give you that information. These are not part of any other PADI IDC program in the world. During your four week PADI IDC Program, you will go through the following :
Organising and conducting Project AWARE activities
CV workshop focused on the dive industry
Compressor use
Equipment maintenance
Overview
When you are comparing the value you will get out of your PADI Instructor Development Course, consider how many training days you'll actually get with experienced PADI Course Directors. Some shops will bang out an IDC in seven days, leaving candidates with a huge amount of coursework in the evenings. Sad. When you include all the extra components, our "PADI IDC Package" runs over 28 days- four times the required minimum. Why?
PREPARATION
Normally scheduled for the two days prior to the start of every PADI IDC is Blue Season Bali's exclusive IDC Preparation Course. While this component is set for two days, we often get started up to a week in advance- just to make sure the pace of the entire IDC is relaxed. During your IDC prep course, we'll work together on :
Dive Theory Review
Demonstration-quality Skills
IDC Orientation
PADI Standards and Procedures
BBQ!
The IDC preparation course is designed to assess your level of competency with dive theory and confined-water skills. This will give you a great opportunity to understand what you need to work on with our team. The IDC preparation course is a great way to prevent stress on the actual IDC- any it's included with every Blue Season Bali IDC.
IDC, INSTRUCTOR DEVELOPMENT COURSE
This is why you're reading this page. The actual PADI IDC is conducted over 10 days here at Blue Season Bali. To date, every single candidate in our PADI instructor internship program has passed the PADI IE on the first attempt. I did my own PADI Instructor Development Course with another company which was very focused on passing the IE. During their IDC, it was "IE, IE, IE." That is not our focus at all. Our goal is to make you a confident, skilled and knowledgeable scuba diving instructor. Passing the IE is simply a formality for a candidate who is prepared to teach in the real world.
It is our job to prepare you. Here at Blue Season Bali, "I.E." stands for "it's easy." And it is.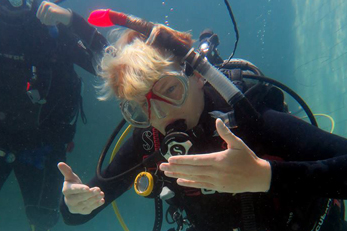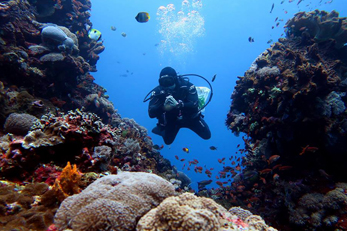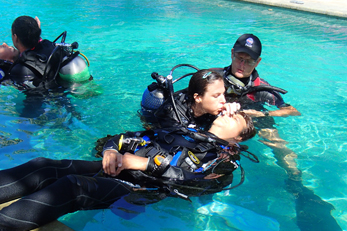 It is our job to prepare you. Here at Blue Season Bali, "I.E." stands for "it's easy." And it is.
21 curriculum presentations given by our professional development staff
Developing classroom teaching presentations workshop
Developing pool (confined water) teaching presentations workshop
Developing ocean (open water) teaching presentations workshop
Candidates' presentations in the classroom and in confined and open water
Invaluable advice from real world teaching situations
Career development counseling
Some great real-life stories from our experiences as scuba diving instructors!
Guidance on how to capitalize on your strengths and improve your weaknesses
We also include valuable workshops in our PADI Instructor Development Courses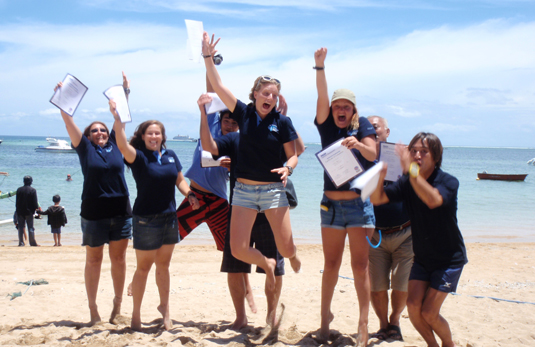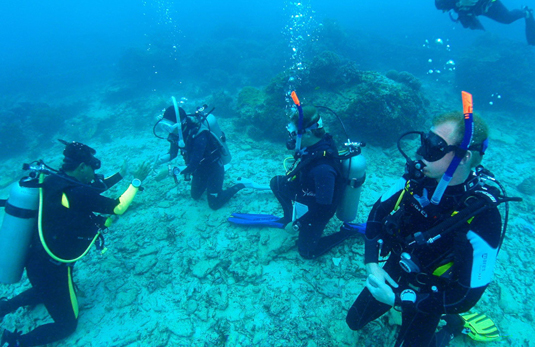 To help you learn how to teach and conduct some of recreational diving's more complex skills :
Controlled Emergency Swimming Ascent Workshop
Our last Emergency First Response Instructor course may have been two of the funniest days of my life. The EFRi program is designed to develop your instructor-level CPR and First Aid skills. It's conducted in classic Blue Season fashion- fun, relaxed and packed with tips on how to run a high-quality, effective course for your students.
Being an EFR Instructor is now a prerequisite for attending the IE so we schedule it to run as a part of the PADI IDC. Besides, how are you going to train good Rescue Divers if you can't teach CPR? Exactly.
FREE SPECIALTY INSTRUCTOR TRAINING / MSDT PREP
There is no doubt that versatility supports employability. You will learn how to conduct five PADI Specialty courses – completely free as part of our PADI IDC Package. You will learn how to teach Nitrox, Deep, Wreck, Drift and Emergency Oxygen Provider. These PADI Specialty courses are among the most popular in the world and this training will help you get work!
BLUE SEASON BALI'S EXCLUSIVE MOCK IE
For two days immediately prior to the start of your PADI IE, we will run through an exact replica of the exam. Experience has taught us that even the best candidates still have some anxiety going into the IE. Yes, this is even despite the fact that we've told them (and soon, you) over and over how easy it is. The Mock IE is a great way to relieve that stress by showing candidates exactly what to expect. We run the program so similarly to PADI's own IE that it's very possible you'll see some of the exact same assignments on the Mock IE that you will on the PADI IE. Really, It's Easy! You don't have to believe me now, but you'll see.
THE PADI IE
The PADI Instructor Examination is a two-day event which is usually broken up over two days here in Bali. It consists of you showing an independent PADI examiner what you have learned and developed over the previous two weeks during your PADI IDC. There is nothing new and there are no surprises. The two full-time PADI Asia-Pacific instructor examiners, are both very professional and have become familiar with the quality of Blue Season Bali's candidates. They are happy to answer questions and make clarifications during the IE. Where does our team fit in during the IE? Well, we're there to handle logistical support and make sure everything is organised for you and your fellow candidates. You will also have our purpose-built IDC classroom as a home base to construct presentations and review. We are committed to supporting you throughout your professional training- from beginning to end. Basically, the only difference on the IE is that you'll be showing the Examiners what you can do instead of us. Like I said, it's easy.
Airport pick up and drop offs.
Accommodation, twin share located near our Dive Centre in Sanur.
Unlimited diving.
Job placement services – Blue Season Bali has a network of industry members looking for employees; be successful on your internship and we can help you reap the benefits.
Free wireless broadband Internet access is available in our Dive Centre.
Equipment Rental – During your internship, we will supply you with a BCD, regulator, wetsuit, tank and weights.
Diver Insurance – gives you security during your entire stay in Bali.
Lunch, water and towel – on all training days.
*See each internship for specific inclusions.
Customer service
Equipment Sales & Servicing
Compressor use and tank filling
Organizing AWARE clean-ups
CV Builder
These are just a few of the extras that you may receive. You might start to notice why Blue Season Bali stands head and shoulders above the rest for Scuba Diving Internships.
Our professional team is headed by our onsite PADI Course Director, assisted by our team of PADI Staff Instructors. We have a full team of experienced, multilingual PADI Instructors ready to help you to reach your Professional Diving Goals.
Empty section. Edit page to add content here.