4 Month PADI Divemaster Internship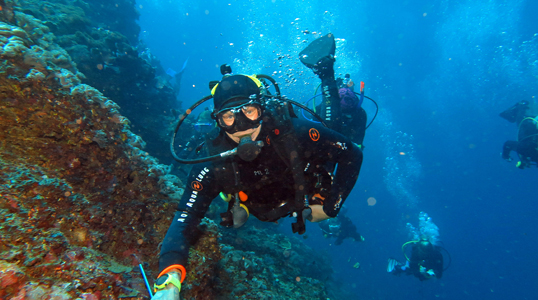 By now you have probably looked through our one and two month Divemaster internship options. You will already have learned that the two-month Divemaster Internship gives you much more experience than the one month option, including more PADI specialty courses. So how about our four month Divemaster program? In a word – employability! The four month Career Divemaster Internship is focused to give you extensive professional experience with dozens of dive, more PADI Specialty diver courses, and most importantly, serious experience working with student divers and certified divers alike. This Divemaster internship will make you the complete PADI Divemaster! Our one-time tuition fee covers everything you need for the four months with our team, but you should be aware of although there are some additional costs such as visas, living expenses etc. that you will need to know about before you come out to join us.
All prices are in Indonesian Rupiah x 1000
A PADI Advanced Open Water Diver (or qualifying certification from another training organization)
A PADI Rescue Diver (or qualifying certification from another training organization)
An Emergency First Response Primary and Secondary Care (or qualifying first aid and CPR training from another organization) course completion within the past 24 months.
Have at least 40 dives to begin the course and 60 for certification.
Be fit for diving and submit a medical statement signed by a physician within the last 12 months.
If you do not meet the prerequisites for the PADI Divemaster Course, then we can help you get to that level.
During the Divemaster internship, we are able to add in PADI Rescue and EFR courses, Advanced Open Water and Open Water courses, according to your needs. As a Divemaster internship participant, you will receive the best rates for these courses : Once the Divemaster course kicks in, there are a number of course requirements that need to be met. The schedule normally follows a set pattern although some activities such as assisting with other PADI Courses will be dependent on the day-to-day schedule here in our Dive Centre. During the course you will be required to do a number of things which are expected of a functional Divemaster like assisting on courses, setting up and managing dive sites, organising deep dives, skill circuits and much, much more.
Download the PADI Medical Statement PDF here.
PADI Deep Diver Specialty Course
PADI AWARE Shark Conservation Specialty
PADI Enriched Air Specialty Course
PADI Fish ID Specialty Course
PADI Peak Performance Buoyancy Specialty Course
PADI Coral Reef Conservation Specialty Course
PADI Project AWARE Specialty Course
PADI Oxygen Provider Specialty Course
PADI Night Diver Specialty Course
PADI Underwater Naturalist Specialty Course
PADI Master Scuba Diver rating
GETTING STARTED
You can start anytime! We do not have any required start dates for our Divemaster internship programs. Have a look at a travel itinerary that works for you and we'll go from there. There are a few prerequisite courses that you'll need to complete before you can begin the actual Divemaster course. If you don't currently meet the prerequisites, no worries. We offer excellent discounted rates on all these and will be able to complete them at the beginning of your Divemaster internship.
Month 1
There are a lot of things to complete during the Divemaster course curriculum. You'll work side-by-side with our experienced instructional team and your fellow Divemaster candidates to become a competent PADI Divemaster. This will largely take place during the first 4-6 weeks, depending on your experience level when you arrive. All internship programs are geared toward helping you meet your personal goals in diving, as well as becoming a confident scuba dive leader.
Month 2 - 4
When both you and our instructional staff are satisfied that you have met the requirements to become a PADI Divemaster, we'll submit your application. Once this is done, the real development begins with real-life hands-on experience with students and daily leisure divers. There is no substitute for experience and the four-month Divemaster internship provides you with the extra experience you need for ultimate employability.
Aside from PADI materials and courses, your Divemaster program also includes all of the following :
10 PADI Specialty courses
All your PADI fees and materials for all courses
4 months of accommodation – Centrally-located and close to the dive centre and nightlife of Sanur.
4 months of unlimited diving!
Master Scuba Diver certification
4 months of unlimited Diving
PADI application fees for the Divemaster course.
All certifications and applicable PADI manuals for the TEN Specialty diver courses.
Master Scuba Diver certification.
PADI Instructor Manual
PADI Divemaster Manual
Encyclopedia Of Recreational Diving – multimedia or paper version.
Divemaster Slates
Visa Assistance – We can help you arrange the right visa for your internship in Bali.
Free wireless broadband Internet access is available in our dive center.
Return Transportation from the Airport in Denpasar, Bali.
Discounted SCUBA equipment
Diver Insurance – all divers are protected by our company insurance.
Lunch, water and towel – on all training days.