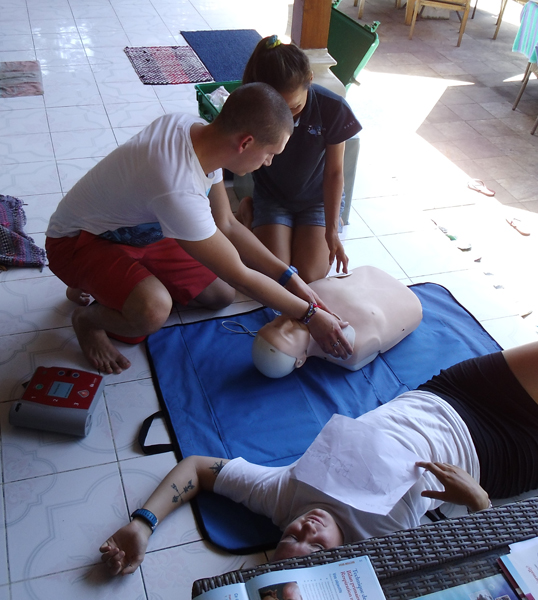 Emergency First Response
Emergency First Response (EFR) is the fastest-growing international CPR, Automatic External Defibrillator (AED) and First Aid training organization. Dedicated to training the lay rescuer, EFR courses encompasses adult, child and infant CPR skills, provides AED and First Aid training, and features an outstanding First Aid at Work component.
The award-winning programs and state-of-the-art training materials make it a favourite among divers around the world.
Many divers take the Emergency First Response courses to meet program prerequisites, such as PADI Rescue Diver, or as preparation for becoming a PADI Divemaster. However, most have also found the EFR program to be important in everyday life. The Emergency First Response Care for Children course is an innovative CPR, AED and First Aid training course that teaches participants how to provide emergency care for injured or ill children (ages one to eight) and infants less than one year old.
At Blue Season Bali we combine the PADI EFR and Care for Children (CFC) courses into one neat package that provides you with complete training. We will pick you up from your hotel and bring you to our Dive Centre where our PADI EFR Instructors will instruct you. With the EFR and CFC courses there is some independent study that needs to be done. We provide you with the materials which you will use to complete this study and use throughout the course; it is great reference material for the future also.
During the day the Instructor will demonstrate to you how to perform the First Aid, primary care and secondary care skills along with CPR. This will be done for infants, kids and adults. You will also practice performing the skills where our Instructor will guide your practice so that you are competent by the time you finish this one day program.
During the day we provide lunch and drinks and we have plenty of breaks. Once we have finished the program we will provide you with the PADI EFR / CFC certification.
PREREQUISITES
None
DURATION
1 Day
INCLUSIONS
All Classroom Materials
CPR/CRC/AED/First Aid Manual
Lunch' bottled water and towels
Hotel pick up and drop off