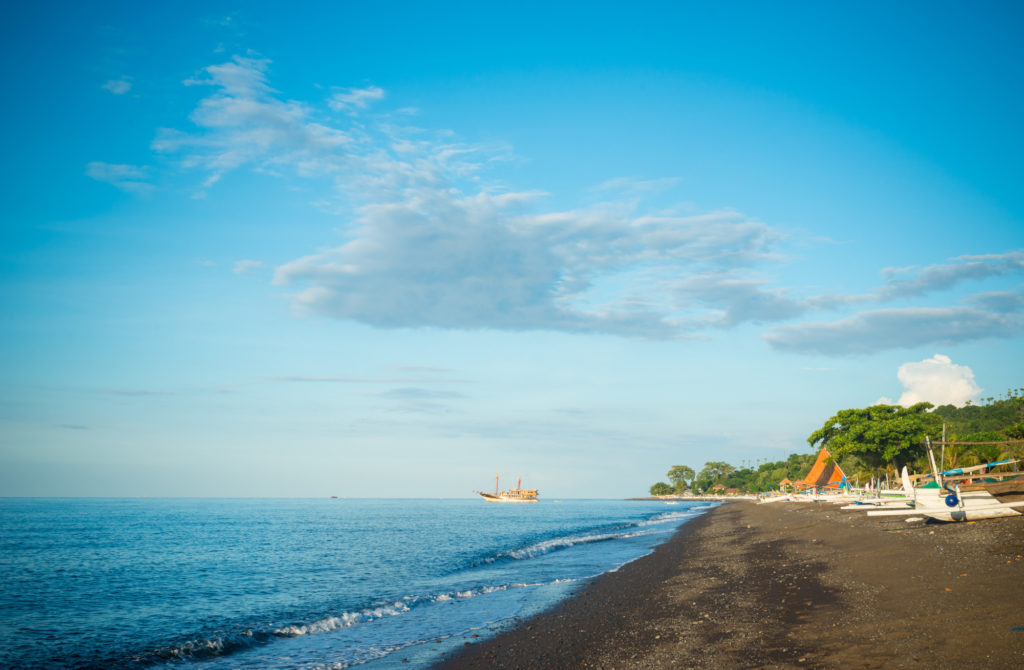 Fishing boats with swordfish head designs await the high morning tide, as the fishermen of Amed prepare the tradition of fishing as their main source of income. As the sun rises, however, restaurants and diving rentals begin to open, one after the other. Amed is slowly changing – from a poor fishing village into one of the most popular snorkeling and diving sites in Bali.
Relatively secluded in the northeastern coast of Bali, the village attracts only those who are seriously into snorkeling and diving. Those who seek untouched marine life and vegetation will go the distance to find them here. Its calm bay waters offer high visibility and biodiversity, two very attractive qualities to underwater explorers.
Here are four snorkeling spots in Amed that we highly recommend.
Jemeluk Bay
Type 'Amed snorkeling' into Google, and you will find this site first. It is especially popular due to one curious feature that lies about 50 meters offshore (marked with a buoy): the underwater temple. Don't expect a submerged ancient temple with hundreds of rooms and tombs. Some people refer to it as the Underwater Post Office, because it is as big as one. Is it a sacred site though? Who knows but the locals. You are allowed to swim over and around it, and discover how corals and fish have used it as their new home. You'll find angelfish, surgeonfish, blue starfish and, if you're lucky, the blue spotted ray.
Japanese Shipwreck Point
Little is known about how a Japanese ship ended up underwater in these shores, or whether the ship is really Japanese at all. But its short distance from the beach, and its shallow depth of 6 to 12 meters makes it popular for divers and freedivers. The wreck now houses a variety of sponges, and rows of large gorgonian fans. You might even notice a huge staghorn coral table not far from the wreck. Note that entering the water might be tricky at first due to rocks underwater. Use neoprene socks to protect yourself. It's been suggested to go to the site in the morning when visibility is at its best.
Lipah Beach
Most of the Amed area consists of black volcanic sand, but a few places, like Lipah, offers greater visibility due to its whiter sand. At the corner of Pondok Vienna Beach, just before Lipah Beach begins, you can see greater biodiversity and hard coral formations. Getting to this location in the water is not hard, although it is best done in the morning at high tide. At low tides, rocks and dead corals may be challenging to get through. Please note that at very shallow waters it might be tempting to step on coral rocks to move through the water conveniently. But this only damages the coral and this action might impact the ecosystem in ways you may not even be aware of.
Bunutan Selang Beach
If you really want to see the black-tip reef shark, Bunutan Selang beach is the place where they often hang out. These carnivorous fish aren't a threat to human beings unless they are provoked. They grow up to 1.5 to 2 meters in length, and weigh up to 45 kg, so great respect for these sea critters is advised. If you prefer to see corals and sea vegetation, you can find shallow water coral reefs in a rich coral garden in front of Good Karma Bungalows.
Blue Season Bali offers an exciting day for a snorkeling trip in Amed. Join our experienced Divemasters who will guide you to whatever sea creatures or scenic underwater spots you are looking for. There will be a snorkeling session at Jemeluk Bay in the morning, lunch in one of the beachfront restaurants, and then another session in any place you choose along Amed's long beaches.