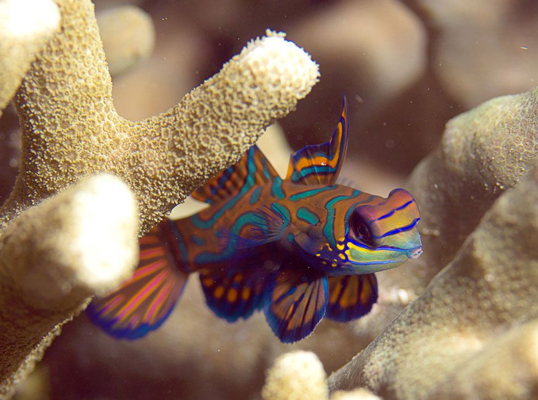 Menjangan Overview
Experience the tranquil calm that Bali has to offer by taking a trip to Menjangan. A visit to The Menjangan Resort in beautiful North West Bali is a sure way of experiencing the very best of amazing tropical Bali. Menjangan Island is located in the West Bali National Park, home to forests full of deer and teeming with bird life. The island sits surrounded by turquoise seas that teem with an incredible abundance of colourful fish and marine life. After dropping into the warm, clear waters around this paradise island you very quickly realise why so many divers travel thousands of miles to experience the world class diving available here. Look down the magnificent walls for a chance sighting of Turtles, Reef Sharks, Rays and much much more. Marvel at the clouds of brightly coloured fish that surround you from the moment you enter the water, a world that we are privileged to share for a short while. Giant Gorgonian Sea Fans, huge Barrel Sponges and pristine corals await you…..join us soon!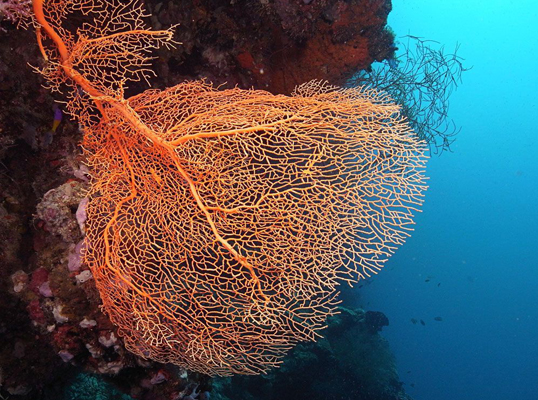 POS II
POS 2 is located at the South East point of Menjangan Island. The spectacular wall dive starts at around 12 meters and after a sandy slope drops down to 25 meters. The craggy wall has loads of sponges, wonderful soft corals and impressive Gorgonian Sea Fans. The wall is home to loads of creatures so look out for Nudibranchs, Pygmy Seahorse and Orangutan Crabs whilst also keeping an eye open for passing reef Sharks and Turtles. Towards the end of the dive on the eastern point of the island there is an up-welling of cooler waters from the deep ocean that sometimes brings larger pelagics such as Manta Rays, Sharks and Mola Mola.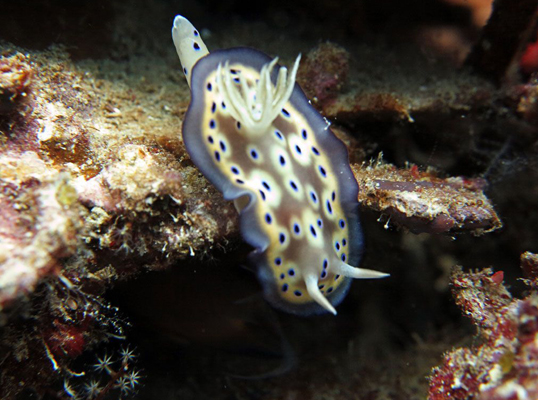 ANCHOR WRECK
The Anchor Wreck lies at a depth of 30 to 40 meters although the anchor (from which it is named) sits on top of the reef at less than 10 meters. The wreck itself is pretty small at only 25 meters in length and is thought to be over 100 years old. This wreck still holds some of the original cargo of ceramics and glass bottles and today is now totally colonised by soft corals. The main reason for diving this site is not so much the wreck but the huge amount of marine life that is attracted here, a superb place to see Turtles, Sharks and the occasional Whale Shark. The site is also blessed with great visibility, sometimes as much as 30 metres, a great location for wide-angle photography, or just for anyone on the lookout for a wonderful dive. Deep diving experience is required to dive here and of course it is a perfect location to complete your Deep Diver Specialty Course. Highlights of the marine life that you can see here include: Jawfish, Fire Dartfish, Two Tone Dart Fish, schools of Moorish Idols, Pyramid Butterfly and Red-Toothed Triggerfish.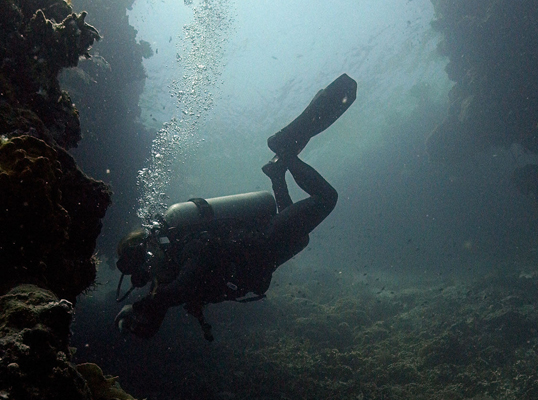 CAVE POINT
When there is no current the start of the Cave Point dive is the same as POS 2 but instead of going left from the beach you turn right. The wall drops down immediately to around 50 meters where it there is a sandy bottom. This is one of the best wall dives available in this part of the world as not only do you have a vertical wall plummeting downwards but the wall itself is very dramatic with alcoves and swim-throughs. The fissures sometimes open like cathedrals back to the surface and the light that beams down can used for great ambient light photography. Look out for huge Napoleon Wrasse, Black Tip Sharks and many other larger reef fish.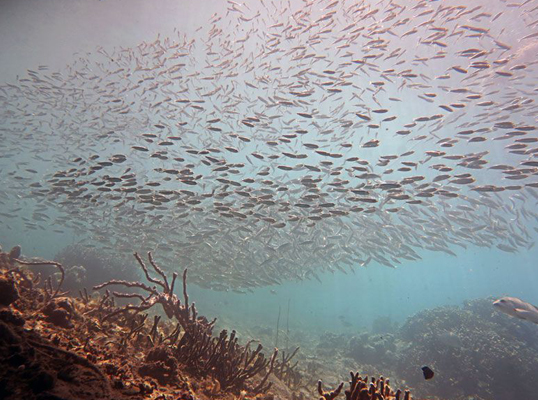 EEL GARDEN
This dive starts from the most North Western tip of Menjangan Island, following the wall southwards towards the Bali/Menjangan channel. Here you will see some of the most healthy and diverse coral on Menjangan, there is also a resident garden of Spotted Eels (hence the name of the site). The cracks and fissures in the wall are filled with a great diversity of reef fish. The top of the wall starts at around 5-8 meters and goes down to a white sandy slope at roughly 25 meters. Just before the slope you will find a huge Gorgonian Sea Fan where occasionally the very timid Long Nosed Hawkfish can be spotted. This area is also known for sightings of White Tip Reef Shark, small schools of Barracudas, Turtles, and Napoleon Wrasse. From the deepest point we start our ascent up the slope, over many soft corals, until reaching a huge colony of Garden Eels which covers the slope from 20m to beyond where it flattens out at 14m.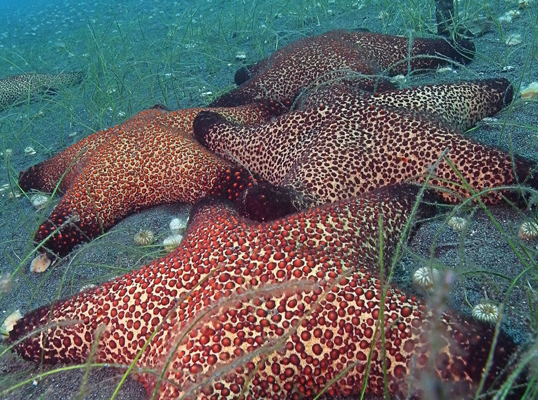 SANDY SLOPE
Sandy Slope is perfect for the novice diver as well as those that are more advanced. With a great entry point in only about 1.5 meters of water onto white sand it gives a great opportunity for Discover Scuba or Open Water Students to get accustomed to the surroundings. Visibility here can exceed 20 meters so you can immediately see what the dive site has in store, with schooling Bumphead Parrot Fish, Squid and Leaf Scorpion Fish. For the more experienced diver the Gorgonian Sea Fans found at around 20 meters provide the perfect opportunity to look for Pygmy Seahorse. Don't forget to look out into the blue as larger ocean going fish pass by, such as Tuna, the occasional Manta Ray and even Whale Shark!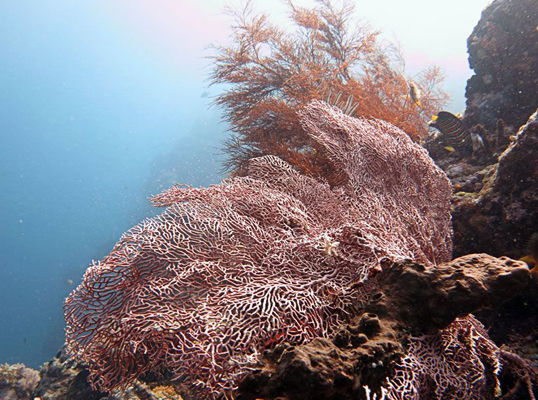 TEMPLE POINT
Temple Point is on the very North East of the island and is a drift dive that takes you slowly around the eastern point. The drift starts near the mooring point outside the only jetty on the north side and quickly drops off onto a vertical wall that is 30 meters at its greatest depth.  This site is also great for the entry-level diver as there is a plateau on top that is covered from top to bottom with coral and fish life. On the wall itself it is possible to see Sharks, huge schools of reef fish swimming in the current and bottom dwelling creatures such as Stonefish or Sea Moths.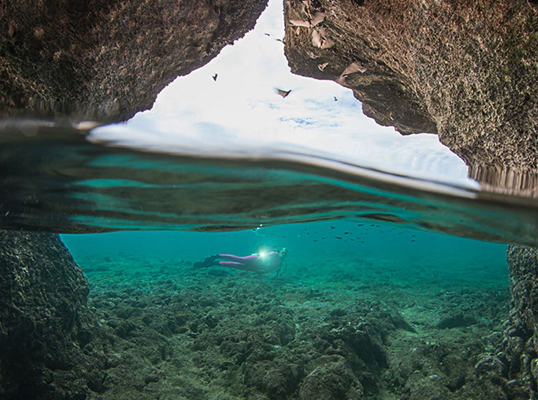 BAT CAVE
Bat Cave is on the eastern side of the island and this is the start point of a beautiful drift dive that often joins the neighboring site of Temple Point. Bat Cave itself is part of a very shallow cave complex and home to hundreds of sleeping bats. The dive site is one of the better place to see sharks so keep an eye on the blue.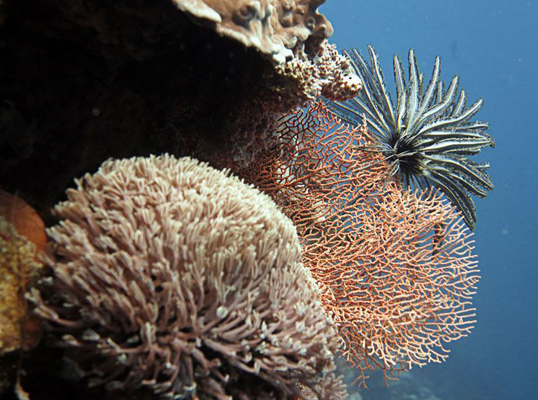 CORAL GARDEN
Coral Garden starts around 80 meters to the west of the entry for Temple Point so for those good on air, you will more than likely cross over the two sites. Coral Garden is an excellent site for snorkeling with its shallow reefs and protection from current or wind. The fringe reef at only 1 – 2 meters drops off to more reef around 5 meters with sandy patches, which again makes it perfect for the entry-level diver. From the starting point you head east dropping over the wall, witnessing all sorts of colours and corals. After around 5 minutes at 27 meters we have the largest Gorgonian Sea Fan found around the island, which is home to whole family of Pygmy Seahorses.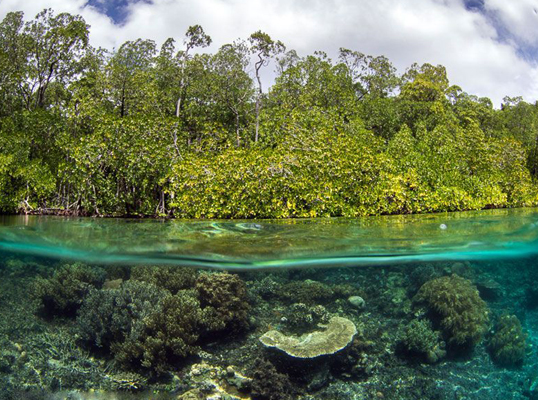 MANGROVES
Mangroves is named because of the location of its entry point, where the island starts to slope away to a sandy peninsular where the rocky beaches make way to mangroves and white sand beaches. The diving at Mangroves is very simple, with a sloping wall turning into a vertical wall or the other way round depending on where you start your dive and the direction of any current. The walls are from 4m to 30m.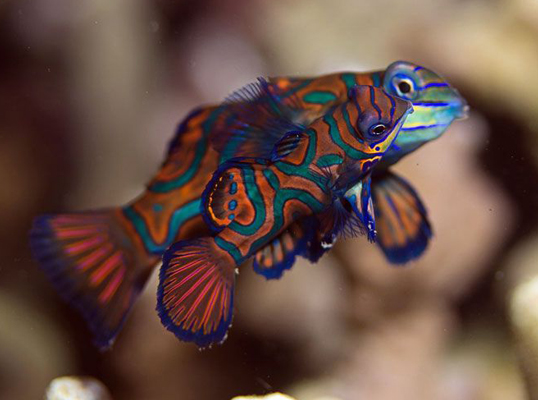 BAJUL BAY LEFT
Bajul Bay LEFT is the best dive off the beach for the beginner, with lots of life and colour it is a feast for the first time diver. At first glance for the more experienced diver it may not seem so magnificent but once you start hunting, the weird and the wonderful start appearing, with yellow painted Frogfish, dozens of Nudibranch species, Pipe Horses, schooling Barracuda and much more. It can either be a shallow dive for the beginner or a little deeper for those with more dives under their belt! Being straight off the jetty means it is a must for any diver staying at The Menjangan!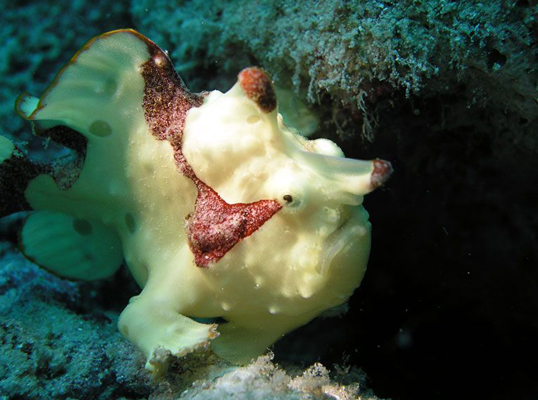 BAJUL BAY RIGHT
Bajul Bay RIGHT has 2 options, a deeper dive or a shallow more 'specific' dive. For option 1 a descent from in front of the jetty down to a depth of 24m leads us to a set of barrels under which is a resident Frogfish. In the middle of the channel the sediment is very silty so be careful not to stir it up when searching for the Snake Eels and Octopus. Moving up the reef as you go, you will find lots of corals with numerous Nudibranchs, Shrimps and Crabs. The real treasure of Bajul Bay however is found in only 5 meters of water around 40 meters to the south of the jetty 'the Mandarin Fish'. The Mandarin Fish is a species of fish that is only found in certain locations around Asia and we are lucky enough to have one right on our doorstep. The best time to see these magnificent fish is between 5:30pm and 7:00pm when they come out to find a mate and perform their incredible mating dance.
Ready to try out some of the fantastic Dive Safaris sites in Bali?
Get in touch with us today.
The Menjangan and Bali's West Bali National Park are located 4 hours from the South of Bali. While we can arrange day trips under special conditions, we highly suggest you have a look at our special Dive and Stay packages to avoid long days spent in the car. For more information have a look at our Menjangan Diving website.
At Blue Season Bali we pride ourselves on the quality of our dive guides. Our senior dive guides, Putu and Wayan, have thousands of dives in the local area and are requested time and time again. Why? They are the absolute best diving guides in Bali if you want to find rare and wonderful marine life, or you want to find the elusive Mandarin Fish.
Equipment rental is available at no extra charge for those who do not have their own dive gear. Nitrox is unfortunately not available in Menjangan. When diving with Blue Season Bali you only need to bring your certification cards and logbooks as well as items such items as sunglasses, sunscreen, swimsuit and a camera.
Drinks and Beach Towels.
For the three dives program in Menjangan Island, a lunchbox is provided.
Transportation to the dive sites, either boat or car.
Complete set of dive equipment.
Cylinders, weights and weight belts.
All dives are run by certified and insured PADI Divemasters or Instructors.
Dive insurance provided for every customer.