To ensure a smooth trip to Bali, one of the most desirable diving destinations in the world, it's advisable to ensure your diving plans are properly organized. Here are a six of our top tips to ensure a smooth diving vacation in Bali.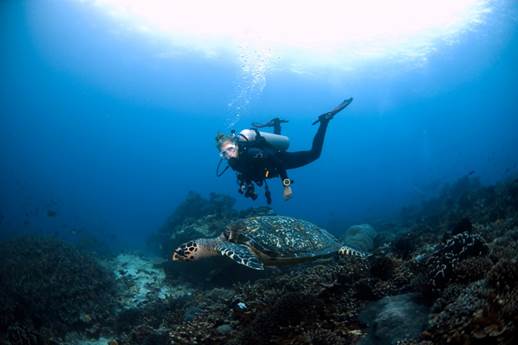 Research your destination
This goes without saying, but it's important to read up on the dive sites and look into the diving operator – whether or not they provide insurance and see if they offer a pick-up/drop-off from where you're staying in Bali. All dive trips with Blue Season Bali include a complimentary free shuttle service, lunch and coffee, beach towels and much more.
Find hydrology information regarding the diving locations you plan to visit
Hydrology information refers to the actual water conditions, such as visibility, how strong the currents are, the water temperature and whether or not you'll need thermal protection. This should be researched beforehand, especially if you're a beginner. Seasoned divers should also check in with the local dive operator, and check the weather forecast.
Know your diving gear
The majority of people will rent diving gear from the dive operator, so you will want to check if it's gear you're familiar with. If they're using gear that isn't familiar to you, read up on it and get to know it before jumping in the water. Our diving trips at Blue Season Bali include a full set of diving equipment for our guests, and our instructors are more than happy to provide any necessary assistance.
Check the gear to ensure it's usable and properly inspected
Every dive operator should inspect their dive gear before renting it out to guests. However, you should also do your own inspection just to be safe (after all, you're the one diving with that gear). The last thing you want is for something to go wrong during your dive.
Prepare a basic travel kit
A proper travel or emergency kit is mandatory in any diver's set of equipment. This should include a first aid kit that's complete with pressure bandage, wound dressings, antibiotic cream, painkillers and sunscreen, just to name the basics. The more complete the better, because you won't know what kind of hazards you will be dealing with, and it's always safer to be prepared.
Emergency contact with your diving place
This should be common sense, but just to be safe include a secondary emergency contact in case the first one is unreachable. In an emergency situation, you want to have an immediate contact person available at all times.
A properly planned dive trip will reward you with a thrilling and fulfilling adventure underwater. Keep in mind the ocean is unpredictable, so it's always best to prepare and plan everything ahead of time to ensure a smooth diving adventure.
Explore the beautiful dive sites around Bali with our experienced team of PADI Divemasters and instructors. Don't hesitate to contact us at Blue Season Bali for your next underwater adventure.