A few faves from my time in Sanur. Cure your homesickness, eat some real food, slurp up at happy hour, eat for under a dollar. It's all possible here in Sanur!
The Glass House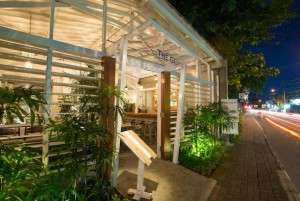 Jl. Danau Tamblingan no. 25A‬, Sanur, Denpasar, Bali ‪80552‬, Indonesia
IF YOU LIKE PINA COLADAS and other refreshing beverages pop past between 4-7 for 2 for 1 cocktails! Need I say more? Ah yes all that diving and sunning yourself has made you hungry! Don't go past the coconut fried prawns (the biggest I've seen since my Aussie Christmas) or a burger with the lot YUM! The Glasshouse is as the name suggests, glass windows and shutters. A light, breezy atmosphere, perfect for an intimate dinner or a drink with friends.
Bali Buda
‪Jl. Danau Tamblingan 95‬, Sanur, Denpasar, Bali, Indonesia
COFFEE thought that might spark some interest. Its real coffee without the syrups and the "creamers" just a tasty real latte with dairy, soy, nut milk you name it, they have it. Of course this gets a mention, there's four throughout Bali so they are doing something right!! Yes, they also serve vegan, raw, nut fee, gmo free and gluten free variations… but it's damn tasty! They have a huge range of salads, pizzas, Indonesian food, juices, sandwich's etc and its all from fresh, local organic ingredients. Delivers too! Chicken salad and a slice of cheesecake is my fave treat! It also has a health food store section for all your other needs!
Kokoya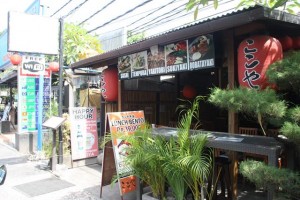 ‪Jl. Danau Tamblingan No.178‬, Sanur, Denpasar, Bali, Indonesia
Sake and sashmi sound good? Japanese can be a hit and miss anywhere in the world, and for the wary traveller, raw fish doesn't sound like a great idea, but here it's fantastic! (We ate here three times in one week and no tummy upsets!) Absolutely in love with the sable fish sashimi and a seriously good agadashi tofu! Sushi, gyoza, pork belly, bento boxes they have everything. We had feasts with sake and cost around 150,000RPH each! FYI you can go here and eat for far cheaper but we were just little piggies. A must try!
Bread Basket ‪
Jl Danau Tamblingan 51‬, Sanur, Denpasar, Bali, Indonesia
I could very happily eat a chicken baguette here every day… awesome fresh bread with real grains and flavour. Fresh salads, chicken, bacon, avocado, everything you could need plus a sneaky brownie on the side! Great for takeaway too so you can sit on the beach and enjoy!
Wurung Jawa – Moro Seneng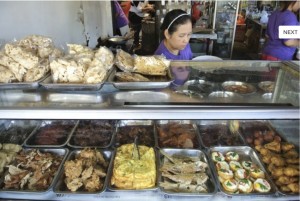 ‪‪Jl Danau Tamblingan 51‬, Sanur, Denpasar, Bali, Indonesia
Want to try some real Indonesian food and/or running low on cash? Check this place out! Line up and load up a plate with everything curries, noodles, beans, fish etc. our regular bowl would cost around 80,000RPH. A couple of long tables out the front and a small selection of fresh fruit, out the back is a local food shop. Quick, tasty and cheap!
Olivia Graham