Diving in the rain remains to be a controversial topic among divers. Some people don't have any problem with it, some people hate it, and most people still question whether it's worth trying.
Being in the tropics, Bali experiences two seasons in a year – the wet (or rainy) and dry season. The rainy season in Bali usually occurs from October to April, but the tropical seasons aren't always clear cut.
The dry season in 2019 lasted until mid-December, and Bali even experienced an entire week of sun in January 2020. So even if you have scheduled a dive session between October and April, you might have a good week to dive, or a bad one – it's not easy to predict.
In the rainy season when we know that it can start raining any time, any day, it's important to first understand how rain affects a dive session.
Is it dangerous to dive in the rain? Contact our team and ask directly.
But first, how bad is bad weather?
Obviously, and we will say this clearly, with full emphasis:
It is dangerous to go diving in a thunderstorm!
You may run the risk of navigating into tall swells, which are treacherous even if you use a large boat. Bad visibility on the surface has the risk that your boat driver is unable to see your surface marker, particularly if your entry and exit points are different. And if there are surface currents due to wind, you might unknowingly drift away from your designated exit point.
However, if you happen to be on your way to the dive site, and the sky is grey and you can feel a light drizzle, it doesn't mean you should panic and call off the dive.
It also doesn't mean you should commit to the session if the conditions become worse. You'll need to make informed decisions and communicate with everyone involved in the session to make the best out of the situation.
How rain affects sea life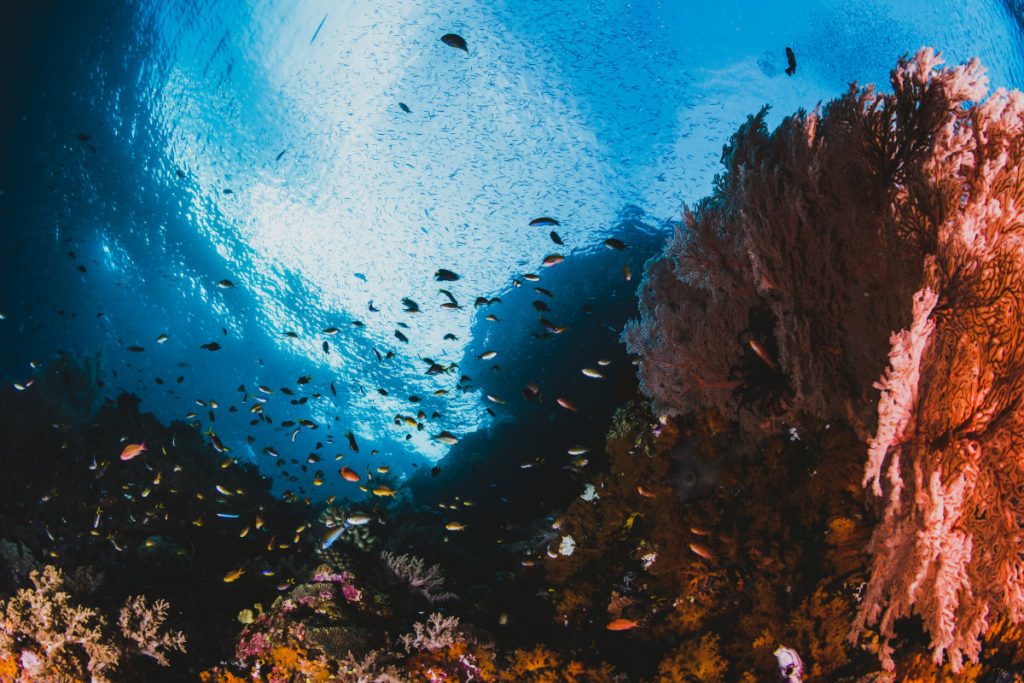 The rain can be advantageous for sea life because it helps bringing food, and re-circulating oxygen into the water at a faster rate than usual. The two factors can create the potential for sea life to become more active.
Near the shore and mouth of streams, the rain will deliver food-rich sediments in great quantities. This likely attracts small fish, and these again attract the larger fish.
This typically happens during light rain, when the conditions on the surface do not affect the flow and temperature of the water significantly.
How rain affects visibility
While rain can bring food-rich sediments from the land, it could also bring grains of dirt that rapidly cloud the water. At its worst, the surface conditions can stir up mud from the seafloor, reducing visibility to a few meters.
This effect is worse in shallow water, as the sea bed is much closer to the surface, and these locations are likely closer to the outflow source of the dirt. In the deeper open water, the visibility will remain poor, but this is due to the lack of sunlight.
An underwater flashlight can be used to help you navigate, but if you find that the water is murky, to begin with (and even this is sometimes possible in deeper water), using a flashlight will instead make visibility worse.
This is similar to using your car's full-beam headlights during a fog.
Should I book a dive session during the rainy season in Bali?
The answer depends on whether or not you are willing to risk calling off a dive and delaying it to a different day, since the weather is difficult to predict.
We highly suggest that you don't create travel itineraries that are too rigid – allow dive sessions to be rescheduled.
At Blue Season Bali, we understand how important it is to be flexible when it comes to exploring the underwater world, and relying on natural conditions, such as the weather and the sea. We offer day trips that can be rescheduled when the weather is not in our favor.
Feel free to contact our dive team at any time for support!