We are ashamed to admit that as Aussie's we have never dived before, but luckily for us, completing a marketing internship with Blue Season Bali (BSB) presented us with the perfect opportunity!
Having snorkelled in various parts of Asia (and of course Australia) We weren't sure what to expect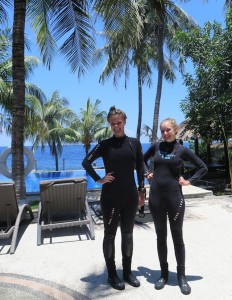 Our first day began with PADI skills videos and knowledge quizzes to keep us on track. Then Julie (our fabulous instructor) got us into the BSB pool to practice what we had been watching as a part of our confined water lessons. We had a blast trying out all of the techniques and feeling confident that we could handle ourselves the next day in the ocean.
For our second day of the PADI course we were lucky enough to visit Nusa Lembogan. The water was crystal clear and there were lots of people and boats around, doing all sorts of water activities.
We struggled a little with the weight of the equipment and our fresh sea legs, but luckily we had the crew to help! We geared up and planned out the dive then did our very first aqua roll (not as graceful as Julie!) into the incredible underwater world.
We were amazed at the colours of the fish and coral; and the clarity of the water! Not what we were expecting at all!! After two fun dives and some skills tests we popped back up for a few more quizzes and the final exam to complete day two.
We thought Lembogan was good, but then came the third day at Tulamben. With an early start (meeting at 7am) we had a little snooze on the bus trip up and occasionally peeped out the window to the incredible view of Mount Agung.
The resort was beautiful but the best was laying just a few meters off shore. The USAT Liberty Wreck from World War II!! The ship itself was damaged in the war and was beached at Tulamben for later repairs. The volcanic eruption of Agung in 1963 shook the ship into the ocean, leaving it plenty of time to develop a technicolor and healthy ecosystem.
We were amazed! We saw so many incredible creatures by the time we got out an hour had past and we were hooked! We got a visit from the resident turtle, saw beautiful blue spotted string rays, yellow box fish and so many others that Julie pointed out to us that we couldn't even name! We completed a few more skills and went on a second fun dive!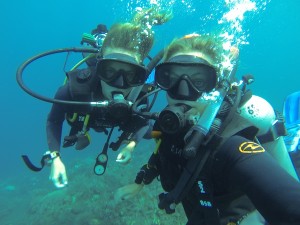 The whole experience was incredible and so rewarding! Some of the theory and skills were a little challenging but luckily we had Julie to guide us through, leaving us confident to jump in the water again and give our open water licence a work out!
For more info on PADI courses and trips to Tulamben jump on our website!
Olivia Graham  & Rebecca Cato