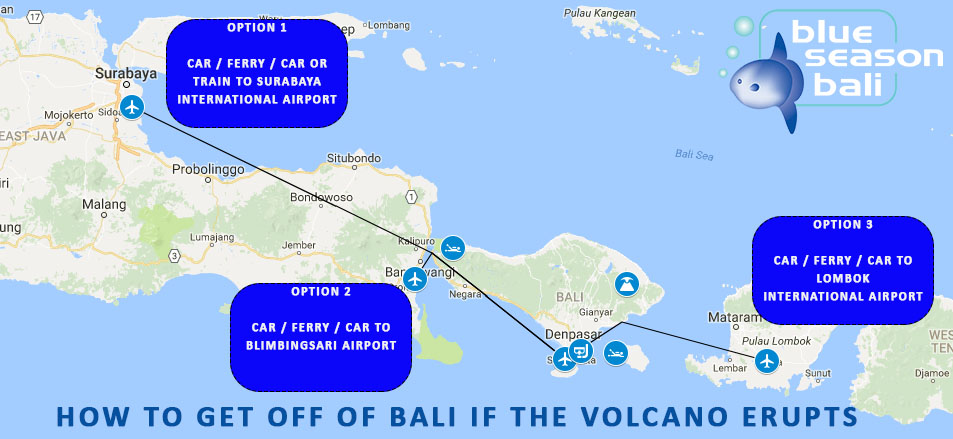 Are you planning a trip to Bali this holiday season? Nervous about contingencies and what to do if the Volcano erupts? We've put together a list of the three easiest ways to get off the island should there be an eruption that closes the airport.
Indonesia is an archipelago of islands. Bali is just one small island among the sea of hills and oceans. To the right of Bali Island is Lombok and to the left, is Java. Lombok has one airport on it, Lombok International Airport. Java is a much bigger island and has quite a few airports on it. The closest airports to Bali are Blimbingsari and Surabaya. Blimbingsari is a small airport that would help you to transfer to Surabaya International Airport or to the international airport in Jakarta, both of which service most cities that Bali does.
If the volcano erupts, it would depend on which way the wind was blowing to which airport would be the best choice for you. During the last eruption Lombok Airport closed as the wind was blowing east so most guests chose the route to Surabaya.
So, how do you get off of Bali and what will it cost you?
Option 1: Bali to Surabaya
It is possible to drive from Bali to Surabaya. This usually takes about 12 hours, but during the last eruption was taking about 15hours due to traffic (so be sure to plan enough time).  There are plenty of companies offering this. Depending on the size of the car, this will cost you AUD150-AUD400 per car to get off of the island. The cheaper option is to take a bus from Denpasar to Banyuwangi and then take a train to Surabaya. Surabaya is an international airport and services most destinations that Bali services. The bus from Denpasar (Bali) to Banyuwangi costs IDR 180 000 and includes the price of the ferry, the train from Banyuwangi to Surabaya costs IDR 180 000 – IDR 250 000 depending on your class. The trip will take you 6 hours for each leg (so 12 hours total travel time, the total time to arrive may be different depending on the bus schedules.)



Option 2: Bali to Banyuwangi, fly to Surabaya / Jakarta
It is possible to take a car from Bali to Banyuwangi. This should cost you between AUD 100 – AUD 200 depending on the type of car / number of people. The drive from South Bali to Gilimanuk where the Ferry to Java departs, is about a 4-5 hour drive depending on the traffic. From there you can take a quick ferry to Java. And from there, you can take a car or bus to Blimbingsari Airport where you can transfer to Jakarta or Surabaya. You can also take a bus from Denpasar to Banywangi, this costs IDR 180 000 per person and includes the ferry fare.
Option 3: Bali to Lombok
The last option is to take a car to Padang Bai (approximately 45minutes) and then ferry across to Lombok Island. The ferry takes approximately 2 hours and costs anywhere from IDR 300 000 – IDR 800 000 depending on the company that you choose. From there you can transfer to the airport and head home. Many of the ferry companies will include transfers in the price of the ticket – so be sure to ask about that. This is by far the easiest option if the Lombok airport is open.
Blue Season Bali will assist any customers with changing travel plans and with getting off of the island should there be a further eruption of the Volcano. We understand how daunting it can be to be in a foreign country without the language or local knowledge to get around. We stand ready to assist any Blue Season Bali guests with contingency plans should the Volcano erupt.