5 am: the alarm clock rings! After I've overcome my sleepiness (actually that took a couple of hours), I pack my things: Sunscreen, dry bag, towel, sunglasses, cookies (never leave your house without cookies) and off to Blue Season Bali I go! At Blue Season Bali, the interns and I prepare all the tanks and the equipment for the guests still  to arrive.
I begin slowly to wake up.. very slowly.
After all the guests have arrived at BSB, we drive with the car (it takes about an hour) to Padang Bai where one of the local Jukungs has already been waiting for us. I love these kind of traditional boats! In the past they were just used for fishing purposes. Brightly painted in different colours gracing the beaches of Bali wherever you go and spreading the original Indonesian culture. By the way if you have ever wondered about the painted eyes on the boat, they are supposed to look for demons and other dangers of the sea. Therefore you can always feel safe when you go out with a Jukung in Bali.
But back to my diving adventure! At first we stop at the dive site "Blue Lagoon" going backwards from the boat into the depths of the ocean. It turned out to be one of best dives I have ever had.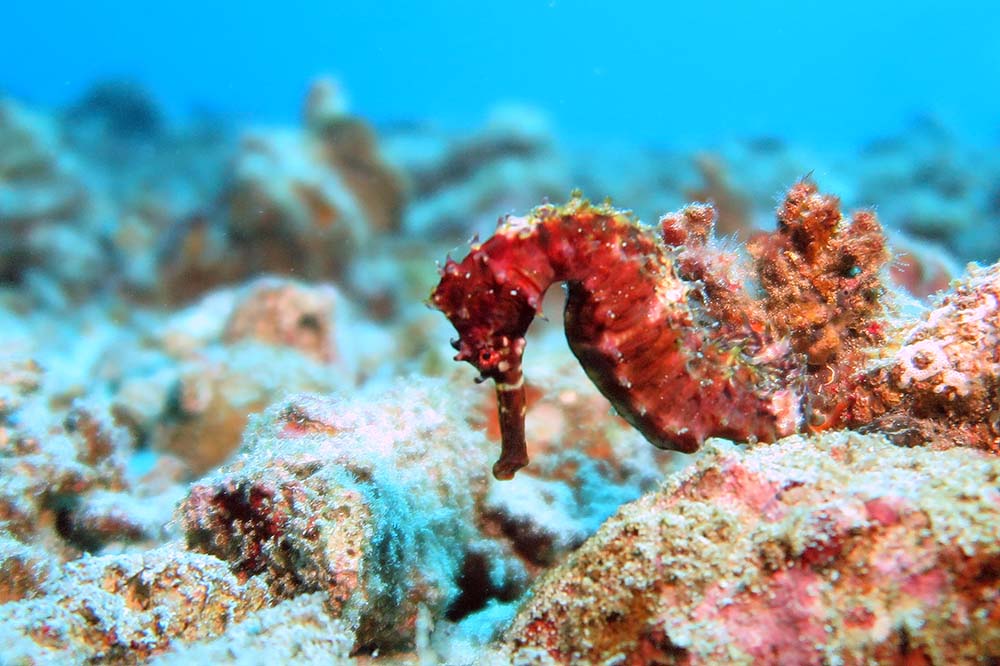 Let me explain: On this day there were not too many colourful fish on their way through the ocean and the reef wasn't colourful either. But then our guide Edwin showed us, hidden in their stashs a lot of marine life, some of them were not even hidden, but for me as a laymen not apparent.  For this reason (among a lot of other important reasons to have a good guide) I was really happy to have such a good dive guide!  Two Turtles passed our way, one of them was really huge. The first time in my life I got to see a Seahorse and we ended up seeing two Seahorses. They were laying lazily on the ground moving their bodies with the current.
At the second dive site "Shark Point" we experienced a living encounter with a bit of an angry Triggerfish which didn't want to stop following us. After a couple of minutes, it lost interest in the weird creatures with the over sized fins. Unfortunately we didn't spot sharks, but we did see Octopus, Turtles, Triggerfish, Scorpionfish, Moray Eel, Cuttlefish, Lionfish, Flounder, Pipefish and Bluespotted Stingrays.
Padang Bai is beautiful and offers a lot of marine treasures!
We finished our dive trip at a restaurant close to the beach enjoying typical Indonesian food. I had Chicken Satay with rice and vegetables, one of my favorite Indonesian dishes. Filled and happy, we started our return to the dive center.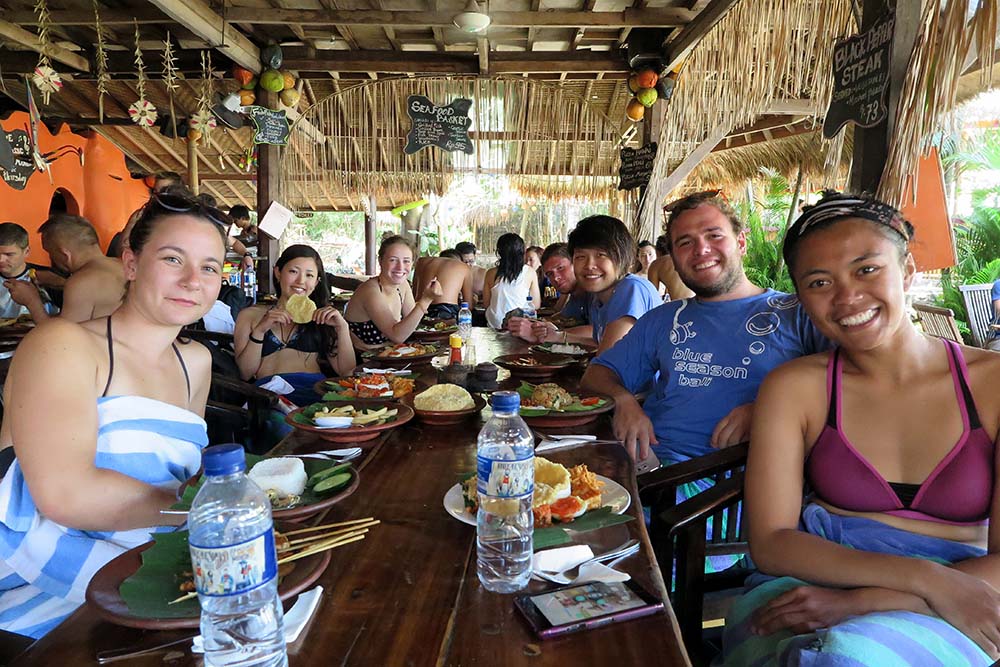 What a beautiful as well as exciting day! I definitely deserved my power nap afterwards.
Do you want to go Diving or Snorkeling in Padang Bai? Come and join us for you next adventure!