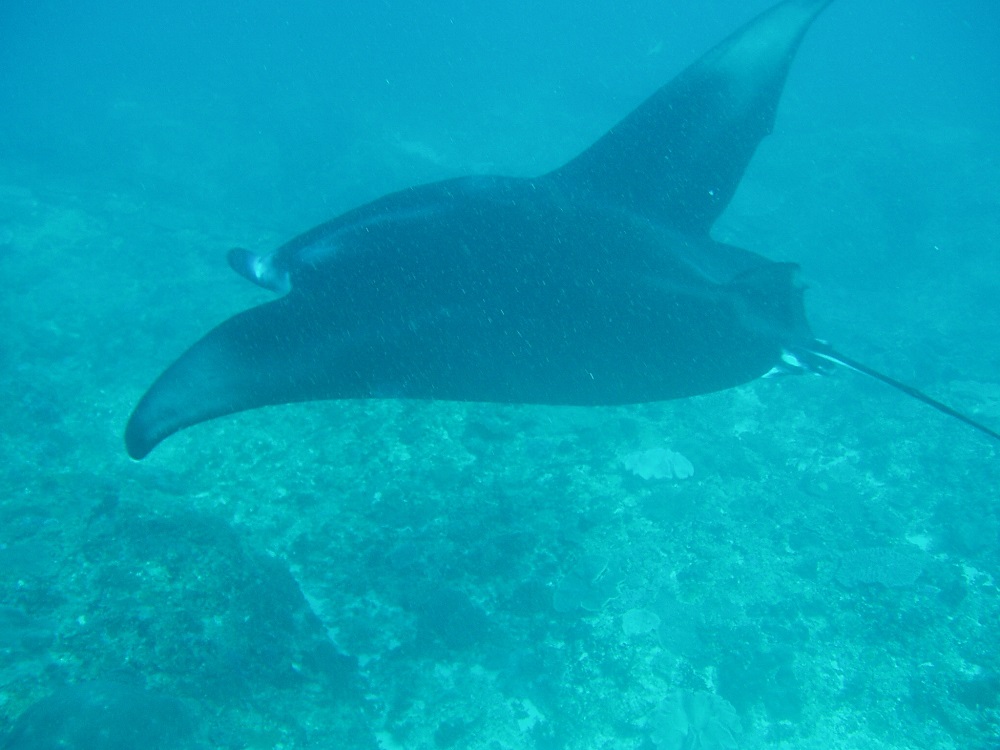 Before I started my snorkeling trip to Nusa Penida with Blue Season Bali I wasn't expecting to see anything apart from a few colorful fish. Soon enough, I should learn differently.
The trip to Nusa Penida
Early in the morning we headed from Blue Season Bali to Sanur beach, our snorkeling equipment already packed by the BSB team. After getting on the boat we enjoyed coffee and tea and went on the roof of the boat to catch some morning sun. (If you're planning to go to Nusa Penida as well, you should bring some sun cream!)
First stop
At our first stop around Nusa Penida we got into our wetsuits, put fins, mask and the snorkel on and jumped into the crystal clear water. The first things we saw were stunning already! The reef was so colourful and we were able to see so many species. And not only fish: While snorkeling we were able to see a grown Sea Turtle from up above and come very close to it. It was amazing! Back on the boat we had some chill time again whilst heading to Manta point in Nusa Penida.
Second stop
When we got to the Manta point it wasn't clear if we were able to see the Mantas. They don't always show up. But then we got into the water, mask and snorkel ready, and saw Mantas within the first five minutes. I think you can't actually imagine how big they are until you get to see them while snorkeling or diving. They were gliding peacefully through the water and even came up close to us. We saw them come and go the whole time we were in the water.
Lunch time
After our second snorkeling stop around Nusa Penida we had lunch on the boat. It was good to get something into our bellies and gain some strength before our last stop. You might not think it, but snorkeling is quite exhausting even though you don't recognise that while you're in the water, because all your doubts and troubles go away.
Third stop
When we arrived at our last stop we'd already seen so many colourful fish, a Turtle and Mantas. It was time to get off the boat and see even more! I can only say the reef was so colourful and the fish who lived there just fit into the whole picture. It was beautiful and an amazing experience to join all those species while snorkeling.
The trip back to Blue Season Bali
While having some watermelon back on the boat and a lot of sun on the rooftop, we travelled back to Sanur. Our van was already waiting to pick us up and bring us back to the dive school. The Blue Season Bali team was so much fun so we stayed for some ice cream until they brought us back to our hotel.
Did you experience snorkeling in Nusa Penida already? Tell us all about it in the comments!