Nusa Penida is an island southeast of Bali with two little islands adjacent, Nusa Lembongan and Nusa Ceningan. The islands offer excellent macro diving opportunities and are a popular destination for manta ray sights. If you are planning a scuba diving trip in Bali, this is why Nusa Penida should be included on your bucket list.
Diving with manta rays is a mainstream goal for divers coming to Bali from around the world. Manta rays are the worlds largest rays – They are channel feeders and feed upon extensive amounts of zooplankton, and are known to be generally benevolent with humans.
Manta rays are entirely protected creatures in Indonesia but divers have great opportunities to spot these elegant creatures while diving in Nusa Penida. Manta rays can be found in the deep and for the most part, it is more desirable to go diving with manta rays in the cleaning station.
What is a Manta Ray Cleaning Station?
Manta Ray Cleaning Stations are locations where fish, sharks, and mantas gather to get a regular hygiene check by parasitic copepods and a variety of small cleaner wrasse. Mantas spend some hours of the day here to get their gills, teeth, and skin cleaned.
Front row seat to a close Manta Ray encounter
Manta Point is a remarkable dive spot as it appeals to mantas throughout the year. The waters are rich and small fish galore – essential for these majestic creatures' nourishment. The cleaning station is exceptionally favorable for divers who are looking for a chance to see the mantas from a short distance and in a quiet environment. A standard, however astonishing, sight is when the flying creatures of the ocean hover around you like a ring of fire.
Manta rays are a friendly bunch. They can appreciate the company of divers who are orderly and not aggressive.
Divers are additionally amazed by the sheer number of blue spotted stingrays, with visibility ranging from 10m to 30m. Manta rays are lured into the area by the large quantity of microscopic fish and supplements in the water.
Locations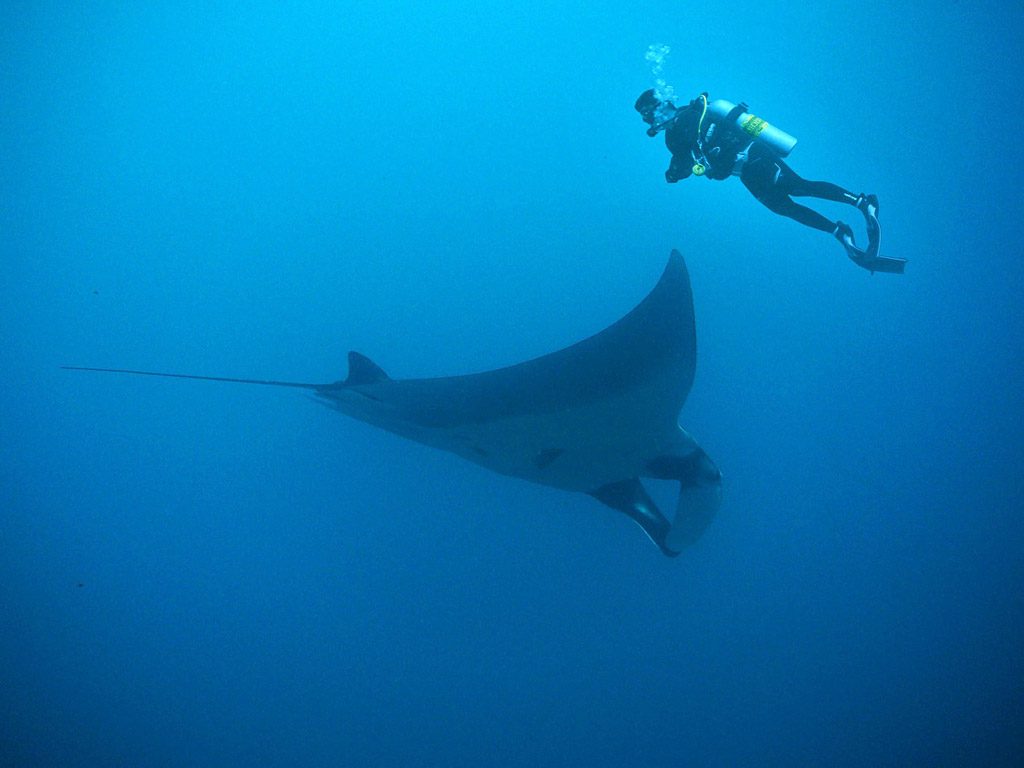 Manta rays can be seen year-round along the coast Nusa Penida's southwest coast.
There are two main sites:
Manta Point I (Old Manta Point)

This area of coastline consists of dramatic limestone cliffs that descend straight into the ocean. On occasions, the current and swell can make entry impossible. The cleaning station, however, is only 5m below the surface.

Manta Point II (New Manta Point)

This shallow site is also possible for snorkeling. Although there tend to be fewer mantas here, you might spot pelagic, such as Nurse Sharks, big tuna, and tiger mackerel. In sheltered areas, lionfish, octopus and cuttlefish, including clown triggerfish and pufferfish may be present.
Have you spotted cool Mantas during your dive in Nusa Penida? Let us know in the comments!