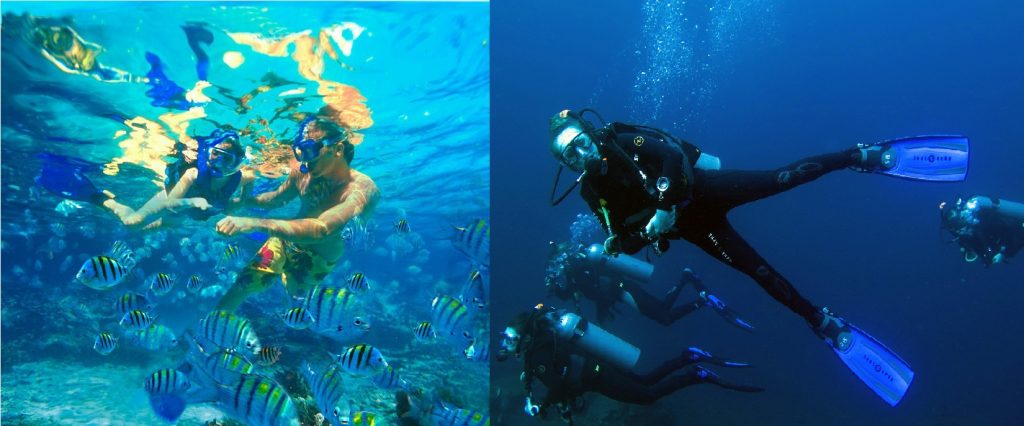 In consideration of the upcoming holiday season, we are going to contrast snorkeling and scuba diving in Bali, to make sure you make the right decision for you!
Snorkeling is for everybody! You don't have to complete a course before you go into the water and explore the underwater world. Even non-swimmer can go snorkeling (of course with a life jacket), which makes it the perfect activity for a family holiday with younger kids! Furthermore, you are able to go snorkeling even on the last day of your holiday. As a scuba diver, you shouldn't fly directly after your last dive, it is recommended to wait at least 18 hours to avoid some serious decompression problems.
The best places to snorkel on Bali are Padang Bai, Tulamben and Nusa Penida!
– BUT:
While snorkeling you're only able to explore the stunning underwater world from the waters surface- if you aren't able to hold your breath for a very long time your viewing could be limited.
Beginners are able to decide between two options:
Discover scuba diving: Compared to a snorkeling trip, you can go down to a depth of 12 meters. It's perfect for all of you who want to discover what it's like to breath underwater and don't want to spend their holiday in a classroom completing the PADI Open Water Diver Course. You do have to learn the basics in a pool before we take you to explore the ocean.
–  BUT:
Every time you decide to do a DSD you have to learn the basics again and again! It's not possible to skip the pool session, even if it's your 5th time. Therefore, you should complete your PADI Open Water course! Even if it takes 3 or 4 Days (depends on your choice) you are going to get a certification for a life time, which allows you to go diving up to 18 meters all over the world!
No matter what decision you make, each option gives you the chance of a life time experience – the underwater world here in Bali is truly incredible!
Have you already made a decision? Let us know in the comments below!