ANOTHER perk of interning at Blue Season Bali meant that sometimes I got to tag along on snorkelling and dive trips, and this time it was Nusa Lembongan!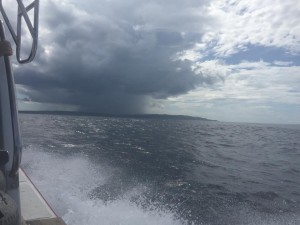 A quick five minute bus trip from Blue Season Head Quarters and we arrived at the Sanur boats. It was such a beautiful clear day for us, so I got to sneak in a bit of a sun tan on the half hour boat trip to Lembogan. At one point we looked out and saw a huge rain cloud that looked like it was coming straight for us, but then we turned a corner and the Bali sunshine was waiting for us!
The boat was a mix of families and couples, some doing discover scuba dives (first time or unlicensed divers get shown the basics and get a taste for the excilerating diving experience) others were on their second day of their PADI open water course so they would be doing some skills training and fun dives, and of course last but not least, the snorkelers!
With the help of the boat crew we got our wetsuits, booties, fins and snorkels on and we were ready to go! Yoshi was our guide for the day and he couldn't wait to jump in!
I performed an ungraceful plop into the crystal clear waters and joined the other snorkelers.
It was amazing! Almost no current so we could swim around at our own pace and even the little kids were having a great time!
The fish were used to people snorkelling around them so we got up close and personal with surgeon fish, parrot fish, goat fish, sweetlips, trumpet fish and so many more!
The visibility on the day was fantastic and we could see all the way to the coral gardens on the bottom up to 10 meters down, so sometimes Yoshi would duck dive, and point out a few special creatures.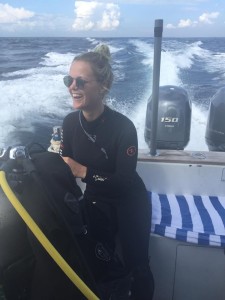 After a good hour we hopped back on the boat to catch some more sun, have a drink and change spots. I was the last to get out but I was promised more exciting things at the next site.
We jumped back in and I watched a few of the Open Water Divers doing the skills with Julie, that I'd done just a few days before, so much fun.
Got to check out a few more stunning coral gardens and friendly fish but before I knew it it was time to head back!
Lembongan is such a special spot teaming with life and filled with people coming to share the experience! It was lovely to see that even on busy days everyone is respectful of the ocean creatures and of course each other.
Bali has so many wonderful places to see with snorkellers and divers of all kinds and Blue Season Bali can tailor to all groups. Just jump on our website for more information.
Olivia Graham