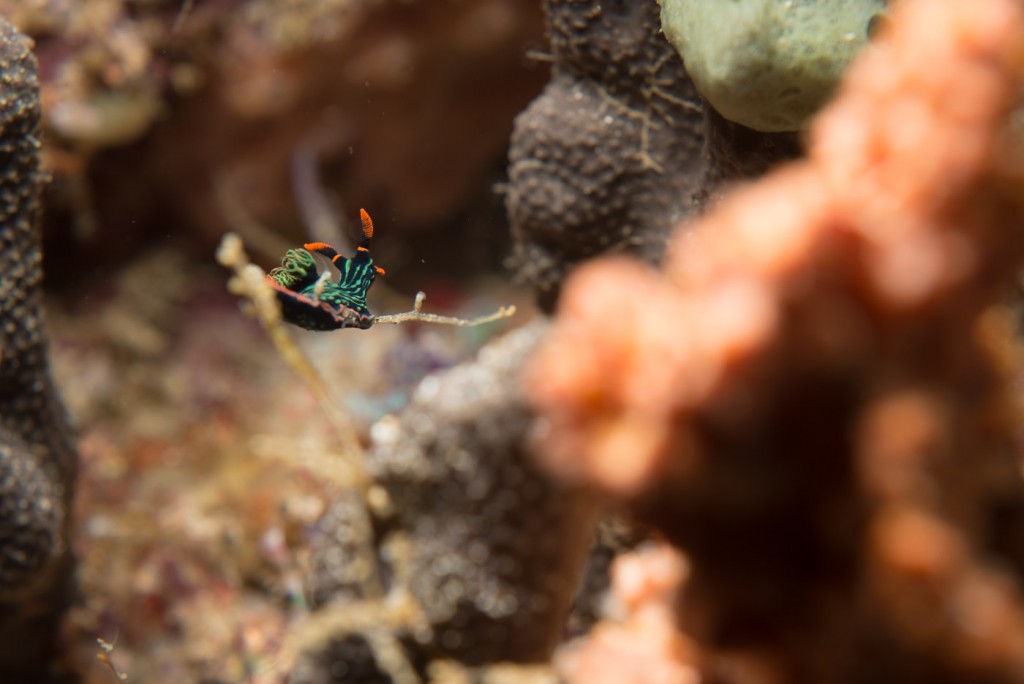 Do you think size matters? Think again, because in diving the small stuff takes you into a world of strange creatures you couldn't imagine being on the same planet with. Macro diving is not only another way of diving, it's an art – because anyone can spot a whale shark, but it takes great skill to discover the small inuque creatures hiding around the waters of Bali.
Don't worry, today we are here to hook you up with some great tips on how to spot the small stuff.
Take your time
Scuba diving is not a race, especially when it comes to macro diving. In fact you can spend a whole dive on just a couple of square meters by observing closely and really taking in the moment. By taking your time, you have the chance to watch out for movements and unusual structures. With them, probably marvelous species also.
Get close
Some of the critters you want to spot are just the size of a couple of millimeters. So in order to see them, you will have to come very close to the ground or wall. Please be careful doing so, because just a slight kick of your fins can destroy coral that took years to grow – and we are not even speaking about stirring up so much sand that there is no chance of spotting anything through it! If you feel that your buoyancy skills could use some improvement check out our Peak Performance Buoyancy Speciality, that teaches you exactly how to hover around those lovely little creatures without harming them.
Know the habitat
If you know where to search for your favorite marine life, it will be easy to find it since it's not the mini stuff that you are searching for but the bigger shelters they are living in. So the next time you spot some Clown Fish, get a little closer and you may find some tiny partner Shrimps hanging around in the Anemone. If you see small holes in big stones you might find Boxer Shrimps inside. Also Carpet Anemones are a good place to look for tiny shrimps. Take some time to look at it well and most likely you will find some.
Another certain habitat you can look out for, are red and yellow sea fans that host Pygmy Seahorses. These amazing, tiny, cute creatures will take a while to find because they look exactly like their host – best to look for their tails being wrapped around the branches as well as their little eyes and mouths.
Look out for unusual movement and eyes
So you found the places that your favorite macro is supposed to live in… What now? The best way to find marine life in disguise is to look out for the eyes. A Scorpion Fish will almost look like the corals around him – but its eyes will blow its cover. Same goes for the Frog Fish which will try to blend in next to sponges. Only eyes and mouth movements will let you know what you are looking at.
Go to the right places
It's all about location with macro diving and Bali offers some of the best spots for it. Menjangan will treat you with perfect dives at Eel garden and Dream wall for example, where coral is very healthy and very diversified. Tulamben is a fantastic area for macro diving with sites like Suraya and the USAT Liberty Wreck. Padang Bai is host to a wide range of macro dive sites including The Ferry Channel, Tanjung Sari and The Jetty. Even Nusa Penida, on a calm day, can surprise you with Frog Fish and Orangutan Crabs. Contact us now for more information.