Try dives, have you tried it?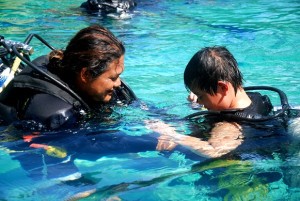 A lot of people have never tried to dive in a pool or in the sea; but now in a day, anything is possible! You can try scuba diving in the pool of Swiss Belresort Watu Jimbar in Sanur, for free, with one of the experienced and educated Blue Season Bali instructors! Here you can read how it will be to try a dive and what you can do if you dive more often.
First things to know
Your safety and health is very important, therefore you have to fill in a medical form before you start. After that, our great instructor will explain the basic things about diving and it will be enough to try a dive in the swimming pool!
What kind of equipment will you use?
When you're going to dive you have to use scuba equipment. The basic materials: mask, BCD, fins, weight system, wetsuit, regulator and tank.
How to use/not to use the materials
Your instructor will explain exactly how all of the equipment works-don't worry! It's simple.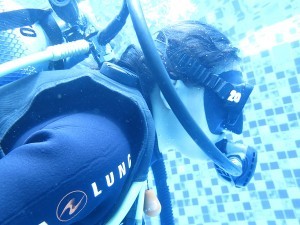 How to breathe
Breathe? Wait, what? I can already breathe… Yeah, but can you already breath with a regulator in your mouth? The instructor will show you how to breathe with a regulator and a tank, after that they will let you try it. If you are comfortable with it on the surface, you will try to breath underwater.
You will learn how to signal the following things underwater:

It's okay
I want to go up
I want to go down
I have a problem with: mask/ears/breathing
You will then complete 3 very easy skills:

How to clear your regulator
How to recover your regulator (in case you take it out of your mouth to smile for a photo!)
How to clear your mask underwater
Once you are comfortable with the skills, you will go for a swim around the swimming pool! You will swim a couple of rounds with the instructor. But what if you enjoy diving so much that you want to dive more? You can come to Blue Season Bali, where you can finish the rest if the skills in the pool. After that, you are ready to go diving in open water, to amazing places! My favourite dive sites in Bali are Tulamben (for the beautiful wreck), Padang Bai (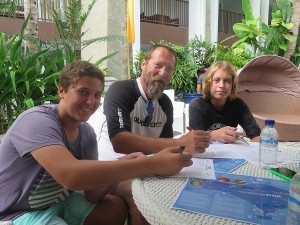 So, if you have never tried scuba diving before, come and have a free try dive in the swimming pool with Blue Season Bali! Or better yet, sign up for your Open Water Course!