One of the many reasons that makes Bali such a unique place to dive is because of the regular sightings of the mysterious Mola Mola. This massive but harmless creature is incredible to watch, and between July and October you will have a big chance of spotting them. Although they can be found in various places in the world, Bali is certainly one of the best and most beautiful places to see them.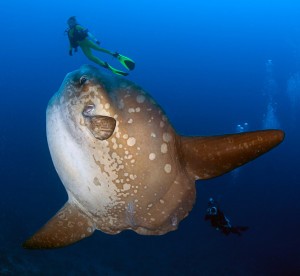 The very best places to find Mola Mola is around Nusa Penida and Nusa Lembongan. There are various dive sites around these small islands. The first one is Blue Corner, which is located close to Nusa Lembongan. It starts at 12 meters with a sloping reef and then drops to more than 30 meters. The site has gotten this name because the water colour here is one of the deepest blue waters you've ever seen.
Another very popular dive site is Manta Point. Yes, the name focusses more on another creature (which is also spectacular to see), but quite often you will spot Mola Mola at this dive site, too. From Sanur harbour this is the furthest dive site of all, but definitely worth is as Nusa Penida's coastline is absolutely beautiful.
Crystal Bay is probably the most popular dive site around Nusa Penida, with its superb corals and crystal clear waters (why do you think it's called Crystal Bay?). It is also probably the best site to have a great chance of sighting Mola Mola. You will find about anything at this dive site, from the smallest to the biggest fish that live around Bali.
Other places where you can see the Mola Mola in season are Toyapakeh and Gamat Bay. Both dive sites have other larger pelagic fish and beautiful corals.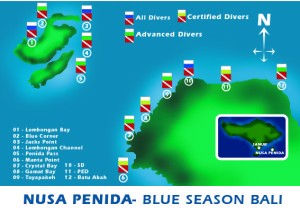 Note that the dive sites around Nusa Penida and Nusa Lembongan are characterised by strong currents. Only experienced dives can dive at these places, but luckily it is safe to snorkel! The Mola Mola is often called Sunfish, as it loves to warm up at the surface after spending time in cold depths of the ocean.  So even if you're snorkeling, there is a chance you'll spot Mola Mola!