Are you considering enrolling in the PADI Advanced Open Water Diver course but unsure how it differs from the PADI Open Water Diver course? If you have already completed the OWD course, what new skills will you learn and experience in the AOW Diver course? Read on to find out.

The PADI Open Water Diver course: Learning to dive
Throughout the course, you will learn the fundamental skills needed for diving. You will be shown videos, given useful information to read and presented with quizzes to complete.  On completion of the course, this material will enable you to demonstrate mastery of basic scuba diving skills.
The PADI Open Water Diver course consists of three main segments: Knowledge Development, Confined Water Dives, and Open Water Dives. There are three ways to complete your Open Water Diver Knowledge Development, such as taking the online or offline eLearning course.
The world's marine life holds some of life's most priceless experiences. Essentially, the OWD course allows you to become a certified diver. If you need convincing why you should dip into the diving world, we do it because it makes us happy.
The Advanced Open Water Diver course: Go on dive adventures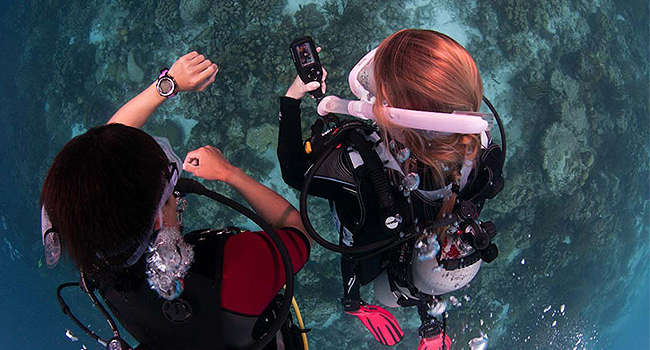 The AOW Diver course is comprised of five different Adventure Dives. Each Adventure Dive emphasizes a particular activity or skill within the realm of scuba – it is the first dive of a Specialty Diver course. There are 26 PADI Adventure Dives to choose from.
A PADI Professional will assist you every step of the way on your AOW journey. They are there to answer questions, help you fine-tune your technique, learn new skills, and of course, accompany you.
The dives are different from those in your OWD course. The Adventure Dives are similar to a regular dive, except you focus on a particular diving specialty.
The Deep Adventure Dive of the course involves diving deeper, between 18-30 metres.  The Underwater Navigation Adventure Dive will have you practice your navigation skills underwater while going about a normal dive. Of the five training dives you complete, only these two are mandatory. You have the liberty to choose what interests you most for the remaining three dives.
AOW classes have minimal classroom time and no written exams. The course is ideal for you to gain more diving experience while under the supervision of an instructor. It's also a chance for you to get a taste of what you enjoy most!
Learn more about what to expect from our AOW course.
Did you finish your Open Water Diver course and plan to advance further? Let us know in the comments about your experience!