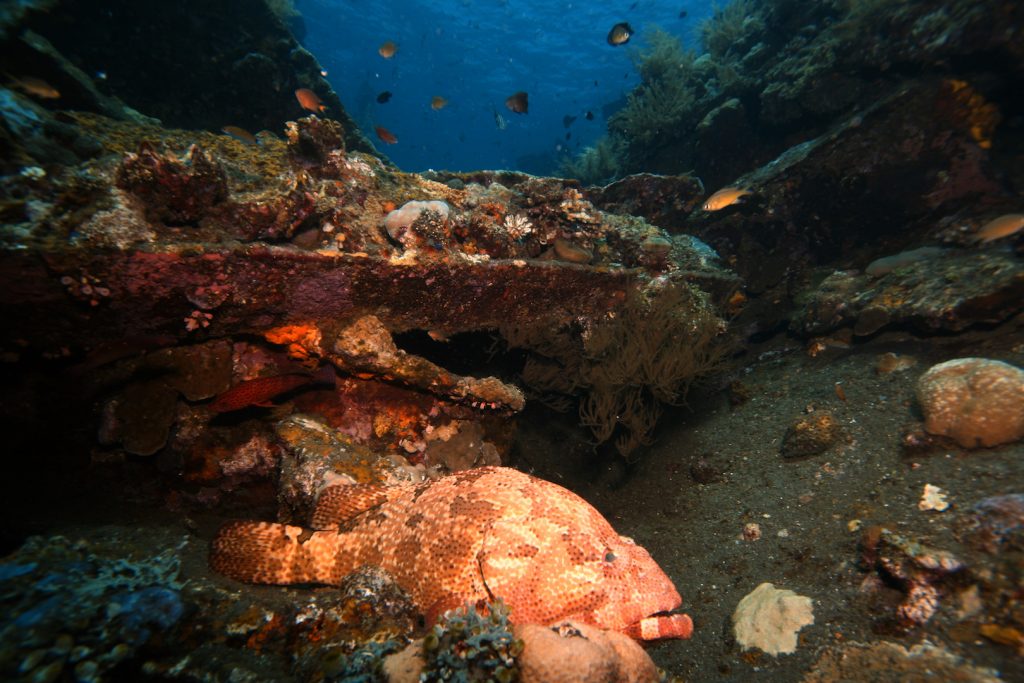 "You're going to Tulamben tomorrow!"
"Oh no, really? Another 2 hour drive?"
Even after several times diving Tulamben, I still can't get enough of the dive sites and even the 2 hour ride there. Let me explain why…
The ride: Back home in Germany a two hour ride would mean that you are driving two hours on the highway. While in Bali a two hour ride means, two hours of stunning nature and small roads through the island up to the North East. You'll see traditional ceremonies, rice terraces and the ocean. Even if you get tired, just lean back and take a nap, before you jump into the ocean!
Lunch time: Our base for the day is the lovely hotel and restaurant Ocean View Tulamben. It has a stunning ocean view surrounded by palm trees and delicious food! You should try the Chicken Chap Chay! Probably the best on the island – trust me! After your lunch you'll have enough time to enjoy the view and listen to the sound of the ocean.
The Dives: You'll never forget your first dive at the USAT Liberty Wreck in Tulamben! Just last week we had a guest, it was his first fun dive after completing his PADI Open Water Course and he couldn't stop smiling during our whole lunch break! Tulamben diving is spectacular and never disappoints! Outside of the USAT Liberty wreck there are plenty of other dive sites to visit around Tulamben – Coral Garden (right next to the wreck); The Drop Off and more!
Beginners: If you would like to the see the Wreck but you're not a certified diver, book a Bali Try Diving experience in Tulamben and have an Instructor safely guide you around the magnificent reef and wreck!
Have you already booked your trip to Tulamben or have you been there yet? Let us know in the comments below!