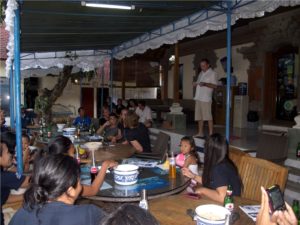 It was assumed that everybody had their own things went-on for the New Year's Eve celebration, with family, friends, some with close colleagues, or with their loved-ones. And on January 4th, the big family of Blue Season Bali celebrated the New Year 2013 by having a barbeque party in their dive center. It wasn't a huge party, but it was a fun one as everybody gathered and met in one place without being in a working condition. Emma Hewitt from PADI, Tanja Campo, and Tarryin Livingstone, friends of BSB also joined the party.
Simon Jones, our Dive Operation Manager opened the party with his welcome speech saying 'thank you' for everybody's work, in Bahasa. Yes, in Bahasa! And it was quite a good one as he managed to pronounce everything fluently. Wakaba Toyoma then gave a Japanese speech. It's most likely that she was saying the similar message to Simon's speech. Jonathan Cross also shared few words to the staff, gave credits for their hard work and wished everybody a great 2013, he also translated a bit of what Simon have said in Bahasa.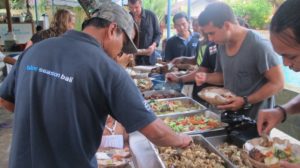 The party continued. Babi Guling (Suckling Pig), Salads, Roasted Chicken, and Mixed Vegetables (and also Bintang!) are the main course of the evening.
We also had two entertaining quizzes that night, one was telling "which story belongs to whom" and the other one was figuring-out "whose Tatt is that". Staffs were grouped in small 4 or 5 person teams to work on the quizzes. It was fun and entertaining, we had to guess 'who worked as a zookeeper', 'who used to work as a mermaid', 'who got banned from some supermarket in UK', etc, and also had to guess figures of tattoos. The first place winners are; Komang from the Accounting, Ketut and Ayu from the Cleaning Service, Listya aka Putu from Reservation, Triyas and Dyah from the Retail Center. There are also; Stefan, Tanja, Oli, Sandra, and Emma's team in the second place.
Simon Jones and Mark Giles successfully turn the night into a reggae party, well not for the whole night, but at least during those 3 or 4 minutes when they lip-sync Bob Marley's 'No Woman No Cry'. Showing up with a colorful curly wig (Mark) and a misplaced long wig (Simon) they brought laughter to everybody that night.
Everyone was enjoying the party and having a great time will fellow colleagues. Hopefully, the excitement and fun stay the whole year and we can again meet in the next 'Welcome 2014 BSB Party'. Cheers!
Click HERE to see more photos.