Welcome to Sanur! Dive into the world of relaxation and eating good food. For you first time visitors we have been out and made you a list of the best places in Sanur to hangout after your diving trip. These places made the list due to their great ambiance, delicious food, friendly staff and location.
5. Lola´s Beer & Kitchen Sanur
Lola's Beer and Kitchen is a terrific spot to enjoy some delicious meals and freshly brewed beers. The restaurant can be described as simple, messy but cozy. So really the perfect place if you are all exhausted after a dive.
There is a wide selection of beers to choose from, so there should be something for everyone! Over here, you can drink some great Kura, Corona, or IslandBrewing. And the majority of the time, they offer fantastic savings! For example, in April, 4 cans of Kura were available for only 150k.
On weekends, you can listen to a variety of music, ranging from House to Soul and Reggae. It is indeed a music and beer lover's paradise!
You can find Lola's Beer & Kitchen at Jl. Danau Poso No.51A, Sanur, Denpasar Selatan, Kota Denpasar, Bali 80228.
Lola's Beer & Kitchen has been rated 4,9 out of 5 at Google-review.
Instagram: @lolas_beer
Facebook: https://www.facebook.com/Lolas-Beer-Shop-Sanur-100625684936756/
Website: https://lolas-beer-sanur.business.site/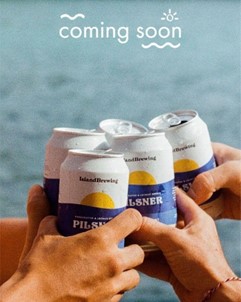 4. Lilla Pantai
The next one of the best places in Sanur to hangout is Lilla Pantai. Lilla Pantai is based at the beach of Sanur, which is one of the reasons that makes it a great place to hang out after a dive. You can chill on the beach and read some magazines which Lilla Pantai provides!
The food that is served at Lilla Pantai is both international fusion and classic Indonesian cuisine. However, because the owners of this cute beach resto are Swedish-Balinese, the highlight of the menu is the Swedish Meatball. So you should definitely try it!
Also some really good news: they have a happy hour that runs from 5 to 6 p.m. EVERY day!! It includes the following specials:
– Buy one, get double (two island wines)
– Buy one, get one free (Lilla Sangria)
Doesn't that sound like music to your ears??
They also announced a new promotional package: A croissant (ham and cheese or just cheese) with any coffee or tea for only 45k! This promo will be effective from April to June 2022.
The average cost at Lilla Pantai varies between 29k and 71k. So it's between cheap and expensive but totally worth it because of the amazing location.
You can find Lilla Pantai at Jl. Duyung, Beach Front Sanur Beach Street Walk, Sanur, Denpasar 80228 Indonesië.
Lilla Pantai has been rated 4,5 out of 5 on TripAdvisor.
Instagram: @lilla.pantai
Facebook: https://www.facebook.com/LillaPantai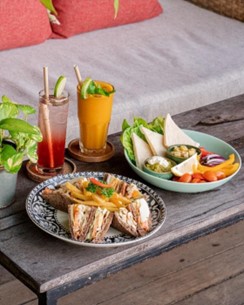 3. Sanur Beer Garden
Sanur Beer Garden is a wonderful spot to unwind, relax, and sample some locally brewed beers. The Beer Garden is located in Sanur's downtown area, just two minutes away from the Blue Season Bali dive center. As a result, it's a wonderful and convenient hangout spot, one of the best places in Sanur to hangout!
They serve a lot of delicious food and drinks for a low price that already includes tax and service! Only 25k for the beers and ciders. The cuisine ranges from Indonesian to traditional Dutch bitterballs and war fries, also known as "patatje oorlog." As a result, our Dutch visitors and guests will feel at home in the Sanur Beer Garden!
If you're not done yet with the water after your dive, you can also take a nice dive at Sanur Beer Garden! They have a nice pool in the back of the garden where you can really cool down on a hot summer day! And as you may know… every day is a hot summer day in Bali!!
You can find Sanur Beer Garden at Jl. Danau Poso No.98-38, Sanur, Denpasar Selatan, Kota Denpasar, Bali.
Sanur Beer Garden has been rated 4,3 out of 5 at Google-reviews.
As Sanur Beer Garden is a very new place, they don't have any socials yet.
2. Tapha
Tapha is undoubtedly one of the nicest locations to hang out after a dive, as it is only 10 meters from the Blue Season Bali boat docking at Sanur Beach. So, after your dive in Sanur, you'll be in Tapha in less than a minute.
You may relax on the beach and get some excellent arak-based beverages, which are really cheap, or some great food. Sandwiches, steaks, and Indonesian cuisine are all available. Tapha's seafood is one of their specialties. Delicious oysters are available for only 15k each.
And Tapha is also a great place to be for the classic rock music lovers. Every Friday at 6pm the Rock band @triotripletrouble takes over the stage!
Tapha provided our members with a fantastic deal at their restaurant! If you are a Blue Season Member, show your membership card to the staff and receive a 10% discount on your meal! Isn't that incredible?
Tapha's average prices range from 30 to 90k. So, while it isn't quite cheap, the quality is outstanding, and you receive more than your money's worth.
You can find Tapha at Jl.Kusuma Sari. 3A, Jl. Setapak No.Br, Semawang, Sanur, Kota Denpasar, Bali 80228.
Tapha has been rated 4,5 out of 5 on TripAdvisor.
Instagram: @tapha.sanur
Facebook: https://www.facebook.com/taphasanur.officalpage

1. Afterwork
The name says it all… A great place to go to after work or a nice diving trip of course. A small restaurant in the deep of Batur Sari street – another side of Sanur. Here you can enjoy a wide variety of foods. From handcrafted premium burgers to their most wanted pizza in Sanur and a selection of meat served hot from the grill.
The place has a very rustic atmosphere that offers you a casual feeling. A perfect place to chill out when you're all haggard after a dive trip.
The average costs of the food vary between IDR 30K to IDR 95K making it the restaurant with the best value for the price.
To top it off, this restaurant provided us with unique Blue Season Bali loyalty cards! You will receive the card from us when you come diving at Blue Season Bali, and you will be able to take advantage of some fantastic Afterwork discounts!
You can find afterwork 1.4 km from Sanur beach, Jl. Batur Sari No.47B, Sanur.
Afterwork has been rated by 4,5 out of 5 on TripAdvisor.
Instagram: @afterworksanur
Facebook: https://www.facebook.com/afterworksanur/
Website: https://linktr.ee/theafterwork