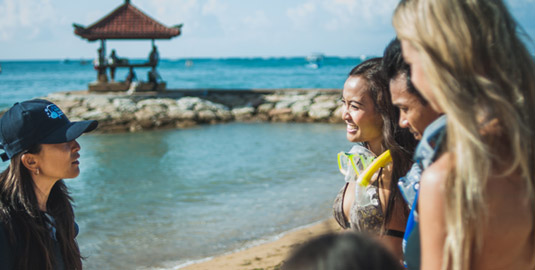 Planning a Bali Snorkeling Safari in Bali gives you the chance to explore the stunning underwater world around Bali – especially for families with younger children it's the perfect pastime.
Bali offers some of the best dive and snorkel sites all around the world, which makes the decision of which Bali Snorkeling sites to visit even harder! But why should you make a decision if you can go to every Bali Snorkeling site all around the island?
Check out our Bali Snorkeling Safari Package:
Your Bali Snorkeling Safari starts in the south of Bali, in Sanur. Your first Bali snorkeling site is Nusa Penida. One of the best spots you will find in Bali! After a short boat ride you'll see some Manta Rays, healthy corals and a stunning marine life.
On the following day you're going to Padang Bai to snorkel in crystal clear water and see a wide range of different fish and corals. Afterward, you will have lunch at one of the beach restaurants.
Day 3 and 4: The East is calling! The small fishing villages Amed and Tulamben are already waiting for you. In Tulamben you will find one of the most famous wrecks (The USAT Liberty Wreck) in the world. In Amed you'll find Parrot Fish, Angel Fish, Bat Fish, Moorish Idols, Snappers and so much more. Bali snorkeling truly has it all!
For your last Bali snorkeling site you are heading to the beautiful Menjangan Island up in the North-West! Look out for massive Barrel Sponges and some of the largest Gorgonian Sea Fans in Bali.
After your  Bali Snorkeling Safari you probably can't get enough from the underwater world and you're already be planning your next Bali snorkel or maybe diving trip!
See you underwater! Let us know in the comments below which Bali snorkeling site is your favourite!