Located in Tulamben, the USAT Liberty shipwreck is well-known around the world and is ranked the number two wreck dive in the world! The wreck dive is popular amongst all levels of divers and is a great introduction for you to wreck diving. Warm waters, great visibility, and the wreck being close to shore make for perfect diving conditions.
USAT Liberty wreck dive has various swim-throughs you can enter if you are a more advanced diver.  No worries, even if you are only a beginner diver, you will still be able to enjoy this wreck because it is a haven for an abundance of marine life.  If you are lucky, you might even spot sea turtles or Bumphead parrotfish too!
The shipwreck used to be an American cargo ship. "USAT" stands for United States Army Transport, and it was built in New Jersey in 1918. The ship served in the first world war and during peacetime before it got torpedoed by a Japanese submarine in 1942 during the second world war. As a result, the ship was beached at the shore of Tulamben.  The wreck was stripped by the Americans and later looted by locals before it was left to rust on the beach. However, in 1963 a volcanic eruption pushed the ship off the beach back into the big blue.
1. Top 10 Best Dive Sites in the World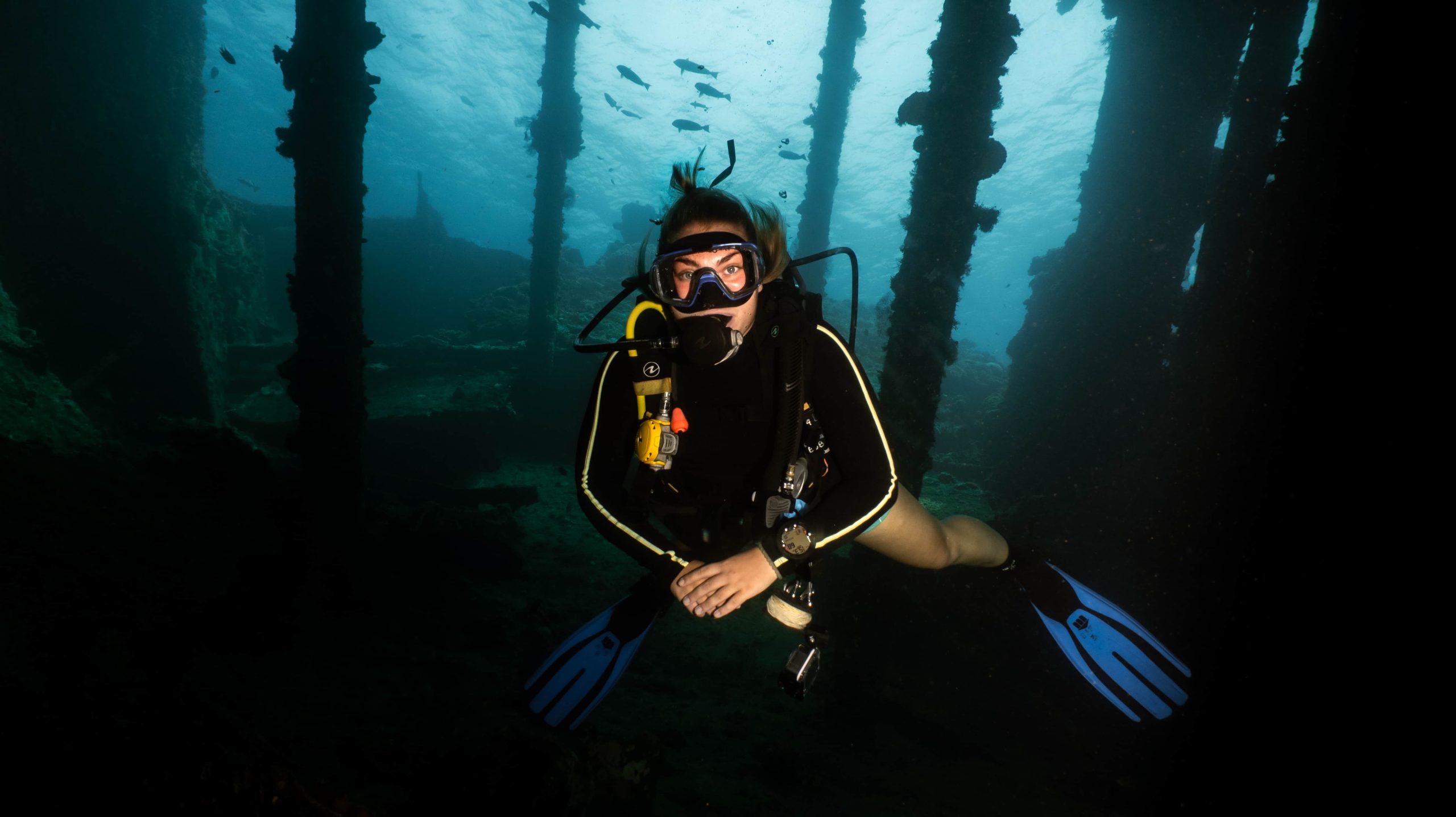 As mentioned earlier, the USAT Liberty dive site is ranked as the second-best shipwreck for diving in the world! However, it beats number one in accessibility, where this wreck should rank number one!  No wonder USAT Liberty wreck dive is considered one of the best dive sites in Bali by many dive centers.  Add this dive site to your bucket list because you do not want to miss out on this dive site.
2. Exciting for All Levels of Divers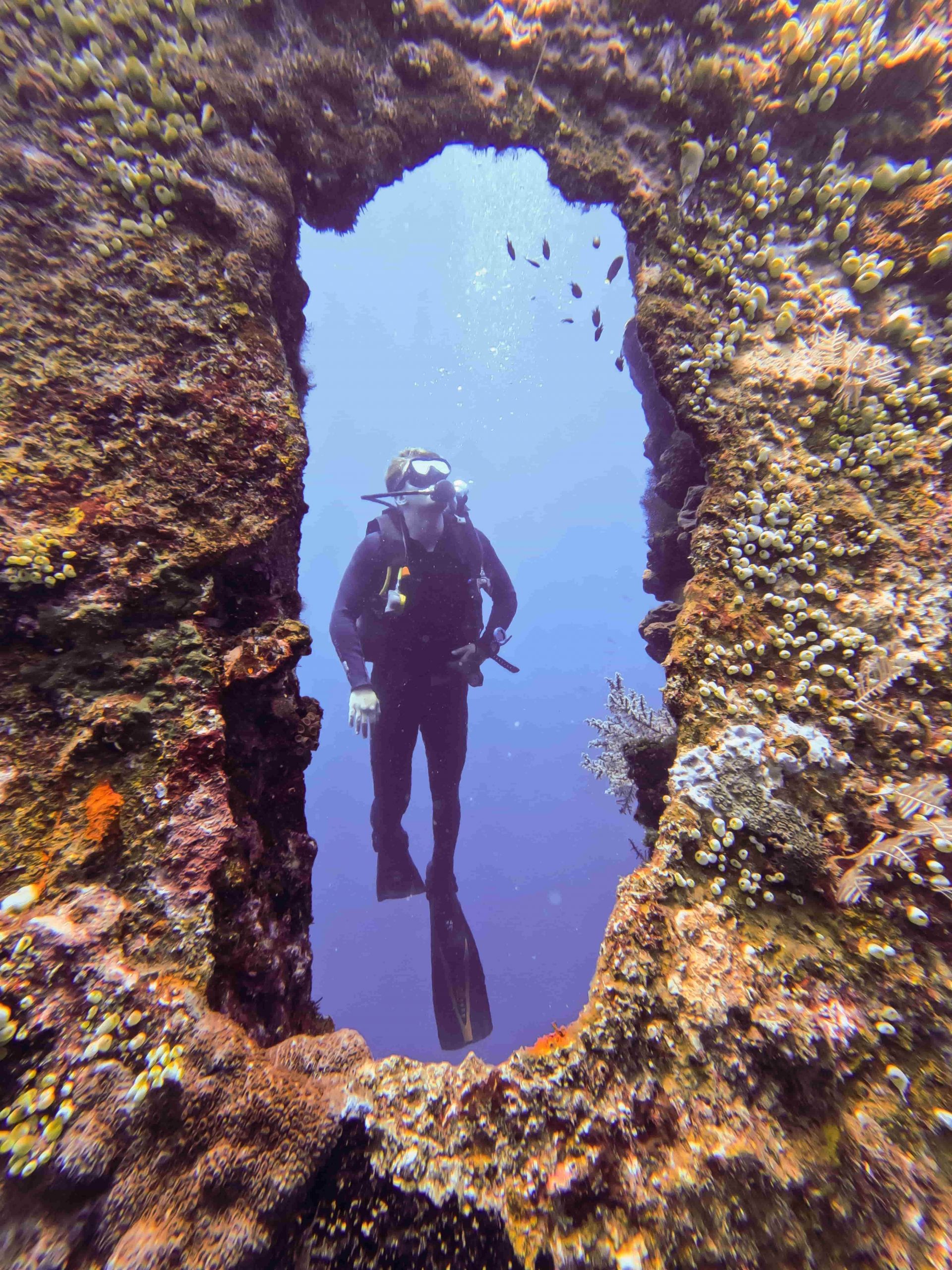 It doesn't matter if you are a beginner or a seasoned scuba diver; the wreck offers challenges for all levels of divers.  Even if you are not yet a diver, you can still visit this shipwreck as a snorkeler since the shallow part of the shipwreck is only 3 meters below the surface.  As an open water diver, you can enjoy the 128-meter-long wreck down to a depth of 18 meters.
However, if you want to see the entire shipwreck, you must be at least an advanced open water diver because the deepest parts of the wreck lay around 30 meters in depth.  If you want to take your wreck diving skills to the next level, you can also choose to get your wreck diving specialty at the Liberty wreck.  If you decide to get your specialty here, you unlock certain swim-throughs within the wreck, but you can also penetrate other wrecks in the future. It's definitely worth your time to explore all the possibilities this USAT Liberty wreck dive has to offer.
3. Perfect Diving Conditions
Since the ship was pushed back into the ocean by a volcanic eruption, it's located close to shore and can easily be accessed by a shore dive.  Consequently, there is no need for a boat, reducing costs and transport time to get to the wreck. Furthermore, this USAT Liberty wreck site is not limited to specific seasons and can be dived all year round.
The water temperatures are around 30 degrees Celcius, so you will not be cold when exploring the wreck. Visibility is known to be around 20 meters, which is more than enough to see all the highlights of the wreck.  Also, part of the perfect diving conditions is the accessibility, there are usually no strong currents, and the waves are small. In order for you to get to the ship is only a 5-minute swim from shore. Altogether, this makes for perfect diving conditions all year round.
4. Lots of Swim-throughs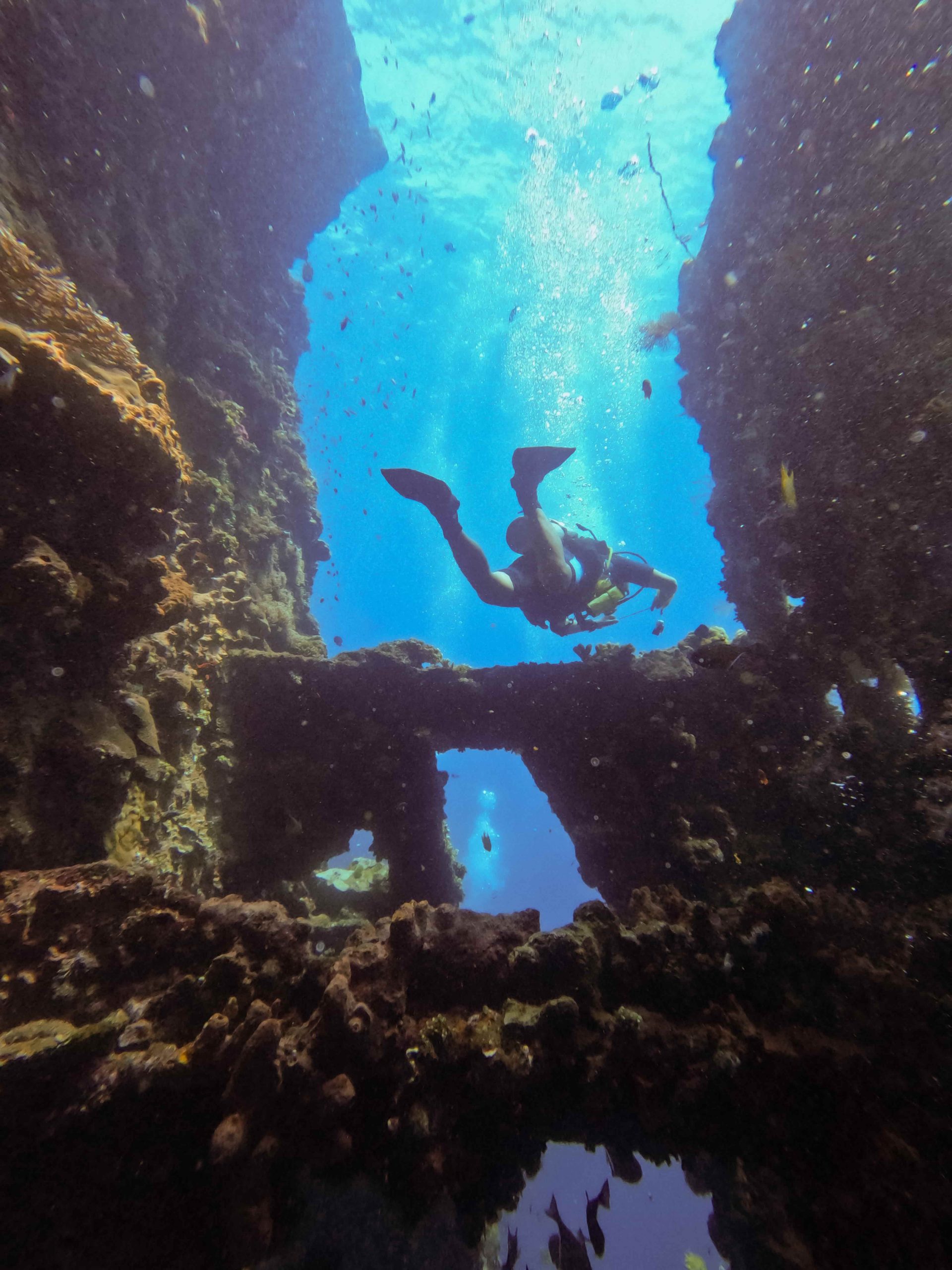 The USAT Liberty is broken into many parts; the ocean has consumed the ship and is slowly breaking it down. Therefore, there are a lot of holes and rooms that are now accessible for divers. These swim-throughs are only accessible by more advanced divers.  Around five different swim-throughs differ in difficulty, length, and depth.  Some swim-throughs are wide and can easily be done; however, some more challenging swim-throughs have narrow passages.
You can choose to swim through the cargo room, which sometimes is home to a sea turtle.  When you become a PADI wreck diver, you unlock even more swim-throughs.  However, this might be the perfect place to get yours if you haven't gotten your wreck diver specialty!
5. An Abundance of Marine Life
The USAT wreck has been in the ocean for more than half a century already, so the ocean has had plenty of time to repurpose it as its own.  Indeed, the ocean consumed the ship, and now it is home to a variety of hard and soft corals, sea fans, gorgonians, anemones, nudibranchs, hydroids, and much more! You should bring your camera to take photos of the macro marine life living on the wreck. However, if you are more into bigger marine life, don't worry, there is plenty of tropical fish, and if you are lucky, you can "swim" into turtles or even reef sharks.
The tropical fish you can find here are big-eyed trevally, jacks, lizardfish, barracuda, gobies, sweetlips, eels, and giant clams. The wreck became a hotspot for marine life over the years, and you can expect to see plenty of marine life all year round.
Conclusion
It doesn't matter whether you have never dived before or if you've logged more than a thousand dives; the USAT Liberty wreck dive should be added to your bucket list. The abundance of marine life, the many swim-throughs, and the perfect diving conditions make it an unforgettable experience here in Bali. We at Blue Season Bali promise to make it a dive you will remember for the rest of your life. Contact us, and let's tailor your experience to your wishes!