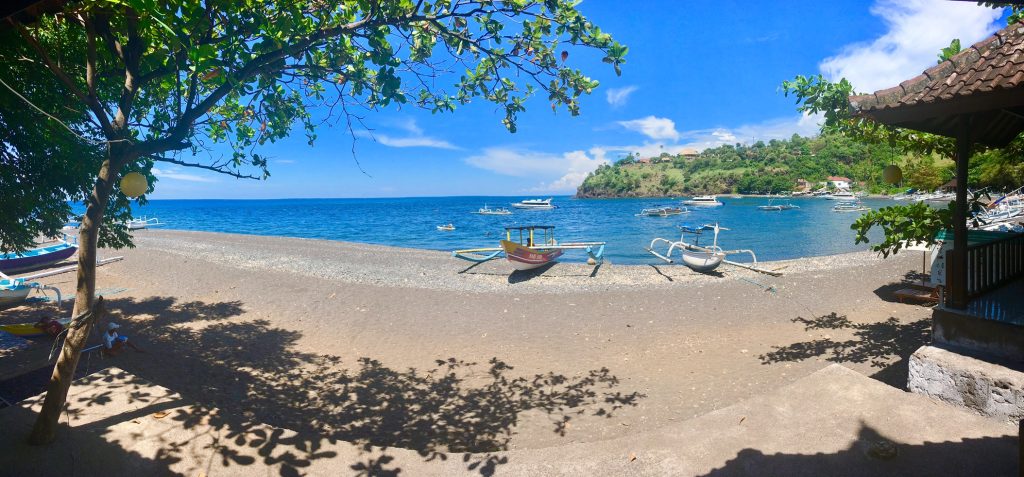 Before I tell you about my PADI Open Water Diver Course in Bali, I would like to introduce myself.
My name is Vanessa and I am currently doing my 6 months Marketing Internship at Blue Season Bali since the beginning of February. Before I moved to Bali I didn't know anything about diving. After six weeks in Bali I decided to start my Open Water Course, to understand what my colleagues and the other interns were talking about all day.
No sooner said than done! I chose the 4 day course as I was already in Bali and didn't have any time constraints. If you go diving you need a dive buddy, luckily I had an amazing course partner, Jeannie, which made the course much more enjoyable for me.
On the first and second day we started with some theory and did our first dive exercises in the pool, we finished our theory exams at the end of the second day – so we could concentrate on our first dive in the ocean.
On the third day, we started early in the morning and went to Amed, which is in the north-east of Bali, to do our first "real" dive. After we checked our equipment, donned our wetsuits and boots, it was time to go into the water. I've was so excited, I mean I had no clue what to expect. And then… we went down under water… and at the beginning it was one of the strangest feelings I had ever had, I mean it's normal to breathe above the water and to hold your breath underwater, but I could breathe the same way underwater as I normally did above the water.
Our first dive took around 30 minutes and we did some exercises that we had already practiced in the pool. After our lunch break we went back into the water for a 50 minute dive, including some exercises, but also a fun dive at the end. At the end of the third day I felt tired, but happy – I mean I had my first dive behind me and it was actually not scary.
On our last day we went to Tulamben, also in the north-east of Bali, with the famous USAT Liberty Wreck. We did our last exercises during our first dive and the second dive, after the lunch break, was a real fun dive! We discovered the Wreck and saw some Clown Fish, Oriental Sweetlips and plenty of other fish.
And now, I am a certified PADI Open Water Diver in Bali – thinking about my next dive and would highly recommend this course to anyone who would like to broaden their horizons and discover a new world.
How was your first breath underwater? Let us know in the comments below!