On December 2012, Blue Season Bali did a beach cleanup in Menjangan National Park, located in northwest of Bali. The team left the dive center and headed to Menjangan on December 1st, 2012 and had three days of cleaning (and diving of course).
Lothar Schopp, one of our Dive Master Trainee that time, shared us his story.
Monthly Clean-up in Menjangan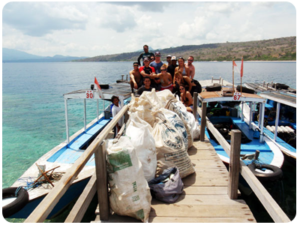 Participants: Ronston, Tim (eco interns), Sean, Juri, Lothar (DMTs), Fumie (MSDT intern) & Niels (eco internship manager)
We took the bus heading for Menjangan nice and early and after a minor hick up involving the driving past the pie shop and the subsequent stop at Mc Donalds to feed the hungry hordes, we were on our way. Upon arrival in the Menjangan National Park – named after the not so elusive Menjangan Deer to be found there – some welcome drinks as well as a delicious lunch at The Bali Tower gave us a first idea of the sort of accommodation we would call home for the next few days: a five star level luxury resort. This first impression got reinforced impressively when we arrived at what can only be described as a mansion; three buildings in the middle of the jungle, 3 bedrooms the immaculate state of which was watched carefully by the extremely helpful and friendly staff and an infinity pool overlooking the bay. Enough said! Needless to say, that we, humble interns, weren't used to such luxury. We did, however, enjoy the amenities quite quickly if only briefly.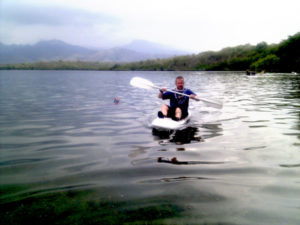 dive shop
, it was time to remove some garbage. Equipped with gloves and rubbish bags we headed out on foot, snorkelling and kayaking to clean up the mangroves near the resort. This, however, was a pretty sobering experience. It was really quite depressing to see how much waste had been carried to this natural reserve by the currents. Our first dive of the day in the afternoon was a welcome change of pace and our first encounter with the marine environment of Menjangan. The second dive of the day at dusk was spent looking for mandarin fish, more or less successfully.We ended the day with an amazing barbeque and a few cold ones on the patio.Day two started early with a packed breakfast on the boat bringing us to Menjangan Island. There we were in for a treat. The diving at Menjangan is just spectacular. The visibility on the day exceeded 30 m and the scenery was breathtaking. One might not be overly impressed seeing a Moorish idol, but seeing dozens of them along a beautiful wall, that's another story and only one example of what makes the diving there so amazing.There was, of course, more clean-up business to attend to which was again a pretty dirty affair that wasn't improved by the mid-day heat. It didn't take us long to fill our bags which only shows how much rubbish there really is. We were pleasantly surprised when some visitors to the island joined in with our efforts and started picking up trash with us.The day ended very pleasantly with more fantastic diving and another delicious barbeque.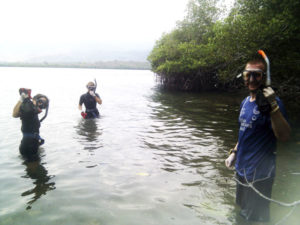 Lothar Schopp