Diving Bali is an incredible adventure – there is something underwater for everybody. Today's blog is focused on the pelagics – but check out our blog here for all the macro sites around Bali.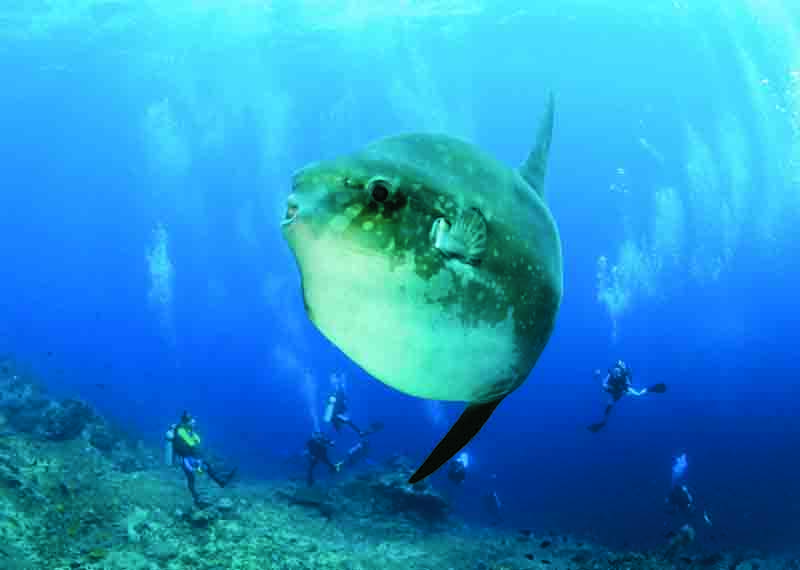 Mola Mola – the heaviest bony fish in the world – these beautiful creatures look like something out of a prehistoric history book. While they may look clumsy and slow – they move gracefully and quickly through the water. During the months of July – October these incredible fish come up to the reefs to have their skin cleaned by the reef fish. The Mola Mola can be found around the islands of Nusa Penida as well as at the dive sites around Candidasa (Tepekong and Gili Mimpang).
They usually like the deep, cool waters at around 30m-40m deep. However, you do occasionally see them shallower. Diving Bali's Mola Mola sites can involve some strong currents and colder waters, so you'll want to be sure that you are at least Advanced Open Water certified and that you've completed more than 30 dives before you attempt these dive sites.
Manta Rays – also found around the islands of Nusa Penida these majestic creatures glide gracefully through the water. Their cleaning stations are found significantly shallower than the Mola Mola – the most popular site being just 8am under water. This means that on most days the Manta Rays can be seen by both scuba divers and snorkelers. Unlike the Mola Mola, Manta Rays can frequently be seen in groups of 4-8 at a time as they glide past you in sequence.
If you are really lucky, you can find Mola Mola and Manta Rays at Manta Point in Nusa Penida.
Dolphins, Whale Sharks and Turtles! This year we have seen an increase in sightings of Whale Sharks around the islands of Nusa Penida. Whether or not this is just a lucky season or if we will continue to see them in the years ahead remains to be seen. We've also seen Dolphins on scuba three times in the last month – though usually we see them from the surface around Nusa Lembongan. Turtles can frequently be seen at many of the sites around Nusa Penida so be sure to keep a look out for them on your Bali Diving adventure!
Have you been diving in Bali? What was your favourite site and what did you see? Were you one of our lucky guests this year to see a Whale Shark and Dophins on the SAME DIVE? Let us know in the comments below.