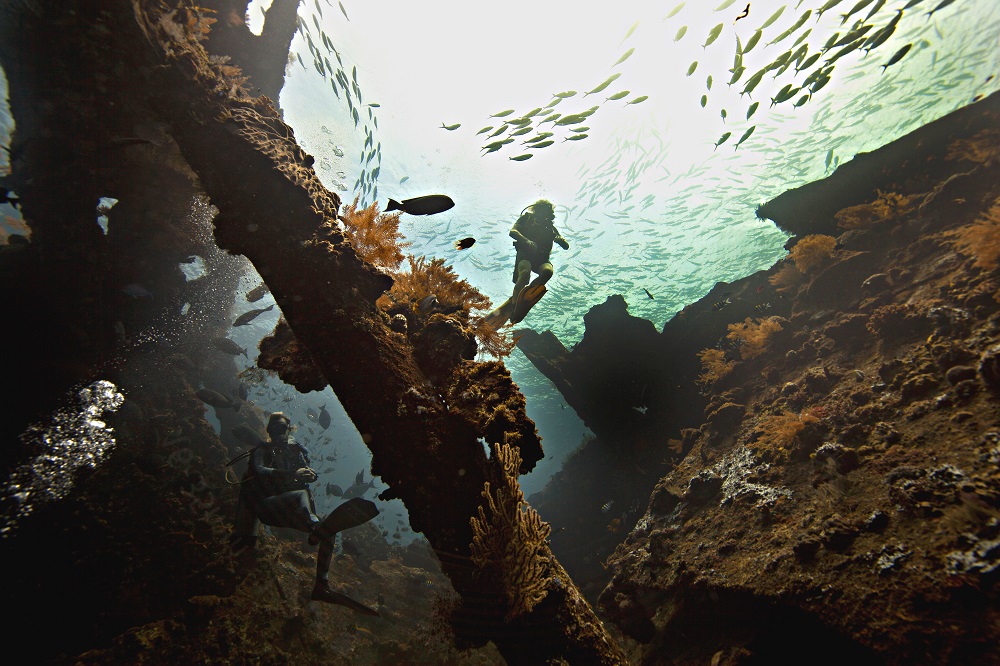 Do you find wrecked ships and airplanes as fascinating as we do? It's amazing to explore history underwater and discover the marine life that is living there now. One of our dive sites in Bali offers a great chance to get to know Wreck Diving and do the PADI Speciality on it.
The USAT Liberty Ship Wreck in Tulamben
The famous USAT Liberty Ship Wreck can be found on Bali's East Coast. Only 40 meters away from the beach of Tulamben it's very easy to access. When you enter the water you will already recognise the good visibility of this dive site. It can reach up to 30 meters! The wreck starts at only 3 meters depth but reaches up to 30 meters depth. This means divers from all levels can experience parts of the USAT Liberty Ship Wreck.
Marine Life at the Ship Wreck
The wreck is covered in soft and hard corals, sea fans and great barrel sponges. It is home to hundreds of different sea creatures. The first fish you'll see will probably be the Black Surgeon Fish. They live there in schools! You'll also be able to see Turtles, Giant Barracuda, Bumphead Parrotfish and Oriental Sweetlips. Our all-time-favourite is the Pygmgy Seahorse and you shouldn't miss out on the Eel Garden around the wreck! Some of our divers even spot Reef Sharks around the wreck now and then.
The PADI Wreck Diving Speciality in Tulamben
When you choose to do the Wreck Diver with Blue Season Bali you'll be taught how to enter wrecks safely and responsibly. In order to do so our qualified PADI Instructors will introduce you to techniques for exploring wrecks and how to avoid common hazards. They will teach you how to research and learn about the background of the wrecks you still want to discover. You will also go through scuba diving equipment considerations for wreck diving. Our Instructors will let you know about special techniques to enter intact wrecks. Throughout the whole course you will experience planning and organising wreck dives and at the end of the course you will at least have done four wreck dives under the supervision of our PADI instructors.
Now you're a certified PADI Wreck Diver! Congratulations!
A tip from Blue Season Bali: Tulamben is a great dive site to go Night Diving or do your Deep Diving Speciality, as well. You shouldn't miss out on that!
Did you ever explore a wreck and if yes, where? Let us know all about your experiences in the comments below!