As a diver, one of the best ways for you to share your experience is through images and videos.
Therefore, it's a good idea to invest in a good camera to help you capture those underwater moments you want to share with friends. There are plenty of solid underwater camera options for you to choose from, ranging from budget cameras to high-end cameras.
In this article, we'll list some of our favorite underwater camera models to suit your budget.
SeaLife SL512 Micro 2.0
This camera is designed to be waterproof up to 60 meters without the need for external housing. The sleek design provides good ergonomics, with sturdy and shock-resistant casing to ensure its operation underwater. The lens is a 20mm wide-angle fisheye lens with a respectable f/2.8 aperture to help you capture images in lowlight. The camera also supports full 1296p HD video at 30 frames per second, and a 16-megapixel sensor.
GoPro HERO5 Black
The GoPro is a familiar name in terms of durable action cameras. The HERO5 Black adds to that reputation by enabling an operational depth of up to 60 meters with their Super Suit Dive Housing. This camera features 12-megapixel image sensor with a wide-angle lens that also takes 4K HD videos at up to 30 frames per second. Additionally, the HERO5 Black allows users to manually control the exposure settings by tapping specific parts of the bright 2-inch screen on the back.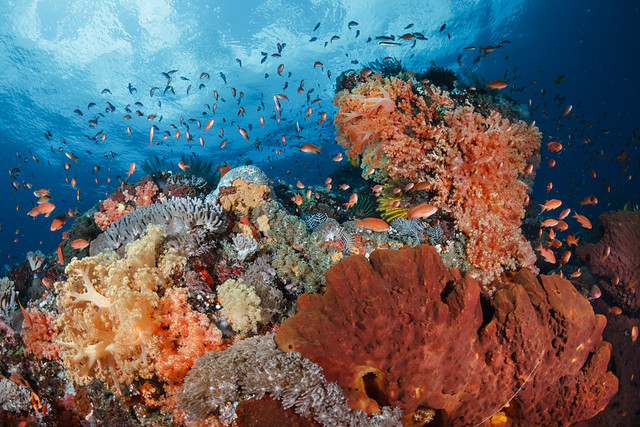 Canon G7X Mark II with Fantasea Housing
This camera is geared more for enthusiasts who want a powerful, multi-purpose camera that is capable both above and below the water, with the help of its dedicated housing rated to a depth of 60 meters.
The camera is equipped with a 20-megapixel camera coupled with a 24mm-100mm zoom lens with a aperture of 1,8-2,8 that is excellent for lowlight scenes.
Sony RX100 V with Fantasea Housing
The last camera in this list is purpose-built for performance and class-leading image quality. The Sony RX100 V features a 20-megapixel sensor that is paired with a 24mm-70mm Zeiss lens. Video quality is just as excellent with 4K Ultra High Definition (UHD) videos at 30 frames per second. Sony has also refined their Hybrid Autofocus system to make it as seamless as possible. Together with its dedicated Fantasea housing, the Sony makes for a very capable underwater camera for diving enthusiasts.
Whether you're a beginner or advanced underwater photographer, having a good camera is an investment that can enhance your diving experience by sharing photos and videos with friends. Who knows, maybe you can inspire them to become your diving partner?
Are you ready to begin your adventure underwater? Reach out to us at Blue Season Bali, and our PADI Certified Diving Instructors will help you start your scuba diving journey!
Visit our website to learn more about all our diving packages in Bali!