Are you a first-time free-diver? Although freediving isn't as complicated as scuba diving, knowing a few diving tips and tricks will come in handy to get you started.
Here are some tips that you can note down before exploring the beauty of the underwater world as a free-diver.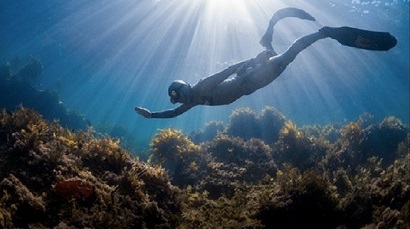 Never Dive Alone
Always, always have a buddy with you. Never free-dive by yourself – this also applies to whenever you are underwater. If possible, also have a rescue diver with you. It's important to look out for one another and, of course, having a buddy will make your diving experience even more fun.
Take a Diving Course
Learn the capability of what your body can do underwater and understand the basic safety aspects of diving. By enrolling in a diving course, you will grasp the fundamental diving elements and, eventually, enhance your confidence in freediving.
Have the Essential Freediving Equipment
Beginner free-divers can start with a pair of fins. You can choose to use scuba fins or short fins that work fine for beginners. To start your next freediving gear investment, you can buy your first low volume mask. In contrast to high volume masks that offer more space and clearer vision, low volume mask sits closer to your face, but are easier to be cleared of water. Those items are enough for beginner free- divers, before investing in more diving gear.
Relax
As a beginner, there may be times when you panic as you explore this challenging new sport. Try to control your breathing and relax. Deep and slow breathing techniques will help to lower your heart rate, which is beneficial to save oxygen. Don't worry, if you don't know how. You will be taught various breathing techniques in freediving courses.
Have fun
Last, but not least, have fun! This is the time to enjoy the surrounding beauty of nature underwater, on one breath of air. Relax and feel the silence and serenity of the world beneath the waves.
Experience Bali's underwater life with Blue Season Bali with well-trained and experienced diving instructors.