Most of you will know that Bali is famous for the USAT Liberty Wreck-rated as one of the best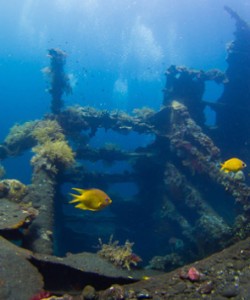 Here is the list of wrecks to dive in Bali:
Tulamben – USAT Liberty – located just 20 meters from the shore and lying in 2m-30m of water this wreck is suitable for all levels of divers and snorkelers.  The wreck has been underwater for close on fifty years now and so the coral and marine life is immense. From an abundance of reef fish to macro life like ornate ghost pipe fish and pigmy sea horses to our resident turtle – the USAT Liberty wreck really does have it all.
Jepun – lying on the side of the reef in Padang Bai, is a small fishing boat. The boat lies in about 20m depth. Here you have the chance to see Lion Fish, Cuttle Fish and if you are very lucky even Sea Horses.
Kubu – back in 2013, the Indonesian government decided to sink another wreck in the Tulamben region as an "artificial reef" to promote coral growth and tourism in the area. This wreck, now known as "Relax Bali" is a great wreck to go and visit… It has a sports car nestled into the hull, some great swim throughs and is already starting to grow some colourful coral. There is also a lovely reef right next door for your second dive
Amed –Japanese Wreck this small wreck lies between 2m and 10m of water. Ideal for snorkelers and divers alike.
The best sites for the Wreck Diver Specialty are the wrecks in Kubu and Tulamben as these will give you the chance to really practice your line tying and penetration techniques.
Happy diving! 🙂