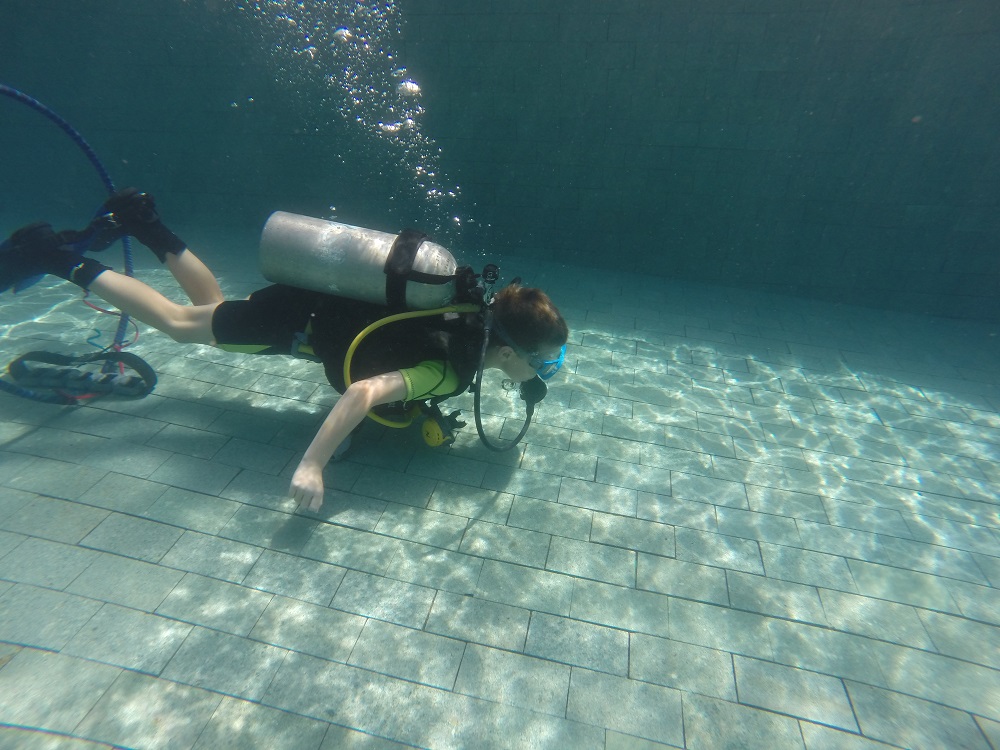 If you've ever been scuba diving before, you'll remember the first time you took a deep breath underwater! It's an experience that you can never forget. So why not give your kids the opportunity to experience diving when you're in Bali? At Blue Season Bali we have two courses for kids who are 8 -10 years old (10 year olds can already do the full PADI Open Water Diver Course). The courses are fun, easy and most importantly safe. The kids don't necessarily need to be good swimmers for the courses but should feel comfortable in the water.
Bubblemaker
The Bubblemaker Course is perfect for experiencing breathing underwater for the first time and playing around a little in the pool. It's also a good idea to let kids celebrate their birthday that way. All they have to do is fill in a medical form and some additional paperwork, signed by you. Straight afterwards the kids will listen to our qualified PADI Instructors as they introduce them to diving with a short and easy briefing. Now it's time to jump in the pool! The kids will practice skills like breathing bubbles underwater in no deeper water than 2 meters (6 feet). Their first breaths while diving will be an unforgettable experience in their lives! Once they're comfortable underwater and have practised their skills they will play underwater games in the pool. The perfect birthday for kids!
Seal Team
Unlike the Bubblemaker Course the kids don't only get to know skills to stay underwater safely, but also go on Aqua Missions in the pool. In the Seal Team Course again, the kids will not go deeper than 2 meters while diving. Once the medical forms are filled in and our PADI Instructors have explained useful diving skills the kids will hop in the pool. After taking the first breaths underwater and practicing bubblemaking they will get to know more skills. Our instructors will show them how to dive with flashlights, take digital underwater pictures and float effortlessly like an astronaut.  These Aqua Missions introduce the kids to PADI Speciality Courses such as Wreck Diving, Underwater Navigation, Peak Performance Buoyancy and Digital Underwater Photography. The best part of these Missions is that they reinforce safe diving skills while the kids are having fun.
You'll see that the Bubblemaker and Seal Team Course are a good way to introduce your kids to diving. If the kids can't stop talking about their experiences underwater afterwards, you can tell them that it's just a few more years until they can start their Open Water Course. Kids need to be 10 years or older to do so.
Did you ever do water activities with your kids or joined us for a Bubblemaker or Seal Team Course? Let us know all about it in the comments!