Sadly, my time here in Bali has flown by and it is almost time to leave this beautiful island! So, I think it is time to review my last 3 months as an intern at Blue Season Bali and all the other adventures I had.
Here is my life in Bali in pictures!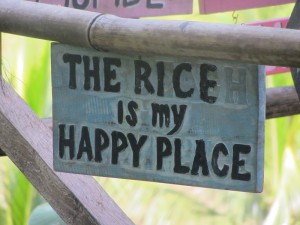 I love the food here! I could eat Nasi Goreng or Chicken Curry almost every  day. Which is good, because rice is everywhere! Like Gita (reservations of Blue Season Bali) once  told me "If you have not had rice, you did not eat. You can eat 2 plates of Spaghetti Bolognese, but without rice you did not eat". Having rice 2 times a day is nothing out of the ordinary here!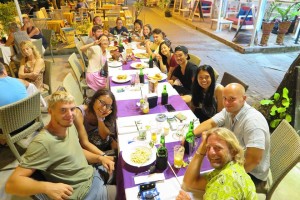 I also love how all of us interns come together almost every day for dinner.We are from all over the world which makes the conversations so much more interesting! There is a huge spectrum of great restaurants here in Sanur. Our all time favourites are probably MD's and Bamboo.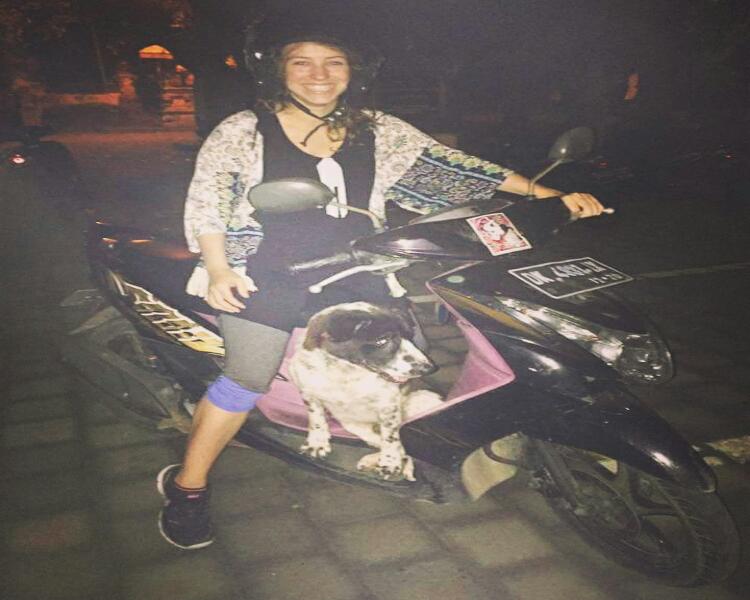 Oh how I am going to miss my little Ilvey when I leave! Driving a Scooter here in Bali is definitely an experience. Everyone drives how he wants, the roads are barely smooth and you almost never see a speed limit. But I love it!
I drove with my scooter everywhere I want to, no matter how far or how bad the roads where (I actually had to get off once and push it a few metres).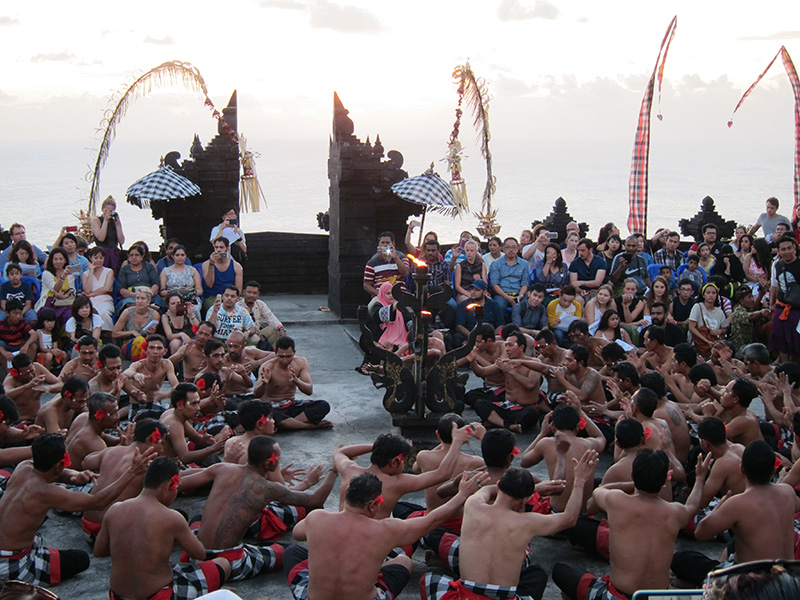 Every time I am in a different country I enjoy learning  about their culture. Here in Bali it was an great experience to watch the Kecak dance during the sunset at the Uluwatu temple. But be careful, one of the monkeys stole my pencil case!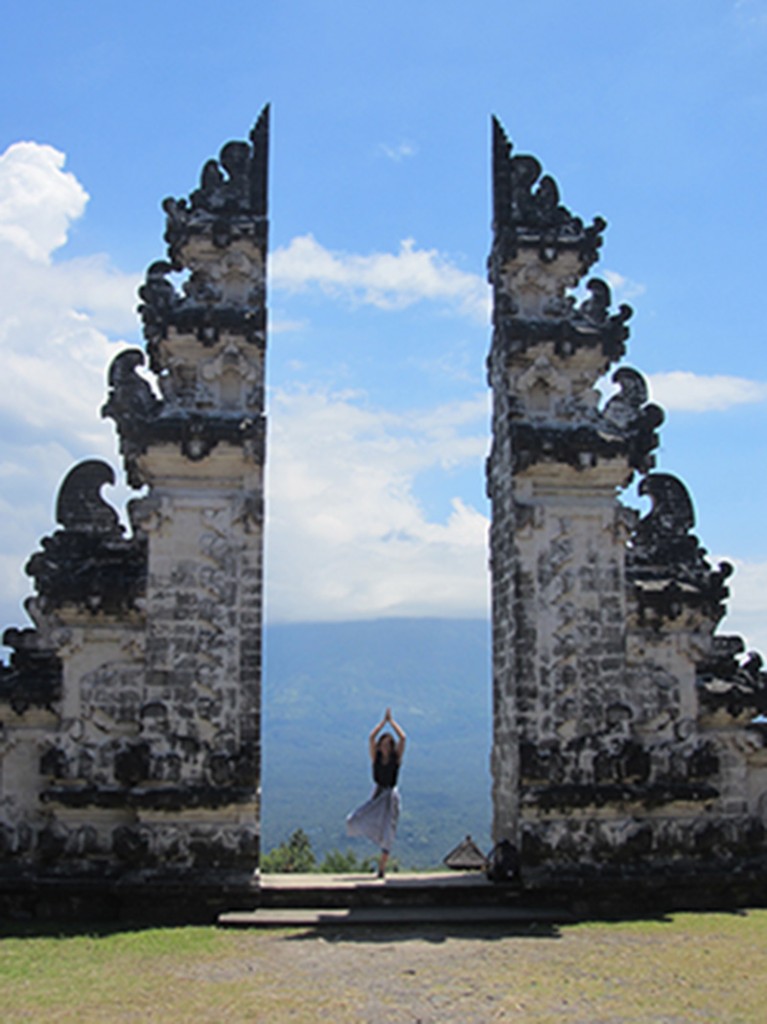 And of course when you are in Bali you cannot forget about the temples! This is me doing the typical yoga pose at the Luhur Lempuyang Temple. This temple is my favourite one. You have the great view of the Mount Agung (in the background of the picture) and my guide told me so many interesting things about temples and Balinese people.
I have been to quite many temples (Tanah Lot, Uluwatu, Besakih, just to name the big ones), but I am still sad, knowing I will not be able to see all of them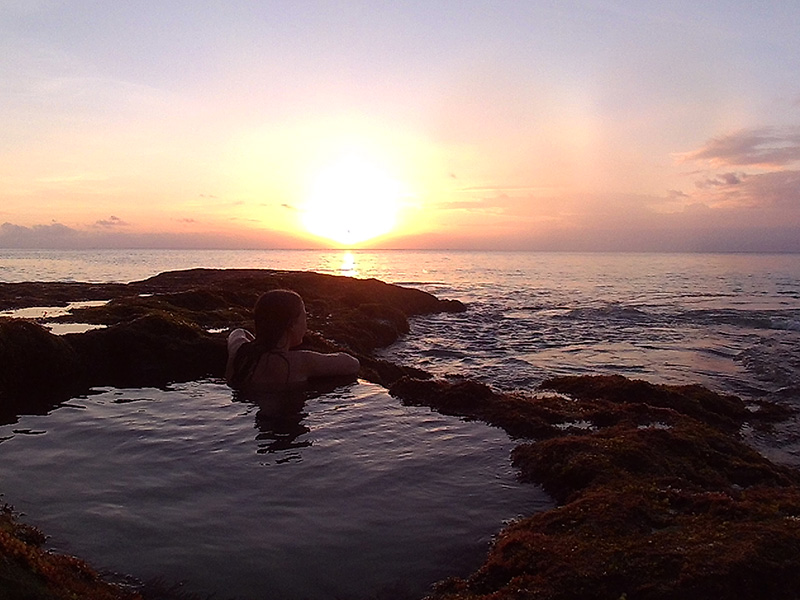 Bali has some really beautiful beaches! The one in the picture is the Tengal Wangi Beach. There are natural Jacuzzi where you can just relax and enjoy the view.
I did not have time to see so many beaches yet sadly, but I will  make it my mission to do so in the last few days I have left!
And of course I have to mention my big and fun diving experience!
Before I came here I have never been diving, but that changed quickly as soon as I stepped into the Blue Season Office. Listening to all the fun stories my Divemaster and IDC friends had under the water, I could not wait to experience it myself. I even saw a Mola Mola on my 11th dive, already! I did my Open Water Course, Advanced and even my EFR and Rescue Course during my time here in Bali with Blue Season.
What can I say, it was love at first breath!
My time and marketing internship with Blue Season here in Bali was amazing and I would definitely do it all over again! Have you been to Bali already? What was your favourite place or thing to do here in Bali? Let me know in the comments below!