Underwater photography is something completely different than above the surface. One important difference, is that water reduces colour, contrast and sharpness. That is why you always have to be very close to your subject and stick to the lowest possible ISO (level of sensitivity of your camera to available light).
But what I love about underwater photography is that you experience the ocean in a complete other way. You can shoot images that are full of colour and interesting underwater creatures that in no way can be compared to pictures above the surface.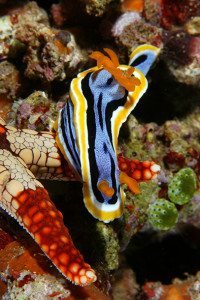 Below I made a selection of my favourite underwater pictures taken around the waters of our beautiful island. Bali offers so many different dive sites with completely different marine life everywhere you go, and so pictures can be so different from one another.
In the first picture you see what I mean with 'getting close'. This incredible close-up of a nudibranch shows so much colour. The nudibranch itself is actually so tiny, you could easily swim past it! Nudibranchs often have bright colours, so they're definitely worth looking for. Next time you're on a trip with us, tell your guide you want to spot one and he or she will most likely find one for you!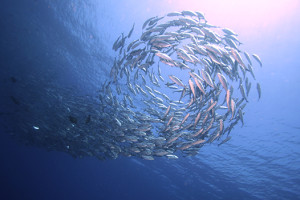 In the next picture you see a whole school of fish. I love this pictures because whenever I spot a group of fish in the water, I feel like they're performing a dance for me! The way they move almost simultaneously and as one, is something truly amazing to experience. At the Liberty shipwreck in Tulamben you can often spot this 'tornado' of fish!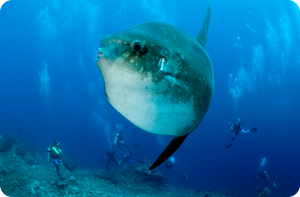 The third picture you most likely have seen before. Still, I wanted to include this picture on the list because the photographer perfectly captured the Mola Mola at the right angle. It almost looks like the Mola Mola is posing for the picture! In the back you can see some divers, which shows how enormous these incredible creatures are.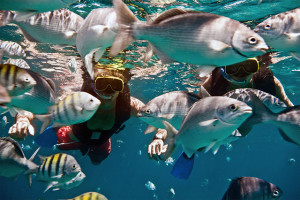 Who said you have to go deep to take the best pictures? Even when you go snorkelling you will spot dozens of fish and pretty corals. It even makes it easier to make nice pictures, because you will have natural light and don't need a flashlight to expose the colours in the image. Lots of fish come to the surface to warm up like the Mola Mola or whale sharks, and turtles have to come to the surface to breathe every now and then. So even if you're not a diver, you can shoot some amazing pictures!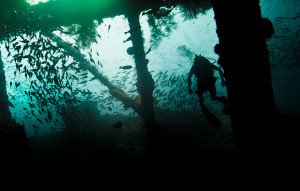 The last picture is taken inside the Liberty ship wreck in Tulamben. I love this dive site more than any other because of the wreck. There is something mysterious about it and even though it's been laying there for over 50 years, it is so full of life! When shooting underwater pictures it is not always just about marine life or corals, sometimes something else in those waters can give interesting images as well. This image is a perfect example of that.
Want to make stunning pictures like these of your own? Start your PADI Digital Underwater Photographer Course today, and learn all what you need to know about underwater photography!