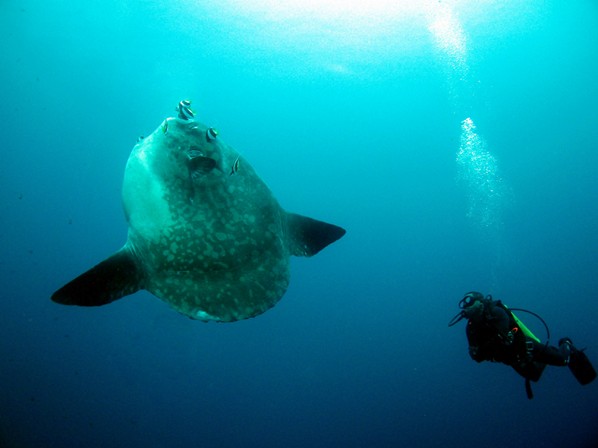 After starting off with your Open Water Course and going on a few dives you soon will want to go diving deeper. It's not only that there's something mystic about the depths of the ocean. You will also be able to dive with a greater variety of marine life if you go deeper.
How it works and what it's good for
You can either do the PADI Deep Diver Course as a Specialty Course itself after finishing your Adventure Diver Course or within the Advanced Open Water Course. While going on your first deep dives you will learn to dive deep safely. Our PADI Instructors will teach you about the scuba diving equipment considerations. You will also experience to plan and organise your dives yourself. All of this training is important to go deep down up to 40 meters. You will be able to see more of the stunning underwater creatures of Bali's ocean!
What you will see while Deep Diving in Bali
When you do your PADI Deep Diver Course with Blue Season Bali you will either go to Tulamben, Padang Bai or Amed to do the four dives you need to get for the Specialty. These locations offer some of the best dive sites there are in Bali and in the world!
In Nusa Penida you will be able to see the giant Manta Rays and peaceful Sea Turtles. If you come to Bali at the right time of the year you might even see Mola Molas (Sunfish). They show themselves between July and October, but only in the deeper water of Nusa Penida. In the crystal clear water of this dive site you might also see Puffer Fish, Sharks, Eagle and Marble Rays, Shrimps, Nudibranchs and so many other reef fish.
Tulamben offers a great variety of reef fish, as well. You will see Sweet Lips, Schooling Jackfish, Shrimp, Anemone Fish, Seahorses and so many others. At this dive site you might even see Reef Sharks and Sea Turtles and very rarely, but still seen now and then the Mola Mola.
Whichever dive site you will go to you will experience amazing Deep Diving! You'll see so much more than if you stay up in the 18 meter deep water.
A short tip from Blue Season Bali: It's also amazing to go deep diving at night while doing a Night Dive!
Did you ever go deep diving before or got curious about doing the course? Let us know all about it in the comments!