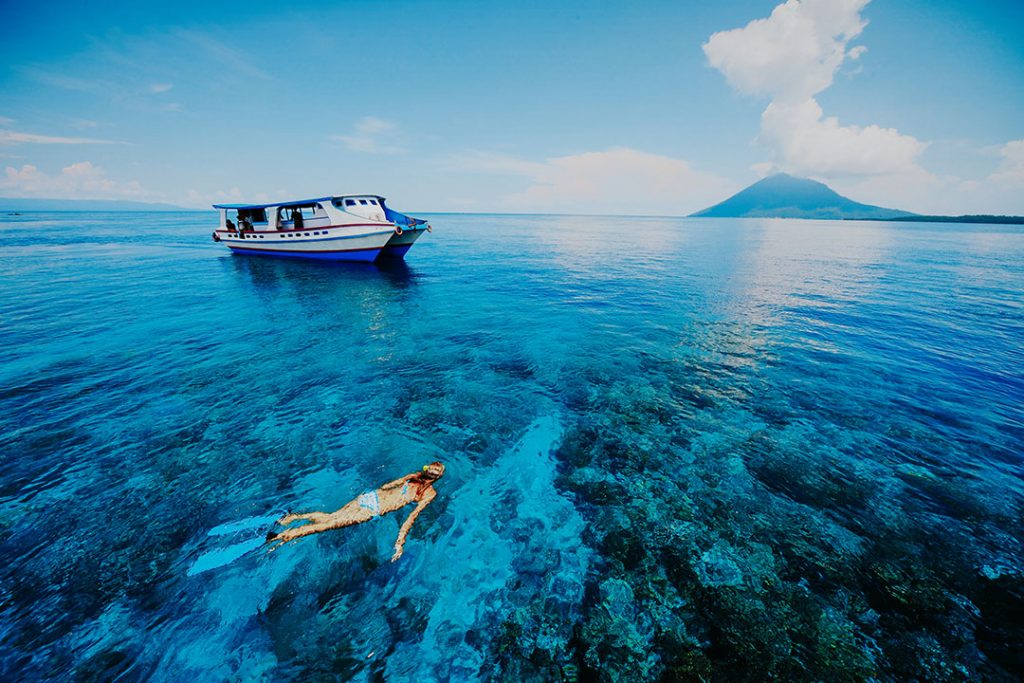 Sanur offers calm water and weak currents with an abundance of sea life perfect for relaxed snorkeling. It's one of the most accessible snorkeling sites in Bali due to its location close to the shore, large sandy seabeds, and gradual slopes.
A short boat ride from Sanur Bay gets you to some of the best diving and snorkeling spots in Bali, namely Nusa Penida. It's one of the islands near Bali with a pristine environment and is still considered untouched by visitors. Nusa Penida is located to the southeast of Bali separated by the Badung Strait. The marine life here includes Manta Rays, Sunfish, Sharks, and stunning coral reefs. Here are some awesome spots for snorkeling in Nusa Penida. 
Crystal Bay
Nusa Penida doesn't offer too many places for shore snorkeling. Still, Crystal Bay is an easy-to-access snorkeling site with an amazing sight in the shallow water, making it suitable for all experience levels. You'll be amazed by the clear water and vibrant corals where sometimes turtles are spotted. The morning is the best time for snorkeling here as the water is at its calmest. With over 30 meters of visibility, Crystal Bay is a paradise for underwater photographers.   
Manta Bay
Swimming with Manta Rays is an experience worth having, Nusa Penida is the best place to encounter these majestic creatures. They are here all year round and usually gather in a shallow bay called Manta Bay, where you can get a chance to snorkel with these underwater beauties. 
Gamat Bay
Due to its difficult access, there are very few tourists on this secluded beach. The access from land is possible although challenging. Prepare to be amazed once you make it, as it is considered as one of the best snorkeling spots in Nusa Penida. Snorkel through the crystal-clear water and find thousands of fish swimming past colorful corals. Gamat Bay is definitely a place you shouldn't miss.
Ready for an underwater adventure in Bali? Contact Blue Season Bali for snorkeling and diving trips in Sanur, Nusa Penida, and other popular destinations in the archipelago accompanied by our professional divers and the best equipment.