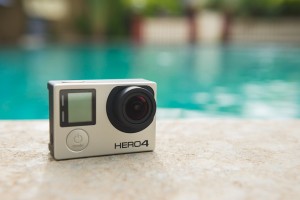 The GoPro is arguably the most well-known action video camera today, offering 12MP stills, 4K video and a housing that has withstood incredible amounts of abuse in unbelievable places. GoPro's two current flagship cams are the GoPro HERO 4 Black and the GoPro HERO 4 Silver. The Black version (cosmetically identical to the silver, minus the lacking touch LCD) offers 4K video at up to 30fps over the Silver's 15, and 120fps capability in full 1080p HD. There is also a difference in entry price, which when combined with the touch screen, draws most users toward the Silver.
For almost all scuba-related tasks, the GoPro HERO 4 Silver is going to be more than enough, unless you live for 1080p super-slow-motion video. Before we go any further, the GoPros are fantastic performers in the area of video, but they may disappoint slightly when in stills mode. Both the Black and Silver variations shoot 12MP stills with great colour, but their shallow depth of field, ease of use and lack of any simple image review system hold them back from competing with underwater still cameras and housings like the Olympus TG4. If you are looking to shoot primarily stills, consider reading our earlier post choosing a camera for underwater photography.
Our IDC Staff Instructor Candidate Hyuma uses his GoPro when surfing and travelling; they are fantastically versatile and refined, that much is for sure. For their size and price, they produce incredible quality.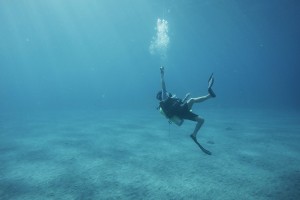 Underwater, there are a few complications that come with filming and photography. GoPro touch screens (like those on most other devices) cannot be used underwater. This means your controls are limited to physical buttons. Not to worry though, all GoPro functions can be accessed this way, it's just a little slower. Footage will come out somewhat bluish anywhere past 1-2m due to reduced red light transmission through water, but that underwater look comes with the territory. You don't need to worry if you're snorkelling or diving at or above 10m or so; the colour isn't too bad unless the water is murky. Deeper than 10m, you might want to invest in a filter.
Red filters are for blue water, the richness of the red loosely corresponds with the depth at which you will be filming. Magenta filters are for filming in green (typically more murky) water. When you watch the footage later, generally, it will be more true-to-colour than if you had shot it without the filter. Be careful as well, you might want to enable what's called Low Light Mode on your GoPro to ensure you don't get choppy footage.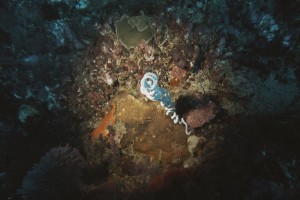 GoPros are waterproof to 40m/141' with the included housing and come with a couple adhesive mounts, so they are set for everything from flying to diving, right out of the box. If you're looking to get beautiful video of your adventures, avoid spending time fumbling with settings, have a camera you can put in your pocket and charge with just a USB cable, a GoPro might be right for you! We promise you won't regret it.
You can learn more underwater photo/video basics with the PADI Digital Underwater Photographer course, as even though the equipment often differs, a lot of the concepts apply to both photo and video. Perfect for filming Mantas or Mola Mola off the coast of Nusa Penida! Next up: assembling and maintaining underwater housings and photo/video equipment.
Do you have a GoPro? Tell us if you like it in the comments below!