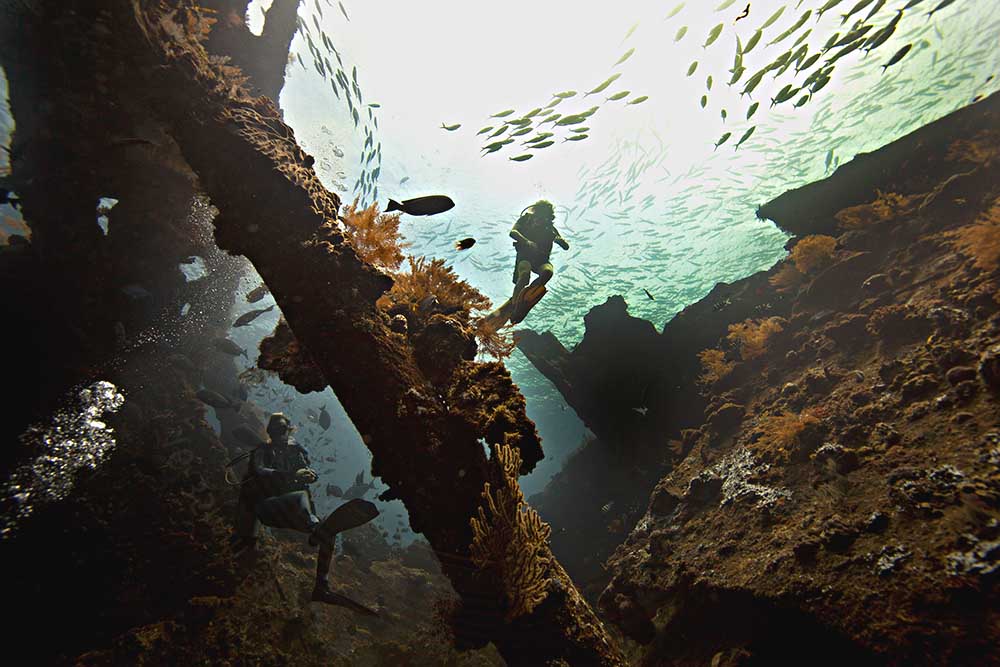 Have you heard of the Tulamben shipwreck in Bali? One of the best, easiest wreck dives in the world this beautiful dive site is well worth a visit on your next trip to Bali!
The USAT Liberty was a US transport vessel that was torpedoed by a Japanese submarine in 1942. She was approximately 125m long, 17m wide and had served in WW1 as animal transport vessel named "USS Liberty". She was torpedoed in the Lombok straight enroute from Australia to the Philippines carrying rubber and railway parts. An attempt was made to tow the USAT Liberty to Singaraja, North Bali but as she was taking on too much water they were forced to beach her in Tulamben, East Bali in an attempt to salvage the cargo.
In 1963, the tremors associated with the eruption of the volacano Mount Agung; pushed the USAT Liberty down into the water creating an incredible artificial reef. Having been in the water for over 54 years now, the wreck is covered in healthy coral and is home to an abundance of marine life including Sea Turtles, Scorpion Fish, the famous Pygmy Sea Horse, Giant Barracuda as well as an array of macro life.
The wreck starts at approximately 2m and goes all the way down to 31m – making it a perfect dive site for all levels of divers and snorkelers. The water is beautifully warm, usually 28deg – 30deg. The visibility is usually between 15m-25m. You enter the water from a rocky beach and then dive down into the dark volcanic sand, swim about 50m and you arrive at the stern of the wreck – truly one of the best dive sites in Bali!
The wreck is also the perfect location for the PADI Wreck Diver Specialty, with plenty of interesting points to map, some fun swim throughs and great locations for safely practicing line laying.
Have you dived the USAT Liberty Wreck in Bali? What was your favourite part of the wreck?