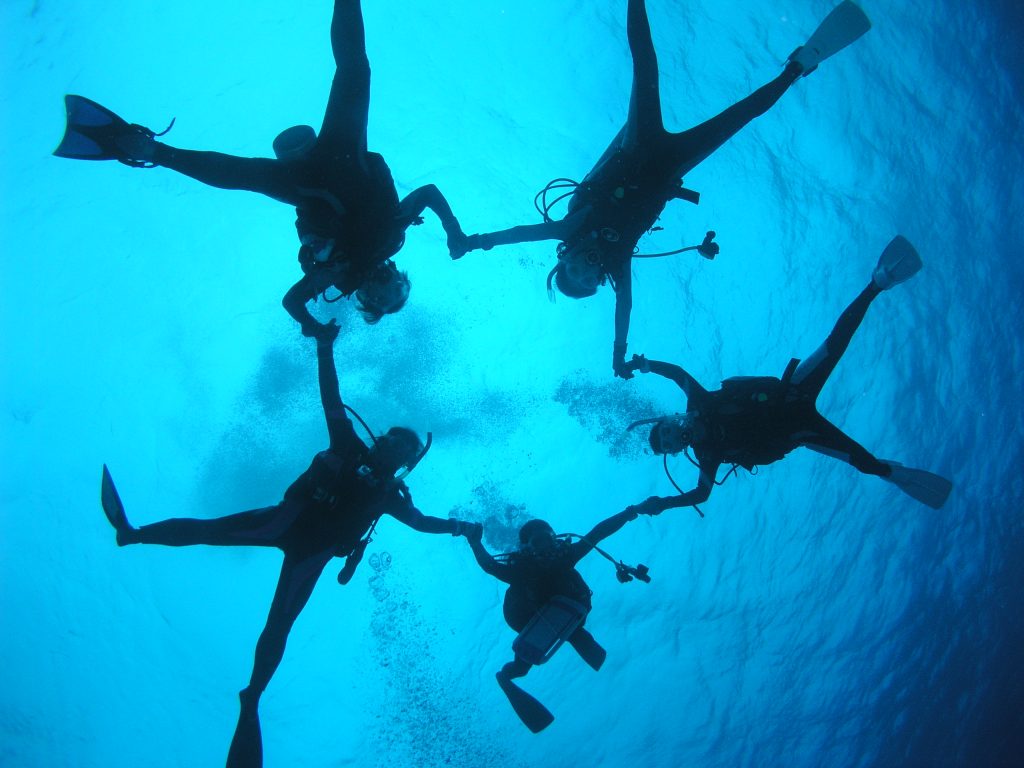 When you start diving you might realize quickly that you want to become more than a PADI Open Water Diver. Once you've been in the ocean and you've seen all the beautiful creatures down there you won't ever want to stop. So what can you do? There are endless opportunities for you after your Open Water Diver Course.
Small steps – one by one
After your Open Water Diver Course you're able to do some Speciality Courses already, but if you really want to take that step towards a (maybe) professional diving career we'd recommend to do your Advanced Open Water Diver Course first! This course already includes 5 Speciality Dives such as an introduction to the Deep Diver and Underwater Navigator courses. Of course there's no limit to how many Speciality Courses you can do! At Blue Season Bali you're able to gain as much diving experience as you want!
Slowly getting professional
Now that you've finished your Advanced Open Water you can continue to do your Rescue Diver Course. Most of the divers at Blue Season Bali say this course is most fun, because you get to know all the important techniques by enacting real life scenarios (don't worry – it's all simulated and completely safe).
There are two options – you have to decide
By finishing your Rescue Diver Course you've done all the basics for becoming either a professional or staying a non-professional diver. Now it's your choice: Take the step towards your professional diving career and become a Divemaster or continue with Fun Diving and grade yourself up to Master Scuba Diver.
Making yourself employable
You've chosen to go the professional way – yay! So what you need to do first is your PADI Divemaster Internship. You can do that as a 1-, 2-, or 4-months intern at Blue Season Bali. During your internship you'll  work together with our PADI Instructors and Divemasters as a team to provide safe, fun and effective diver training.
After your Divemaster Internship it's time to start your Open Water Scuba Instructor. You can do that as a 15 or 28 day Course at Blue Season Bali or as a 3 month intern. This will not only include the IDC course itself but also a lot more skill-refreshing time and team teaching after you've finished the 28 day course to ensure you feel safe about teaching others to dive.
You want to gain that extra teaching experience after your IDC? Then the Master Scuba Diver Trainer internship will suit you well. Within this 2-month internship you'll be taught 5 Instructor Speciality courses and get to certify up to 25 dive students.
The highest stage to improve your dive skills with Blue Season Bali is to do the IDC Staff Instructor Course. Within this 1-month internship you'll get qualified to teach Assistant Instructors, PADI Instructors and it will also give you your first IDC Staffing credit with PADI.
No matter which way you choose – you'll have a lot of fun during your courses and dives! How experienced are you already? Let us know all about it in the comments!