Boat diving! It's a wonderful thing. It allows you to reach sites that are otherwise inaccessible. You can hop between shores, bays and islands with ease. What this means, however, is you must be prepared for simple problems like broken mask straps, failed O-rings, or leaky regulators. Boat diving also means a few different things for the steps you must take before, during and after the dive, but most of these problems are solved by bringing spare equipment and participating in a thorough dive briefing. If you can predict possible roadblocks and make sure you can do everything you need to solve them on the boat (our divemasters and instructors help with this), you'll have a smooth and successful day. Here are a few other things to expect when boat diving: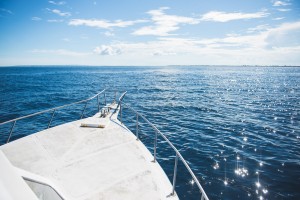 Equipment and the boat
Once aboard and settled, there will be a boat briefing, orienting you to facilities, available equipment, and areas of the boat where you are allowed to go. Safety procedures, an outline of the day, and a brief introduction to the staff and crew are also included.
Entry, dive procedures
Being on a boat comes with a unique set of entry and exit procedures once you arrive at the dive site. Divers execute back roll entries from either side of the stern, and must be careful in drift conditions to stay close to the boat while other divers get in the water. If the water is calm, you may move away from the boat to give space to entering divers and avoid accidentally drifting towards the boat.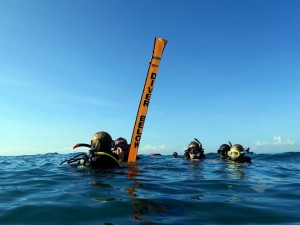 It is recommended that at least one diver per group carry a surface marker buoy (SMB) and line so that you may signal your location to the boat from beneath the surface. In drift dives it is especially important that you stay with your group for this reason. Becoming separated from your group or buddy can spell disaster if the boat crew encounters difficulty locating a diver after the dive.
If you were dropped off by a boat, chances are there are other motorised craft in the area, so you must exercise caution when surfacing both in emergency and non-emergency situations. Be sure to look, listen, and use an SMB if you have one – some divers purge air from their alternate regulator to create large amounts of bubbles on the surface if they do not have an SMB.
After diving
Once you surface safely and locate the boat, they will have a ladder or other system for allowing you to board the boat from the water. Typically you will remove your fins and pass them up to the crew, and if you wish, do the same with your weight belt to make climbing the ladder easier.
Once you and your equipment are on board, the next step is to ensure everyone is accounted for. You cannot leave a dive site without doing this. Each diver will then remove their equipment and stow it safely, beginning to switch tanks if anticipating another dive, or disassemble equipment if that's the end of your day. We will always assemble equipment, swap tanks, and disassemble the equipment for you while you sit and enjoy the ride to the next location.
If you are diving again, ensure you stay on the surface for an adequate surface interval, ensure you have attended a dive briefing for the next site, check your equipment and do a buddy check, and you're ready to go!
Diving with Blue Season
Diving with Blue Season Bali also includes a few perks. On our trips to Nusa Penida, we always include towels, two options for lunch, and water, tea, and coffee!
The boat trip to and from Nusa Penida is approximately 1hr each direction, giving lots of time to prepare equipment, relax, and enjoy the view. If you like, you can even head up to the roof of Bali Ocean II and soak up the sun while the ocean wind blows through your hair.
Boat diving can be a little more involved but it's entirely worth it! Come dive Nusa Penida with us today!
Did we miss something? Do you have boat tips of your own? We'd love to hear them below.