The underwater world is wonderful, it's full of new and interesting things to see, and the closer you look, the more you discover. Capturing your adventures and the many types of undersea creatures you encounter, is difficult at best. You need an underwater camera that you can take snorkeling or scuba diving, but there are so many options! We'll walk you through some basics for finding a camera that will let you capture what you need, but also allow you to keep exploring underwater photography.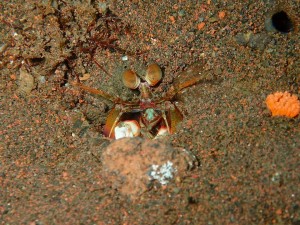 Underwater cameras have become commonplace in recent years, characterized by their familiar point-and-shoot look, but they include a number of other features including waterproof buttons and O-ring seals on the battery and SD card compartments. There are some affordable options such as the Olympus TG-860 and Fujifilm XP-80 that are rated to 15m (50ft), but if you want to exercise the limit of your PADI Open Water certification (18m), your camera is liable to flood.
The Fujifilm XP-80 starts around $180 USD, but to get the most of your photos and give you some room to grow, you might want to look at a camera/housing combo. This type of arrangement has a couple benefits:
You can use a camera you're already familiar with, so moving in and out of the water is seamless. No need to learn a whole new set of menus and buttons!
The camera separates from the housing, allowing you to take just the camera without all of the waterproof hassle on a day trip or to any non-oceanic event
Increased compatibility (think strobes and wet lenses) and increased depth ratings (think 30-60m)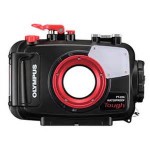 The Olympus TG-4 ($348.98) has some great features and image quality and the accompanying PT-056 Housing ($261.99) gives you a flash diffuser and added depth rating to 45m/150ft. The PT-056 housing does not, however, give much in the way of available strobes or lights. This is where DSLR housings come in. If you already own and are comfortable with a DSLR, you can get underwater housings for most camera/lens combos. This provides the added benefit of changeable lens ports and the ability to expand with an underwater strobe when the time comes. You can get underwater housings from third party providers like Ikelite, Sea & Sea, Nauticam and others, but often camera manufacturers also make housings for their cameras, like Fujifilm or Canon.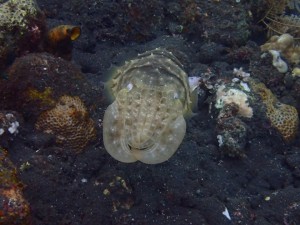 Always give yourself some room to grow and expand your UW photo kit. As soon as you start diving deeper or exploring wrecks, you might not be fully satisfied with your camera's built-in flash or fixed lens' depressing macro abilities, so padding your budget a little bit now can mean a big payoff later. Underwater photography can be a great challenge, but the the PADI Digital Underwater Photographer course can help you get used to your equipment and tackle the challenges of UW Photography. Bottom line, if you can purchase a camera/housing that is reasonable but still gives you that freedom, the investment will pay off more with every dive.
Look for more posts and videos about UW Photography and Video including GoPro, simple techniques for getting the most out of your camera, and an advanced look into preparing and maintaining your UW photo equipment. If you have images from snorkeling or scuba diving or would like to share your tips, comment below or connect with us on Facebook!