Diving is undoubtedly a cool hobby, and Bali hosts some of the world's best diving sites as it is filled with rich marine life and coral gardens. Nothing beats a personal encounter with wildlife underwater. These 4 diving sites will offer exhilarating and humbling experiences of being one with nature.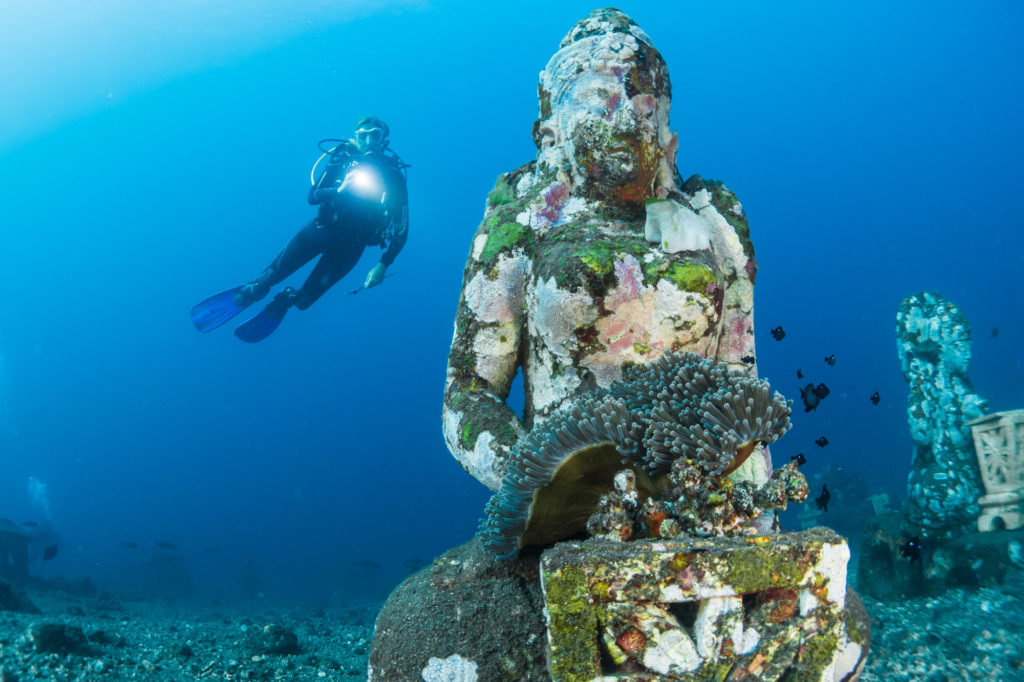 Menjangan Island
It takes a half hour boat ride to this island and the site is a protected reserve. In other words, you will enter a shallow reef ecosystem that is carefully conserved and protected from damaging human activities. With crystal clear visibility on a white sand seabed, get up close with garden eels as they dance with the sea current. Then head over to Anchor Wreck, a mysterious 19th century wooden shipwreck with a fuzzy origin. It is unofficially named as the Budak wreck – at least in the common Indonesian tongue, "budak" means "slave".
Nusa Penida
Seeing manta rays glide overhead is one of the most delightful experiences in a diving session. Look no further than Nusa Penida, a feeding ground for reef manta rays. Indian and Pacific Ocean currents meet here, delivering the animals a delightful feast of phytoplanktons to attract not just one manta ray, but a whole squadron of them. While you are at Nusa Penida, drift along a gentle and safe current at Crystal Bay. The clarity of the water lives up to its name.
Tulamben
Despite having a muddy volcanic seabed and black sand, the diving site is among the ones with the best visibility (up to 30 meters). Tulamben is famous for the USAT Liberty Shipwreck. It has quite an interesting story to tell; after it was torpedoed and beached in 1942, hot debris and rocks from Mt Agung's eruption in 1963 moved the ship off the beach and onto its final resting place. Today you may find it 40 meters offshore, and 20 meters underwater, which provides ample challenge for beginners and exciting grounds to cover for advanced divers.
Padang Bai
No, it is not a misspelling of "bay", although some foreigners would refer to it as "Padang Bay", which is not wrong phonetically. The blue lagoon of Padang Bai is perfect for beginners with its negligible current, shallow reefs, and good visibility. There is no need to go deep to find everything; you'll find animals such as squids, rays, stonefish, morays and frogfish. You know you're in for a stunning dive when even from afar, Padang Bai's aquamarine water lets you see the seabed unobstructed by mud or pollutants.
If you want to explore the best of Bali's dive sites within two weeks, Blue Ocean Bali offers the Full Monty – a guided Diving Safari that makes use of every minute of your time, and every penny of your budget, so you experience the taste of a full course diving extravaganza. Visit our website to learn more.