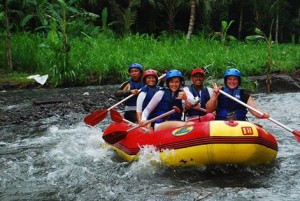 The Blue Season Bali team can't get enough of water adventures. But this time we decided at least try and stay out of the water with white water rafting.
We were picked up by the Bintang Rafting team in the morning and drove for an hour through the scenic mountain ranges and cut out hill tops of Bali. We were all so excited that we jumped off the bus  to see the beautiful Telaga Waja River. Armed with our paddles, life vests and helmets we made our way down to the river to start our adventure.
We were instructed by our helpful guides that if we were to get caught on a rock to do a 'jiggy jiggy' to free ourselves, which came in handy more than we thought! With two rafts now filled with Blue Season Bali 'rafting experts' we made our way down to the river. The journey eventually manifested into a very competitive dash to the finish. One raft would get stuck in the rocks whilst being violently splashed by the other raft, of course. The next hour flew past and consisted of getting wedged, ducking, diving and racing all of the other rafts on the river.
One our rafts had an unfortunate incident, contracting a hole from a sunken tree and we all started to sink! (In dramatic Titanic style of course) Thankfully, the Bintang crew was quick to fetch us a replacement vessel and we were on our way back down the river.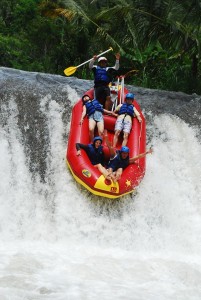 We composed ourselves, had a quick rinse off and walked up to a hill top restaurant. There, we refuelled and enjoyed a delicious Indonesian buffet with a spectacular view of the mountain ranges. Then it was time to drag our sore and sorry bodies onto the bus and back to Sanur.
There is nothing like a bit of white water rafting for team building, exhausting exercise, and of course, just good old plain fun.
Rebecca Cato