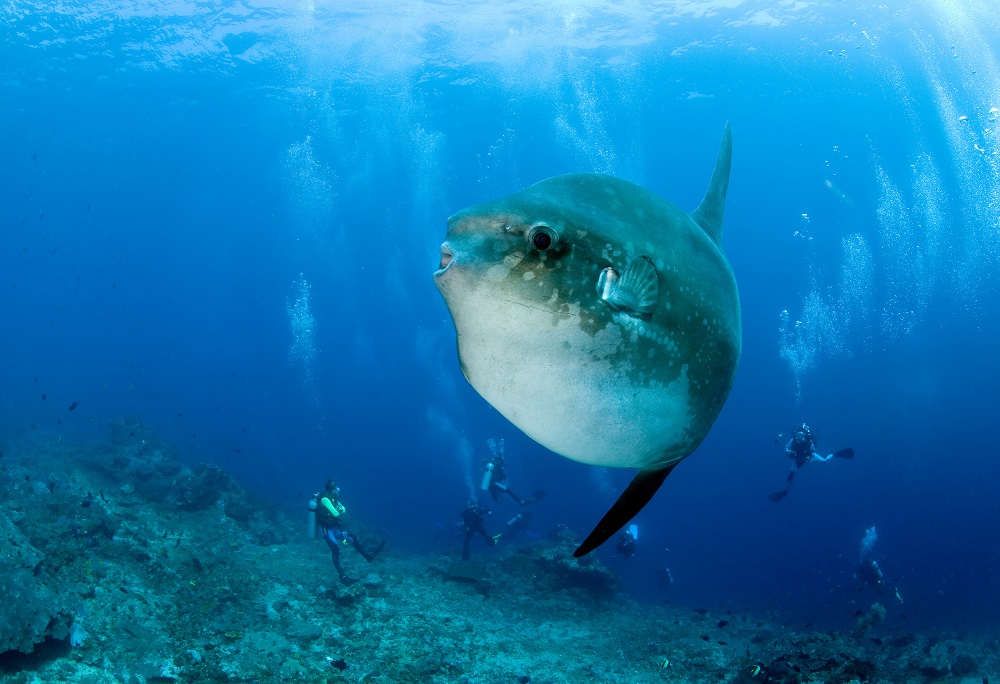 Mola-mola, also known as the oceanic sunfish, is an exotic wonder. It's officially the heaviest known bony fish in the world, weighing up to a record 1000 kg. Its weight is hinted at by its enormous size, with a height of up to 3.2 m, taller than any person ever.
It has an appearance unlike any fish you could imagine — almost alien-like. It looks like a disproportionate fish with no body. Two dorsal fins stand on its tail like the mast of a ship.
It's no wonder that people are fascinated by this tropical fish. No aquarium in the world can satisfy our curiosity to see this species. Fortunately, it's possible to get up close with this majestic creature in its natural habitat. In Bali, you have a chance of this authentic encounter at Nusa Penida.
The reality of diving
If you are an absolute beginner who has only ever thought of diving, continue reading this article to make that first step to realising the dream of diving with the oceanic sunfish (and other amazing creatures you can only find in the deep blue sea).
Be warned, for many good reasons, diving is not cheap! You need specialized equipment to stay underwater safely, and you need training and guidance. The initial capital requirement and elaborate preparations may be overwhelming, but the lifetime reward of being able to dive anywhere around the world makes it all worthwhile.
The training
 For any diver's safety, they must have a diving license. The Professional Association of Diving Instructors (PADI) Certification is the world's most popular scuba diving license. To be able to dive in mola-mola territory, you need to fulfill a 4-day course in order to receive the PADI Open Water Certificate, which allows you to dive deeper and see more.
At Blue Season Bali, we provide all the training from the theory lessons, to skills in the swimming pool and finally out into the open water. You will get a chance to dive at some of Bali's world class diving sites — even as a diving trainee! We highly recommend you invest in training that will be useful for a lifetime of diving, so if you want to get started, learn more here about our Open Water Diving Course.
Getting into the water
Please keep in mind that the mola-mola is a migratory fish that travels to warmer waters (such as in Nusa Penida) between July and October. Blue Season Bali provides a special discount package in anticipation of the mola-mola season. Click on this link to get a special reward for booking with us: Mola-mola Season.
If you're in the wrong season, but you've completed your training, you can always hone your diving skills at one of the many beautiful diving sites around Bali. Start with Amed beach to explore the coral reefs, then go to Menjangan to see the breeding grounds of various eels. You can also test yourself by exploring a shipwreck at Tulamben. Manta Point at Nusa Penida is a hub to find manta rays all year long. Find out more about all our Diving Safari offers at Blue Season Bali.